Of course, their dreams, whatever they are, are valid. But my concern is that these farmers' children are too pessimistic to continue their parents' business, because they are unaware of the potential coffee has
Some 90 high school students, male and female, seated separately across from each other, were listening attentively to their trainer who was speaking on "Coffee Vocational Training" loudly because she could not use a microphone.
The state-owned electricity company had conducted a rolling power cut that Wednesday afternoon (September 18) in West Lampung.
After speaking on her subject, the trainer asked one of the female students to repeat how to process coffee by the wine-coffee method. Each student listened carefully to their peer who read from her notes about the method, and then they were asked for their comments.
"I want to be a doctor, but first I have to help my parents look after their coffee plantation so it can produce quality coffee. That will allow my parents to afford my education," said Alya Septiani, from Class 10, who was asked to repeat the wine-coffee method after the class was dismissed for a break.
Alya's parents are farmers who own a family coffee plantation in Waisulo Village, located about nine kilometers from Batu Brak I High School. She goes to school by motorcycle every day, just like other students in the school, whose parents are also coffee farmers.
"My parents used to grow the coffee tree in the way it was supposed to be grown. I mean they already know how to process coffee beans, but based on the knowledge I received from this training, our coffee is still categorized as low quality," she said.
Alya was not alone, as parents of other students were traditionally cultivating the coffee, and they were satisfied as long as they grew coffee beans in abundance.
However, they would gain a better price if they upgraded their farming techniques, according to Otik Nawangsih, the trainer who is a coffee expert from the Agriculture Technology Faculty at Lampung University.
With around 163 thousand hectares of plantation, West Lampung is the largest Robusta coffee producers in Indonesia and among those in Southeast Asia. Yet, the quality is relatively lower than that of other producers in the region, such as Vietnam, Otik said.
"Lampung's Robusta has good potential as it is a speciality where it is grown. What we should do now is increasing its quality for a higher selling price," she noted.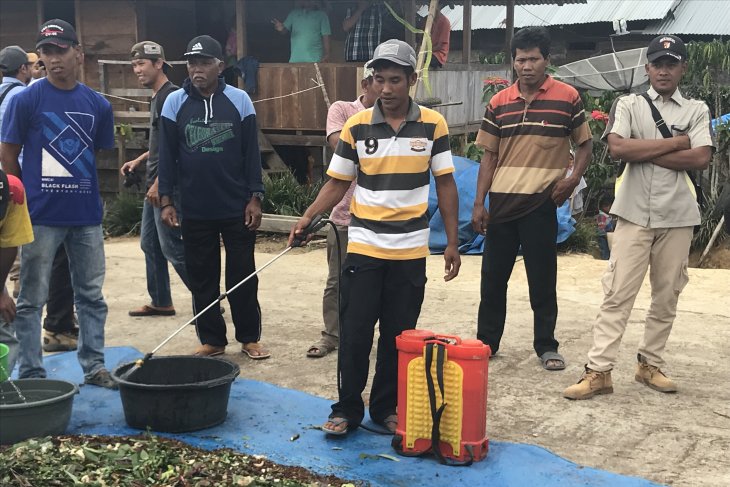 To change the way farmers cultivate their coffee is not easy. Otik said. For example, they are used to chemical fertilizers, which is expensive but considered practical, she opined.
Also, the way they sun-dry their coffee beans on bare ground, without putting any layer in between, would damage its taste and aroma.
"They think it is an efficient way, and they think the buyer won't be aware of such a process, but they know. A coffee exporter knows just by looking at it," Otik said.
Traditionally-processed coffee can normally be sold at around Rp15,000 to Rp18,000 (about US$1 to US$1.2) per kilogram, but the price of highly-cared coffee could start from Rp20,000 (about US$1.5) per kilo, Otik added.
It might seem a small difference, but for many small farmers who on average produce one ton of coffee per harvest, a small rupiah addition to the selling price means a lot.
Muryati, a senior student of Class 12, expressed her intention to elevate the coffee farming method practiced by her parents. She would tell her parents to switch from chemical fertilizers to an organic one made from a mixture of goat's excrement and coffee cherry's skin, she said.
Now that she understood the benefit of organic fertilizers, such as the lower price and being environmental-friendly, she would urge her parents to use it as they also owned some goats, she said.
"I used to help my parents pick the coffee cherries during the harvest season. They told me to throw away its skin around the coffee trees without knowing that it needs to be mixed with goat's dung first," she said.
Otik appreciated the good intentions of the students to pass on the knowledge they received from the training to their parents. But in her capacity as their trainer, she wanted to inspire the students to go further, which was to be better coffee farmers than their parents, she said.
Earlier, Alya had said that she wanted to be a doctor, while Muryati said she wanted to leave the town after graduating to the province's capital Bandar Lampung for a job. Both girls responded with a shrug when asked if they would take after their parents and become coffee farmers.
"Of course, their dreams, whatever they are, are valid. But my concern is that these farmers' children are too pessimistic to continue their parents' business, because they are unaware of the potential coffee has," Otik noted.
Moreover, if all young people migrate to the city, the town would be left with senior citizens. That means not only would development be hindered but the next generation of coffee producers would be lost.
Thus, during a two-day training she mentored, Otik said she wanted to motivate the students to be better quality farmers in the future. From there, she would continue with the coffee farming process, including pre and post-harvest, as well as how to manage its sustainability.
"You don't see it, but I started it with a YouTube video about coffee culture in the world. It was about how many people around the world like to drink coffee, and how much they like our coffee, their coffee from West Lampung," she said, adding that she also received many shrugs with the same question: who wants to be a coffee farmer?
"But when I asked, 'Who wants to be a cafe owner?' many of them raised their hands," Otik said laughing.
Acknowledging the challenges, Louis Dreyfus Company (LDC) as the sponsor of the training, was determined to start early in educating the young generation about what coffee has to offer for their future.
"So it is also helping, intervening in farming education in the early ages. Most of the projects have a quite a good gender component so we try to involve more women in the education," LDC Regional Corporate Communications Manager Priscilla Teo stated.
On its 20th anniversary in Indonesia, LDC aims to reiterate its commitment on sustainability that includes four pillars, namely people, partners, environment, and community, one of which is through the "Coffee Vocational Training" program.
Related news: West Pasaman holds Mount Talamau coffee festival

Related news: Indonesian coffee attracts visitors at world coffee expo in Germany

Related news: Indonesia aspires to increase coffee exports to Marseille