"It's just a plastic straw," says eight billion of people.


The single-use plastic straw appears to be less harmful, but its impact on the ecosystem will be catastrophic if it were to be used by a large number of people. A growing body of research and statistics had unveiled earlier tons of plastic particles, one of which originated from
our
single-use plastic straw, had polluted oceans.
According to a report launched by Stanford University in 2018
, at least 40 percent of the Earth's ocean surface is covered by gyre, which are tiny particles originating from plastic waste. Underwater creatures, including fish, protected whales, and some endangered sea turtles, mistake gyre for food. For months or worst years, they died a slow death by consuming plastic particles in place of their natural foods.
Jim Leape, Stanford's researcher at an interview with the university
, estimated people add at least eight million tons of plastic waste every year. In 2018, the figure may reach 150 million metric tons.
"If the current trends continue, by 2050, plastic in the ocean will outweigh fish," Leape remarked.
However, according to research, phasing out single-use plastic straw will merely solve less than one percent of the entire man-made waste problem.
Consequently, a radical move to deal with the issue is deemed necessary to better preserve the already degraded ecosystem for the future generations.
Saraswati Putri, a professor of Ecophilosophy (Ecological Philosophy) of University of Indonesia
, opined that the first step in dealing with the issue is to change the people's mindset on waste.
"Let us look at our behavior while consuming daily products. Most people would fail to acknowledge the impact of the product's package on the ecosystem. They skipped the part when it leaves our households. They pin high hopes on final waste disposal to recycle their garbage that has contributed to another stressing problem for people living nearby and the local government," Saraswati expounded.
Saraswati believes that waste must be viewed as a systemic problem whose solution lies in the hands of individuals.
"Recycling our garbage must not be the sole responsibility of the authority, as it is the duty of each and every household," she remarked.
People would reconsider their consumption habits if the waste problem were to be localized into a household responsibility.
"People would rather prefer buying products with zero-waste packaging. It is happening now in few regions, including here in Jakarta," Saraswati pointed out.
During the period from 2018 to 2019, the number of communities prioritizing a zero-waste lifestyle has grown in the city, one of which include Zero Waste Indonesia (ZWID), an online platform-cum-store to help people start their zero-waste journey. Apart from ZWID, Cleanomic and Sustaination were two other platforms that provide an online store, podcast, and other information on zero-waste lifestyle.
Despite practicing a zero-waste lifestyle having become a new normal for some individuals, many still question how they start the journey that might be listed as one of the people's resolutions in 2020. To answer the question, shopping at a bulk store can be an option for those looking for a practical and instant way to lead a zero-waste lifestyle.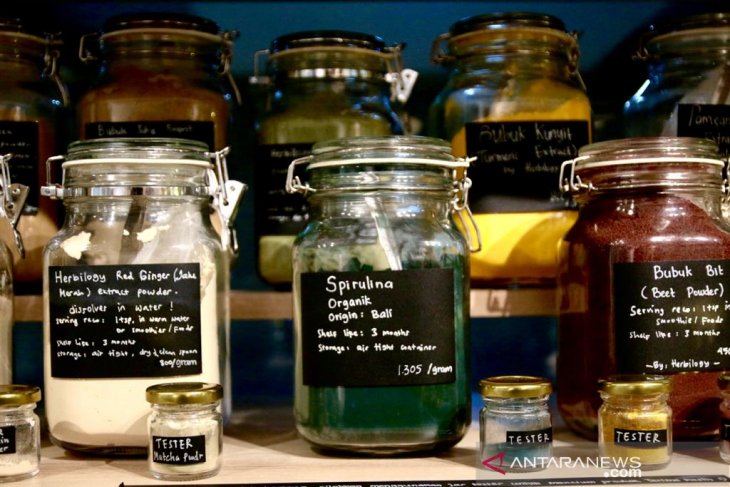 Bulk store is a shop catering to daily needs and necessities that are wrapped in biodegradable packaging or with no box at all. Hence, buyers must bring their own containers and jars to shop for flour, sugar, or salt. To start the zero-waste journey, mentioned herewith is a list of ANTARA's choices of bulk stores in Jakarta:
1. Bulk Store& Co. in Menteng and Kemang, Jakarta
Nestled in proximity to a Vegan/Vegetarian diner Burgreens, Bulk Store& Co. is one of the zero-waste shops selling a wide range of products, including foods, superfoods, skin care items, cosmetics, menstrual pads, grains, spices, fruit wines, nuts, vegetables, and fruits that are all locally produced. The shop is located on Jalan K.H Wahid Hasyim No. 47, Central Jakarta, and Kemang Village Mall, South Jakarta. Both stores operate daily from 8:30 a.m. to 9:30 p.m. local time.
2. Naked Inc. in Kemang, South Jakarta
Located at the COMO Park building in Kemang Timur, South Jakarta, Naked Inc. may suit those preferring to shop at a bigger place than the Bulk Store& Co. Similar to the former shop, Naked Inc. also offers a wide range of zero-waste products, including rains, grains, pastas, spices, fruits, vegetables, utensils, skin care, oils, coffee beans, and artisan teas. At Naked Inc., shoppers must "scoop-and-weigh" their own groceries that are sold per Ons. The shop is open every day from 8 a.m. to 8 p.m. local time.
Related news: Indonesia promotes zero waste in coral triangle business forum

Related news: Jakarta Bay polluted by 8.32-tons land-derived waste daily: LIPI