They are looking for content that can add knowledge and insight related to idol figures
Every morning, before leaving for school, Komarudin, also called Komar, a resident of the Kemayoran area, Central Jakarta, watches the news on television along with his father.
He is 15 years of age and in first year of high school this year. At his age, Komar already has his own smartphone. Komar's friends too have smartphones
He and his friends are active on social media. They have Instagram, Twitter, and group accounts on Whatsapp and Line, with most users being Generation Z.
Komar does not have a Facebook account since he thinks that being active on this social media platform is out-of-date.
Komar reasoned that several Facebook users are dominated by parents.
From these social media accounts, Komar receives sufficient information and the latest news.
He most likes the Instagram platform to find information, usually, through short videos or infographic images that contain new information.
A similar opinion was also expressed by Tika Vera Wantini, 20, who always seeks news through her social media accounts.
The woman, who lives in Bekasi, has Instagram and Twitter accounts and actively uses the two social media platforms.
Tika, who studies at the Jakarta State University, revealed that she only reads news in her spare time, and it takes no more than five minutes.
"If I read the news, I just get to the point. What is the news about? If I already get the gist of the news, I look for other news. I read the news only one to five minutes and not more than that," Tika stated.
Tika's friends also often read the news on Instagram and Twitter applications that feature a variety of the latest news and information that are interestingly packaged.
"In order to find out more information about an issue, such as the coronavirus, he prefers to read online journals, as it can fulfill his curiosity about the coronavirus," she noted.
The Instagram and Twitter platforms are also often used by Feri Wantono, 23, to search and read news.
The man, who likes photography, claims to be more selective in receiving information or news that is scattered on Instagram and Twitter.
Feri does it since fake news is rampantly spread through the two platforms.
"To verify whether the news is a lie, I look for information through the Google search engine. To avoid fake news or hoaxes, I read the news on news portals, such as antaranews.com. Currently, the trusted online media also have accounts on several social media platforms, such as Facebook, Instagram, and Twitter," he stated.
He revealed that the duration to read the news was no more than five minutes.
Feri was never into the habit of reading newspapers or magazines and only read novels and textbooks.
Komar, Tika, and Feri are part of generation z, the generation born after the internet presence.
Generation z is the generation after generation y, which is defined as people born in the range of birth years from 1995 to 2010.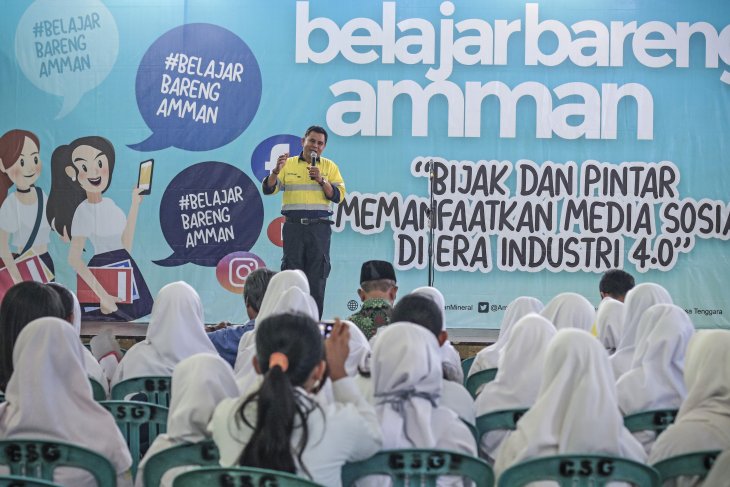 According to data from the Association of Indonesian Internet Service Providers (APJII), as many as 171.17 million Indonesians, or 64.8 percent, have used the internet.
In 2018, majority of the internet users were in the age group of 15 to 19 years. They are classified as generation Z.
Since 1998, the number of internet users has continued to increase. Of the total population reaching 264.14 million, some 143.26 million Indonesians used the internet in 2017, with the figure increasing 10.12 percent, or growing to 27.9 million users as compared to the previous year
Feri, including the generation z, is relatively old. He was born in 1997 and is currently 23 years of age.
When Feri entered elementary school, cellphones began being used.
When he was in junior high school, smartphone technology began to develop in Indonesia.
Despite the initial wave of Generation Z, Feri did not have the habit of reading newspapers or magazines.
He often accesses news from social media and chat applications.
Feri is different from his cousin, who is seven years older than him and comes from the millennial generation.
His cousin grew up with the habit of reading print media, newspapers, tabloids, and magazines. Although at this time, the habit was slowly abandoned and switched to digital media.
Identity, source of interest
A social media observer from the Komunikonten Hariqo Wibawa Satria stated that everyone has an identity, both as citizens and other backgrounds. That identity is a source of interest.
People tend to consume news related to themselves. The closest is the news about him, his family, his religion, his tribe, his hobbies, the author on art of managing social media team.
In 2018, 2019, and 2020, several online media began to present Islamic content. This is since Indonesian Muslims began showing interest in studying Islam. Hence, the term "Islamic KTP," which was popular in the new order, was true. Muslims, who pray and understand the meaning of prayer readings, are not many, and indeed the enthusiasm to study Islam is high in the community.
Second, people consume news related to idol figures, figures they do not have a liking for. Hence, the more you read the news, the more information you gain about his likes and dislikes. Does the knowledge and insight of readers increase with reading news? It depends.
I laud that in the midst of the "economic crisis" experienced by several media outlets, there still exists enlightening news, from journalists, editors, the Chief Editor, and those interviewed. However, this is not possible without sincerity and deep thinking.
He noted that television and print media are still the main news sources for senior citizens to consume news.
Senior citizens generally cannot linger in front of a small screen.
Hence, currently, many smart televisions connected to the internet are sold. YouTube becomes a favorite because it provides a variety of memorable songs.
They are looking for content that can add knowledge and insight related to idol figures. The weakness of senior citizens is to verify the truth of the content. They generally do not have the technical ability to recognize fake social media accounts, credible news websites, etc.
The millennials and generation z like the small and big screen. They access the internet longer since they have several idols. If the previous generation only had a few idols both at home and abroad.
Millennials and generation z have several idols since they can access everything. If they like a football club, then they also follow the news about their players related to their actions on and off the field.
This is since they are young and many have unclear life goals. They prefer sites that present news on everything, rather than sites that focus on specific issues.
They consume content to create new content that does not intend to be deep. For instance, after watching a movie, they make a short review or just upload it on social media with a short caption "this is cool film".
For media, what is needed is a site that is easy to read and provides comments and other forms of participation. For participation and comments indeed, so far, there has not been as good as the Facebook comment column.
People do not prefer to read news that is served intact from the start to the end of the paragraph rather than offered the link to click.
Currently, he noted, Whatsapp and Facebook are news references, although they do not produce news.
The presence of the internet and development of smartphone technology have formed the habit of how millennials and generation z read news.
These generations experienced a change in the habit of accessing news.
Millennials, who used to read the newspaper every morning, are slowly changing it by checking what happens on their smartphones.
This change, like it or not, makes the media industry have to adapt to the digital age.
If the media industry do not adapt to the digital age, the advantages they offer would likely be gone.
Related News: The "super journalist" is on duty
Related news: Unplug: taking a brief hiatus from social media

Related news: Civil sanction needed for social media platforms: Minister