Aku
by Chairil Anwar is one of the Indonesian-language poems that are widely known across generations.
Some critics say the poem, written in 1943, emphasizes Anwar's individualistic nature and vitality.
The 90s generation is probably familiar with this poem as it appears on
Ada Apa Dengan Cinta?
(
What's Up with Love?
), a teen movie which marked the revival of Indonesian cinema in the early 2000s.
A translation of
Aku
appears under the title
Me
in
The Voice of the Night: Complete Poetry and Prose of Chairil Anwar,
edited by Burton Raffel:
When my time comes
I want to hear no one's cries
Nor yours either

Away with all who cry!

Here I am, a wild beast
Driven out of the herd

Bullets may pierce my skin
But I'll keep on,


Carrying forward my wounds and my pain,
Attacking,
Attacking
Until suffering disappears

And I won't care anymore

I want to live another thousand years.
It feels right to include Anwar's poem in works that focus on youthful enthusiasm, a subject he held close to his heart.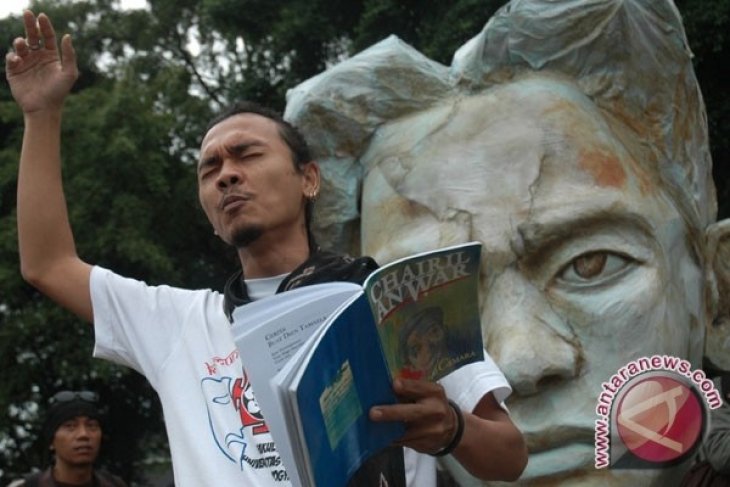 Known as the pioneer of modern literature in 1945, Anwar lived in the colonial period and the time influenced his works, wherein he voiced his desire to be a free and independent being.
Through his poems, Anwar channeled his energy and fighting spirit to his readers — something that was relevant not only for the Indonesian people in that era of struggle, but also applies to today's young generation whose life challenges have become more diverse with the evolving times.
From youth and struggle, we move to poetry on the themes of love and romance.
Among the many poets who have consistently explored this theme, Sapardi Djoko Damono is one who deserves notice.
One of his most famous poems,
Aku Ingin
, has been translated into English under the title
I want
by John H. Mc Glynn:
I want to love you simply
In words not spoken :
Tinder to the flame which transforms it to ash
I want to love you simply
In signs not expressed :
Clouds to the rain which make them evanesce
In an interview with the national media, Damono said that
I want
was composed in a short time, unlike many of his other poems.
The poet, who celebrated his 80th birthday on March 20, interprets the bitterness and sweetness of love in his verses.
Love is not always melancholy, nor is it always happy.
"I write a lot of love poems. That is how it is. Beyond all definitions, "he said.
Damono's ability to convey ideas has impressed readers, many of whom find the emotional core of his work relatable.
I want
describes a sincere and unconditional love, a feeling that is pure and great, and which is expected from everyone who loves us.
"To me, he is simple. So, if we read Damono's poem, we can immediately get the point, without any high language we sometimes find difficult to understand," said Aufanuha Insani, who has read the poet's works.
The Indonesian literary legend's thoughts on love and life have colored the souls of Indonesian people.
Damono said literature has become a part of him. Through literature, many things can be done for the world around, including sending messages of humanity.
Reading literary works can soften the heart and make the reader reflect on a situation.
"I agree (with that idea) not because I am a writer, but because the most sophisticated way to communicate with language is through literature," he said.
Not just serious themes and love, even humor can be found in poems.
Among the Indonesian poets whose work can be described as both unique and rib-tickling, Joko Pinurbo deserves our attention.
In his poem,
Celana Ibu
, Pinurbo presents a unique story about Easter from the Bible.
His poem describes how Mary felt sad watching Jesus die on the cross clad in just a torn robe covered in blood. Three days later, Jesus rose from the dead. Early in the morning, Mary came to her son's grave with a pair of pants and asked Jesus to try them.
Then Mary asked,
"Paskah?" ("Do the pants fit?")
To which Jesus joyfully answered,
"Pas." ("They fit.")
Then, wearing his mother's trousers, Jesus ascended to heaven.
Paskah
also means Easter in the Indonesian language.
"He seems to have a knack for making fun of or fiddling with Indonesian words. It is very special," said Assumpta Hangganararas, one of Pinurbo's fans.
Behind the humor, Pinurbo's work has a deeper meaning.
He has interpreted love in the celebration of Easter as a simple, tangible act, such as sewing pants for God who had been stripped and had suffered on the cross.
A theological, but witty reflection from Pinurbo.
"I created a work not far from my reach, not reaching heaven, but only what is near humans," he said while taking a poetry writing workshop of
Ibadah Puisi
.
The works of Indonesian poets can be taken up as alternative reading or studied more deeply to commemorate World Poetry Day.
Observed every year on March 21st, World Poetry Day celebrates one of humanity's most treasured forms of cultural and linguistic expressions and identity.
Prevalent throughout history --- in every culture and on every continent --- poetry speaks to our common humanity and our shared values, transforming the simplest of words into a powerful catalyst for dialogue and peace.
Related news: Poems of Rumi, Gu Cheng are still touching hearts, lives

Related news: Raw emotions, blunt words fill the world of modern poetry

Related news: Exploring beauty, romanticism through poems by Shakespeare, Allan Poe