Banjarmasin in South Kalimantan Province has numerous delicacies whose taste will leave a lasting mark in the memory of those who sampled them
Savoring the local delicacy is imperative while visiting a city or region, particularly in Indonesia, which offers hundreds of special culinary delicacies, several of which are adjudged the best food by foreign travelers.
On the similar lines, Banjarmasin in South Kalimantan Province has numerous delicacies whose taste will leave a lasting mark in the memory of those who sampled them. Among them are the iconic delicacy of Soto Banjar, a grilled duck, in which native Alabio duck is used, and fresh-water-fish-menu of gangan paliat.
One must also not miss out on the opportunity to relish mandai, a local food made of the fermented skin of cempedak, a family of jackfruit.
Soto Banjar is a must-try delicacy during a visit to Banjarmasin. Although soto is served in several regions in Indonesia, each of them offers a different composition and taste.
Sri Hartati, a radiologist from Kudus District of Central Java, put soto Banjar on the list of "things to do" when she visited Banjarmasin for a seminar recently, although she came from a region famous for its own Soto, Kudus in Central Java.
"Hence, this is it, the famous Soto Banjar. It is so refreshing," she remarked after taking a plateful of Soto Banjar.
Soto Banjar comprises pieces of chicken meat, potato fritters, rice vermicelli, boiled eggs, and ketupat --a compressed rice cake wrapped in coconut leaves and served in clear stock. Some people prefer adding lime juice, chili paste, and sweet soya sauce for that incredible taste.
When served with rice, instead of ketupat, people in Banjar call it as Sup Banjar, or Banjarese Soup.
Several restaurants in Banjarmasin offer this iconic culinary delicacy of South Kalimantan, but Soto Bang Amat on Banua Anyar Street is the most popular restaurant frequented by tourists, as the restaurant, located at the Martapura riverbank, is also a starting point for tourists to visit the Lok Baintan floating market.
Grilled duck
South Kalimantan has a native species of duck called the Alabio duck. It has originated from North Hulu Sungai District and derives its name from a sub-district in the region, Alabio.
Locals in North Hulu Sungai are proud of the duck that they call as "itik banar" that means the true duck.
"It's 'itik banar' (true duck)," owner of the Apui restaurant replied to a question posed by his customer regarding the species he had used in his grilled duck menu.
The Alabio duck is grilled after being marinated with sweet soya sauce, garlic, ginger, and white pepper. It is served boneless and in small cuts, with a dash of lime juice and chili paste.
The fat underneath its skin is rendered through heating over high heat though not making it crisp, as the Alabio duck has a quiet thick skin. The heating will result in a tender, melt-in-your mouth meat.
Mandai
Cempedak (Artocarpus integer) is a famous fruit across Indonesia. However, in South Kalimantan, it is the skin that has garnered greater popularity than its fruit. The inner skin of cempedak, or aril, is priced at more than twice that of its fruit. Several people have also dumped its pungent-smelling fruit and only taken the arils.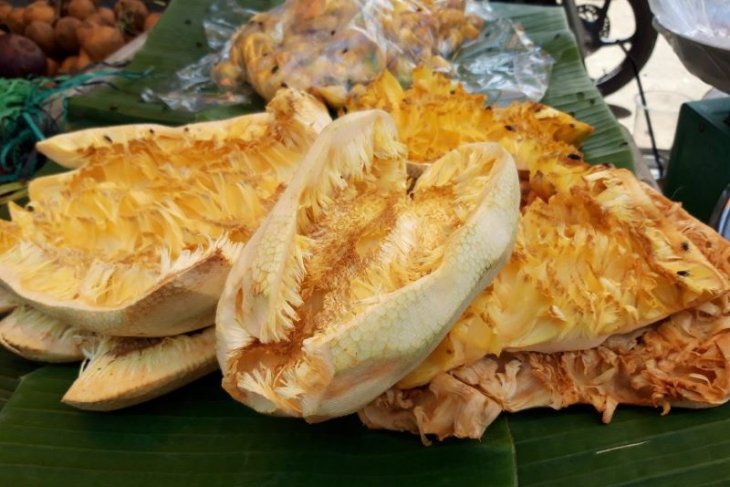 The mandai is fermented before being cooked to make it tender and tasty. The arils, taken from a ripened cempedak, will be cut into small pieces before it is washed and then soaked in salted water for a week or more.
It can be served as fried mandai along with onion that will result in a crispy delicacy, with a light smell of cempedak, or it is stir-fried with red chili and onion.
Local people believe that eating mandai can whet one's appetite. Mandai, soaked in salted water, can be stored for months.
Other must-try delicacies in South Kalimantan are the gangan paliat and lontong orari.
Gangan paliat is a dish of the people of Tabalong that uniquely uses various types of catfish, including baung (hemibagrus), haruan (snakehead fish), and prawn.
A village in Tabalong District was also named after the dish, Paliat Village in Kelua Sub-district in the southern Tabalong.
Three important elements of the dish are the thick coconut gravy, fresh lime juice, and turmeric. Some fresh veggies and chili paste are also generally added to this dish.
Lontong Orari is another legendary delicacy in Banjarmasin. Although its appearance and taste resembles that of Lontong Sayur that can be found in several other parts of the country, the dish is still quite popular, especially for its soft lontong --a triangle-shaped rice cake wrapped in banana leaves.
It is served with chicken, eggs, or snakehead fish cooked in red seasoning.
The name Lontong Orari originated from a restaurant that was a meeting point for members of the Orari, the Indonesia Amateur Radio Organization. These loyal customers then named the menu as Lontong Orari and so with the restaurant located on Sei Mesa Street, Central Banjarmasin.
EDITED BY INE