The power MOSFET using the SiC, a new material, achieves high voltage resistance, high-speed switching, and low On-resistance compared to conventional silicon (Si) MOSFET, IGBT products. Therefore, it will contribute to lower power consumption and system downsizing.
Fabricated with
Toshiba's second-generation chip design
[1], which improves the reliability of SiC MOSFET, the new device realizes low input capacitance, a low gate-input charge, and low drain-to-source On-resistance. Compared with "GT40QR21," Toshiba's 1200V silicon insulated gate bipolar transistor (IGBT), it cuts turn-off switching loss by about 80% and switching time (fall time) by about 70%, while delivering low On-voltage characteristics with a drain current of 20A or less[2].
Gate threshold voltage is set in the high range of 4.2V to 5.8V, which reduces malfunction risk (unintended turn on or off). Incorporation of an SiC Schottky barrier diode (SBD) with low forward voltage also helps to reduce power loss.
The new MOSFET will contribute to higher efficiency by reducing power loss in industrial applications, such large capacity AC-DC converters, photovoltaic inverter, and large capacity bidirectional DC-DC converters, and will also contribute to reduced equipment size.
Notes:
[1] Toshiba's news release on July 30, 2020: "Toshiba's New Device Structure Improves SiC MOSFET Reliability"
[2] ambient temperature 25°C
Applications
• Large capacity AC-DC converters
• Photovoltaic inverter
• Large capacity bidirectional DC-DC converters
Features
• 2nd generation chip design (built-in SiC SBD)
• High voltage, low input capacitance, low total gate charge, low On-resistance, low diode forward voltage, high gate threshold voltage:
   VDSS=1200V, Ciss=1680pF (typ.), Qg=67nC (typ.), RDS(ON)=70mΩ (typ.), VDSF=-1.35V (typ.), Vth=4.2~5.8V
• Easy-to-handle enhancement type
Main Specifications
(Unless otherwise specified, Ta=25℃)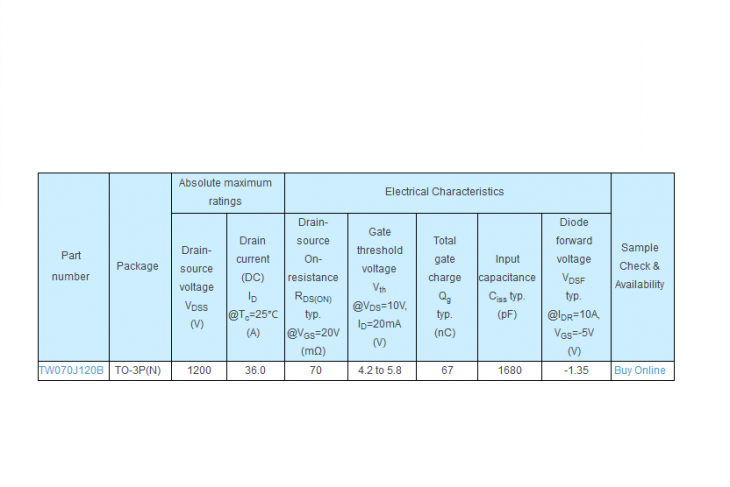 Follow the link below for more on the new product.
To check availability of the new product at online distributors, visit:
Follow the link below for more on Toshiba SiC MOSFETs.
Follow the link below for more on Toshiba SiC Power Devices.
Customer Inquiries:
Power Device Sales & Marketing Department
Tel: +81-3-3457-3933
*Company names, product names, and service names may be trademarks of their respective companies.
*Information in this document, including product prices and specifications, content of services and contact information, is current on the date of the announcement but is subject to change without prior notice.
About Toshiba Electronic Devices & Storage Corporation
Toshiba Electronic Devices & Storage Corporation combines the vigor of a new company with the wisdom of experience. Since becoming an independent company in July 2017, the company has taken its place among the leading general devices companies, and offers its customers and business partners outstanding solutions in discrete semiconductors, system LSIs and HDD.
Its 24,000 employees around the world share a determination to maximize the value of its products, and emphasize close collaboration with customers to promote co-creation of value and new markets. The company looks forward to building on annual sales now surpassing 750-billion yen (US$6.8 billion) and to contributing to a better future for people everywhere.
Contacts
Media Inquiries:
Toshiba Electronic Devices & Storage Corporation
Digital Marketing Department
Chiaki Nagasawa
Tel: +81-3-3457-4963
Source: Toshiba Electronic Devices & Storage Corporation