The electrification of automobiles is increasing the number of electronic components in automotive systems, adding to their complexity, and also to vehicle weight, as more wiring harnesses are required. The solution to this issue lies in changing the current system, where a human machine interface (HMI) [2] connects switches and sensors in a one-to-one manner, for a system that uses multiplex transmission in-vehicle communications to reduce wiring harnesses.
HMI integrates an area network (CAN) [3] and a local interconnect network (LIN) [4]; the former is costly, the latter lacks responsiveness. CXPI, the in-vehicle communications protocols developed in Japan, and now adopted as an international standard, includes in-vehicle subnetworks that cost less than CAN and that are more responsive than LIN.
TB9032FNG combines Motor Driver IC and CXPI communications, and provides as a network interface for in-vehicle body applications, or as an interface for zone electronic control units (ECUs) [5]. It can control functions such as door locking and side mirror control.
The new product can be switched between commander node and responder node via an external terminal. In addition, it features current consumption (Sleep) (IBAT_SLP) of 5μA (typ.)[6], with low current consumption on standby. It is also equipped with fault detection functions that include overheat detection and low voltage detection, and is house in a P-SOP8-0405-1.27-002 package.
With an operating temperature range of -40 to 125°C, the product has been designed to conform to AEC-Q100 (Grade1), a qualification standard for automotive electronic components.
Toshiba plans to use the CXPI physical layer technical assets it has cultivated to develop an interface IC that also integrates the CXPI controller and the protocol-control hardware.
Notes:
[1] CXPI (Clock Extension Peripheral Interface): A communications standard, developed in Japan, for in-vehicle sub-networks derived from LIN.
[2] HMI (Human Machine Interface): A mechanism enabling interactions between humans and machines
[3] CAN (Controller Area Network): A serial communications standard, primarily used for automotive communications networks
[4] LIN (Local Interconnect Network): A communications standard for lower-cost, lower-speed on-board subnetworks than provided by CAN
[5] ECU (Electronic Control Unit): Electronic control units, which are primarily installed in motor vehicles
[6] Measuring conditions: VVIO=4.5 to 5.5V, VBAT=7 to 18V, Ta=- 40 to 125°C, NSLP=L, TXD=H, BUS=VBAT
Applications
Automotive equipment
Body control system applications (steering wheel switches, meter cluster switches, light switches, door locks, door mirrors, etc.)
Zone ECUs
Features
Physical layer interface conforming to CXPI, the standard for automotive communications protocols
High-speed response suitable for automotive body system applications (compared with LIN[3])
Switchable between commander node and responder node via an external terminal
Built-in sleep mode
Low current consumption (Sleep) : IBAT_SLP=5μA (typ.)
Various fault detection functions: overheat detection, low voltage detection and dominant timeout
P-SOP8-0405-1.27-002 package
To be AEC-Q100 (Grade1) qualified
Main Specifications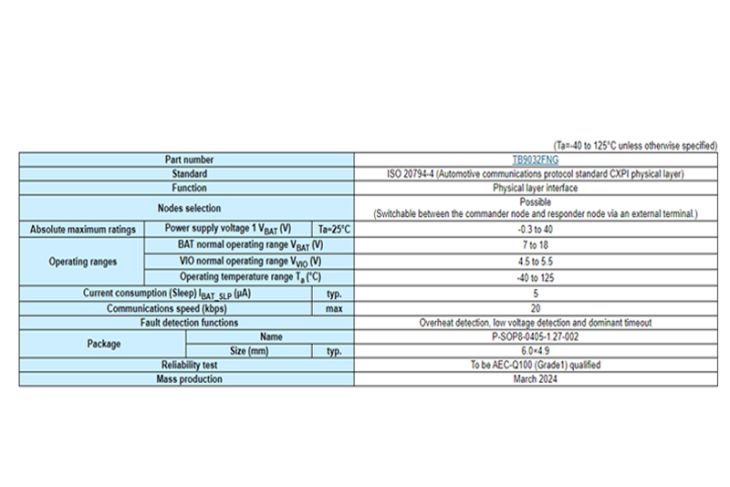 Follow the links below for more on the new product.

TB9032FNG
Follow the link below for more on Toshiba's products for automotive network communications.
Automotive Network Communications
* Company names, product names, and service names may be trademarks of their respective companies.
* Information in this document, including product prices and specifications, content of services and contact information, is current on the date of the announcement but is subject to change without prior notice.
About Toshiba Electronic Devices & Storage Corporation
Toshiba Electronic Devices & Storage Corporation, a leading supplier of advanced semiconductor and storage solutions, draws on over half a century of experience and innovation to offer customers and business partners outstanding discrete semiconductors, system LSIs and HDD products.
The company's 23,000 employees around the world share a determination to maximize product value, and promote close collaboration with customers in the co-creation of value and new markets. With annual sales now surpassing 850-billion yen (US$7.5 billion), Toshiba Electronic Devices & Storage Corporation looks forward to building and to contributing to a better future for people everywhere.
Contacts
Customer Inquiries:
Automotive Sales Dept.
Media Inquiries:
Chiaki Nagasawa
Digital Marketing Department
Toshiba Electronic Devices & Storage Corporation
Source: Toshiba Electronic Devices & Storage Corporation