Seoul (ANTARA News) - Sending postcards to loved ones when you are abroad might be more memorable souvenirs rather than any mainstream token of love, such as fridge magnets or key chains.
Moreover, it is more special when you send it from one of world`s rarely visited destinations, such as the Demilitarized Zone (DMZ) that divides Korean Peninsula into South Korea and North Korea since the armistice was signed in 1953.
Michaela Del Callar, a journalist from the Philippines, who was near the mailbox at the Freedom Bridge, a site in the Paju Mountains, the closest post to enter DMZ from South Korea, told Antara on November 30, that she just wrote a peaceful message on her postcard.
It read "Hope peace will prevail for you and your future generation," love, Aunt Mike.
The Manila-based journalist, who prefers to be called Mike, said that she felt a little bit delighted over sending her nephew a postcard from a country that still has war status even after more than 70 years since the World War II ended.
Of course, the situation in South Korea, or even in Paju, which is the closest area to the North Korea, remains peaceful. When a group of journalists from Asia and Pacific visited the area in November 2018, there was no report of violence in the country.
Mike, who hails from the Philippines, stated that Paju area was more peaceful than the capital Seoul. It takes about two hours to reach Paju from Seoul by car.
"Maybe, that is how I feel because I am an outsider. But I do not think this tranquility has the same meaning for the Koreans," she noted.
Thus, she hoped that her postcard would reach her 12-year-old nephew in Manila and he would, too, know what she felt when visiting the armistice zone.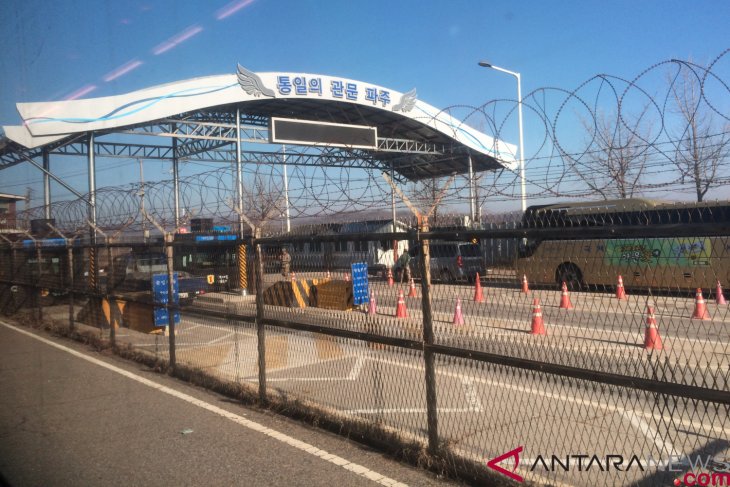 Kim Min-jae, a 21-year-old student of a men`s college in Seoul, remarked that `peace` could be generalized as a common hope for the nation.
"We want peace, obviously. So I hope what President Moon is working now with Leader Kim can move our nations towards perpetual peace," Kim Min-jae told the Meridian International Center`s reporting journalists on the sidelines of his college`s visit to DMZ.
The young student also hopes that Kim would visit Seoul soon to continue the inter-Korean negotiation to revive the South and North`s relationship, which had been overshadowed by various and often provocative actions.
Asked about what he and his fellow students felt about potential chance of reunification, Kim revealed that he would give the choice to the two nations, but he personally is reluctant to the idea.
"I know that Kim has a good intention to improve our relations, but I think unification is a different thing," he added.
Apart from what his people want, President Moon Jae-in`s administration has been working hard to talk to the North side, hoping that it would lead to reunification.
The intention of pursuing reunification process was highlighted during the opening ceremony of Winter Olympic 2018 in PyeongChang, when the reunification flag hoisted during a parade of the nations by the South and North Korean athletes.
Two athletes from the two countries also displayed a show of brotherhood by sharing the Olympic flame together last February.
President Moon deliberately mentioned the term unification as an ultimate goal for inter-Korean relations among other two goals, namely resolution of the North Korean nuclear issue and establishment of permanent peace, as well as realization of the new economic community on the Korean Peninsula.
He is also committed to resolve internal disagreements regarding unification and the North Korea policy and create a national consensus. Moon has been strengthening his Ministry of Unification to achieve the goal, including promoting the unification to the young Koreans through education.
Despite the internal difference regarding unification, which mostly comes from the younger generation who is wary about economic gap, it is clear enough that the South Korean people want to live peacefully side by side with their brothers and sisters in the North.
In the postcard to her nephew from the border line of South and North Korea, Mike had also revealed another hope, a place with its entrance called "a gate that leads to unification."