Azmi Abubakar (Azmi) has, since the past two decades, sought clarity on the 'haze' of unpleasant moments that transpired and unfair judgments against the Chinese-Indonesian community under the end of Soeharto's regime in May 1998.
Stereotyping views on the Chinese in that era were prevalent, thus by then, he had chosen to put pen to paper.
"Books, containing facts, are here to counter any hoaxes spread in society. Negative sentiments directed towards the Chinese, in particular, did not arise all of a sudden. They were indoctrinated since many decades," Azmi remarked as his eyes gleamed in the morning of Friday, September 6.
Despite the stigma attached to the Chinese yet being present, though lesser, Azmi too continues to endeavor to abolish the thought process and offer clarity to all that the Chinese were part of Indonesian history. In other words, he had been striving to preserve the Indonesian-Chinese intangible cultural heritage back where it belongs to.
From a book he had at the very start, later reaching two to a pile, shelf, and now reaching a couple of shelves and piles.
He claimed to currently own some 35 thousand books themed "the Chinese contribution to Indonesia, specifically over the period of the Dutch Indies colonial era to Indonesia contemporary era," that are displayed at a private museum that he also owned.
A piece of red plank hangs above the terrace of a shophouse in BSD Serpong, South Tangerang, Banten District, about 40 kilometers away from the heart of Jakarta. Gold-painted lettering 'Museum Pustaka Peranakan Tionghoa' or the Museum of Indonesian-Chinese Literacy' could be clearly seen.
Related news: Indonesia's democratic feat draws Chinese foreign minister's acclaim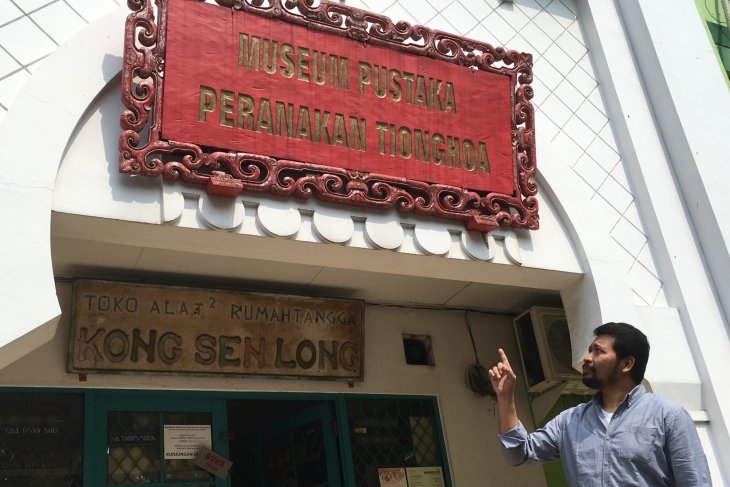 Both the color combination and typical engraved ornamentation at the edges of the plank were bold reminders of the things inside being Chinese nuanced. Thousands of Chinese books were strewn about in a dilapidated state, as their pages had turned brownish akin to old books.
"Over four thousand were about Admiral John Lie Tjeng Tjoan, a national hero in the era of the national revolution," he explained.
The other collections were varied in nature, comprising traditional Peranakan recipe books, comics, novels, and newspaper pages.
Azmi has always upheld high ideals as is apparent from the museum being entirely self-funded since he has a professional job to earn money. He declined offers of any donors to avoid mistrustful judgment from the public, over the source being Chinese or non-Chinese.
"Both have their own stigma, and I did not want them to think that I was one-sided," he clarified.
Related news: Three important things Indonesia has to learn from Chinese industrial film
Nonetheless, he believes that with a sufficiently high level of understanding, there should be no reason to alienate the Chinese out from the Indonesian.
This is since neither his name nor physical appearance fits into commonly Chinese. Azmi was born in Aceh's Gayo, yet years of experience as an activist in the '98 events and his empathy towards it made him "an Indonesian-Chinese" itself.
This was what an analyst of Indonesian-Chinese culture Agni Malagina, views as a cultural identity in a bid to preserve cultural heritage is quite fluid.
"I can say that Azmi Abubakar was exposed, in a good way, to Chinese culture by his own experiences. And it would never be underestimated since the only thing that matters is how deep he is emotionally involved in the subject he immersed himself into," Malagina remarked.
The fact that Azmi had an intention and mission to preserve Chinese documentation, Malagina affirmed that Azmi's dedication and efforts to preserving Chinese documentation should be lauded. Moreover, not everyone is willing and committed to act in the 'oldish' field.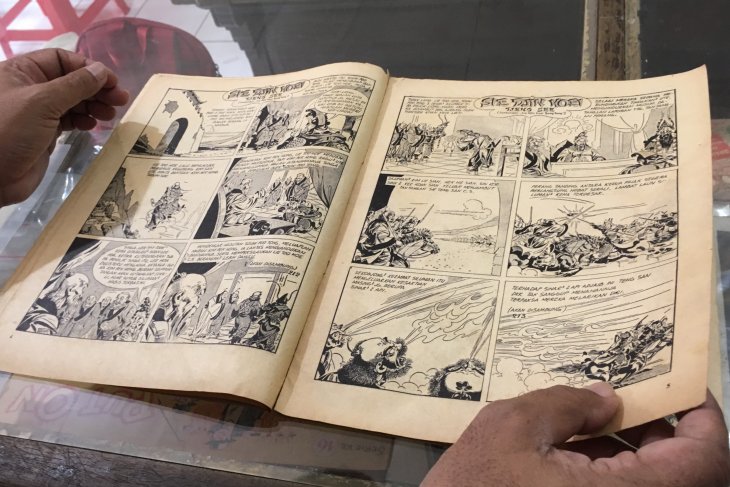 Moreover, Malagina pointed out that the way Azmi labeled his museum as "the contribution to knowledge" was really on track, as the museum's collections are all free to read, so students and researchers, both local and abroad, had visited the museum to look for any reference to their writing.
"The books Azmi collected are mostly rare which, if not handled by him, could be owned by collectors, who would just keep them in a bookcase without allowing anybody access to read them," Malagina asserted.
To this end, Azmi pondered if "Museum Pustaka Peranakan Tionghoa" never existed, since he was never into this thing. He took a second to finally speak out his mind.
"There would be someone who does. Yet, the thing is the universe had chosen me instead, this such is a destiny for me," he stated.
Related news: Indonesia becomes China's pivotal partner in cooperation: official