With 2019 drawing to a close so quickly, regardless of whether one is ready, it is almost time to bid adieu.
New Year usually lends different vibes to different people, with part of it being the excitement to celebrate it through joyous partying possible with friends, loved ones, in the presence of fireworks and toasting to another year to make it right.
The rest of it, is an apprehensive feeling on how time passed by so quickly without nothing monumental having been accomplished.
However, above all, it is precisely that time of the year again to take a moment to step back and reminisce over all that had taken place in the past 12 months. All the good, the bad, and the ugly. Laid bare as a reminder.
ANTARA zeroed in on two memorable events that stood out in 2019 as our remembrance to mark the year, specifically fake news and the youth movement.
Indonesia began 2019 with grief in the aftermath of a tsunami that struck one of the popular tourist destinations at Tanjung Lesung Beach, Banten, merely a week before the New Year celebrations. With over 400 people losing their lives, the pain is clearly too profound for some to celebrate the coming of a new year. A grim reminder of the country's susceptibility to natural disasters and fake news. Why fake news?
It appears that hoaxes and fake news are likely to surface in the aftermath of a disaster, usually about imminent disaster forecasts that will trigger panic among the public, while authorities spend days countering them. Sometimes fake news, armed with graphic photos and videos that appear credible, are shared thousands of times on social media.
Social media sites can play a huge role in expanding the reach of such stories, while mainstream journalists are yet struggling with post-disaster physical issues to verify data and reach sources.
Related news: Rescuers find 52 bodies in tsunami-hit Tanjung Lesung, Banten
Related news: Fake news still challenges Indonesia's post-election atmosphere
During 2019, especially during the two-thirds of it, hoaxes and fake news posed a major problem for Indonesia. This country had to deal with fake news that was believed to ignite ethnic and religious tensions before, during, and after the presidential election. The presidential election that only involved two candidates -- the incumbent Joko Widodo and the former general Prabowo Subianto -- also intensified the disputes at the grassroots level. Common allegations arising from misinformation targeting Joko Widodo project him alternatively as being anti-Islam or a member of Indonesia's banned Communist party. In the meantime, Prabowo has been portrayed as planning to create a caliphate.
Fake news is created to deliberately misinform or deceive readers. Hence, it can be difficult to set apart credible stories from those that are not. Most of the time extensive efforts and skills were required to expose a lie. Fake news is such that if not treated prudently and in a timely manner, it can endanger the unity of the country and pose a problem across Southeast Asia, from Jakarta to Nay Phi Taw to Bangkok and Kuala Lumpur.
In January 2019, Channel News Asia (CNA) had brought to light a story of Veles, a small town in Macedonia, Europe, called the world's fake news capital.
The media also interviewed Mirko Ceselkoski, an Internet marketing consultant & strategist, claimed to have helped Donald Trump emerge victorious in the US elections. CNA reported that hundreds of fake news are circulated across the globe for profit from Veles.
Ceselkoski and his team should not be the only one. The rampant spread of fake news across the world and its impact on the public has triggered concerns among media professionals in Indonesia. Several of them create teams of fake news slayers chiefly tasked with countering fake news and hoaxes. Some of it is being supported by tech giants.
However, after all the bickering, slander, and legal complaints, ultimately both the competitors shook hands on the steps of the Merdeka Palace, leaving part of the public baffled while the rest nodding in agreement over one of the substantial revelations this year.
Related news: Jokowi springs surprise with Prabowo's inclusion in new cabinet
When Subianto accepted Widodo's offer to serve as defence minister, it cemented the saying that nothing lasts forever under the blue sky, including a yearlong difference. Nonetheless, one positive outcome at least was to finally watch the country's netizens come to peace.
The second major event that shook the country in 2019 was the youth movement. For some people, who missed the opportunity to witness the historic youth movement in 1998, which toppled the 30-year rule of then President Soeharto, 2019 definitely does not disappoint.
It gave one of the biggest youth movements 21 years after the it-movement in 1998, as thousands of students held demonstrations against a new law they say has crippled the country's anti-corruption agency for days.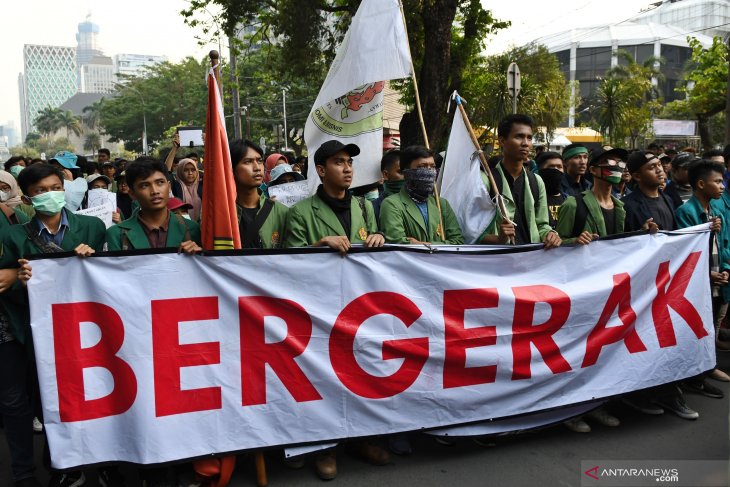 Similar to the movement across the world, from Hong Kong to Baghdad and to Santiago, some protesters went on a rampage setting fire and pelting rocks at the police and igniting firecrackers while the riot police responded by firing teargas and water cannons.
Though the movement was never targeted at President Widodo, due to be sworn in for a second term in less than a month since the protest on October 20, 2019, it certainly is testing his pledge to fight corruption and to involve youngsters in his new administration.
Students have historically been the drivers of political change in Indonesia, sadly oftentimes at the cost of their blood and lives. Thus, 2019 is not different, two of them recorded as martyrs to the movement that popularized few of them as promising future leaders.
Speaking in connection with the youth movement, one should not forget the youth-lead movement across the globe for climate change. Some of the world's fiercest climate activists today are young people, with Greta Thunberg at the forefront, leading the battle of will and wits against elite leaders, including US President Donald Trump and President Jair Bolsonaro of Brazil.
Then again, no one understands the existential threat of climate change better than those, who will have to live with its worst effects. In Indonesia, some students showed up on the streets to support the movement, while the rest follow their own ideas, from the no-straw movement to sustainable fashion, zero-plastic waste, and clean energy. With efforts to stop the burning of Indonesia's rainforests and punish corporations responsible for forest fires yet to yield all-out results as the year passed by, the youth demands sound rather than be reasonable.
Though it is sad to see students leave classes to go on a strike and try to reason with the leaders for a better future but again, like Tan Malaka, the Indonesian philosopher, said, idealism is the last luxury owned solely by the youth. Then maybe, it is their moment of time to do it.
All in all, 2019 is a lesson learned, an experience acquired, and an insight gained that dare we say thank you for it but should walk away from it to make room for the coming year.
Related news: Indonesian students hold rallies to protest law changes
Related news: President instructs Karnavian to investigate alleged repressive acts