Three weeks ago, Didi Kempot had held a charity concert while appealing to residents to not return to their hometown. This morning, Didi Kempot has passed away
Dionisius Prasetyo, popularly known as Didi Kempot, breathed his last in Surakarta, Central Java, on Tuesday morning, at the age of 53.
Didi was moved to the Kasih Ibu Hospital, Solo, Central Java, in an unconscious state.
The demise of a renowned singer of campursari -- a blend of Javanese and modern music genre -- has plunged family, relatives, music lovers,
Sobat Ambyar
as his fans were called, and national figures into deep sorrow.
Didi Kempot, hailed as the "Godfather of Broken Hearts" for performing songs that touched a deep chord with his lovelorn fans, will be remembered as a humble figure and legendary singer, who always spread positive energy to those around him.
Hence, it comes as no surprise that Didi Kempot's demise has left a lasting impression on all those close to him.
President Joko Widodo (Jokowi) fondly recollected Didi Kempot, who took part in a charity concert and appealed to the public to not return to their hometown, among other things.
The president also expressed his condolences on the passing away of Didi Kempot.
"Three weeks ago, Didi Kempot had held a charity concert while appealing to residents to not return to their hometown. This morning, Didi Kempot has passed away," Jokowi wrote in the latest tweet.
"My condolences to all the family members of the deceased and all his fans named Sobat Ambyar wherever they are," he stated in a poem accompanied by a photo with Didi Kempot.
On April 18, 2020, Didi Kempot, along with several communities and charities, held a charity concert to help people reeling from the impact of the COVID-19 pandemic.
Owing to the high level of public enthusiasm, the concert managed to amass donations reaching Rp5.3 billion.
Moreover, Didi Kempot had the opportunity to compose a song, Ojo Mudik (Don't Return to Hometown), before he died. The song echoed his message to fans battling the pandemic. He appealed to all nomads and the public to not return to their hometown.
In the song, he said the family in his hometown would understand the ongoing conditions. Didi Kempot also appealed to fans to pray and unite against the COVID-19 pandemic.
This song is part of Didi Kempot's efforts to help the government and community fight the pandemic after holding a charity concert.
Ojo Mudik was made by involving several Solo officials, such as Mayor FX Hadi Rudyatmo, Commander of Kodim 0735 / Surakarta Lieutenant Colonel (Inf) Wiyata Sempana Aji, and Surakarta Police Chief Senior Adjunct Police Commissioner (AKBP) Andy Rifai.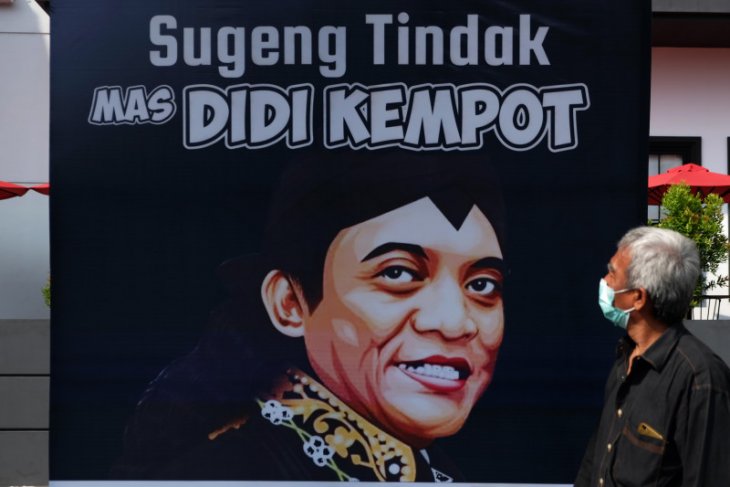 Meanwhile, Defense Minister Prabowo Subianto, an admirer of the Javanese singer, Didi Kempot, expressed deep sorrow over the passing away of the Indonesian musician on Tuesday morning.
"Pak Prabowo is a fan of Didi Kempot's songs," Defense Minister's spokesman, Dahnil Anzar Simanjuntak, noted.
In the video that Dahnil shared with reporters and uploaded on his Twitter account on Tuesday, Prabowo is seen singing Sewu Kuto in the car. Prabowo sang by reading the lyrics he held.
Dahnil recalled that the video was recorded around the end of 2018.
"Prabowo is a connoisseur of any kind of music, including Javanese songs of Didi Kempot's songs," Dahnil noted.
Prabowo is buoyant that despite Didi Kempot passing away, his work would be eternal and be remembered and hold a permanent place in the hearts of music lovers across Indonesia.
"Prabowo loved crooning to the tunes of Didi Kempot's songs in the car during the trip. He was certain that Didi Kempot's work will be remembered for eternity. Hopefully, Didi Kempot died with blessings ahead," Dahnil stated.
Humble motivator
Central Java Governor Ganjar Pranowo viewed Didi Kempot as one to have inspired his fans and fellow artists to continue working to their fullest potential in the midst of the COVID-19 pandemic.
"Didi Kempot is a role model of how artists still survive and remain consistent, humble, and willing to help and exhibit solidarity with other artists in the midst of the coronavirus outbreak. That is incredible," Pranowo emphasized.
Pranowo was all praises for the efforts made by Didi Kempot and believes that other artists can emulate him. Moreover, in the last few days, he had an opportunity to speak to several other artists, who expressed discontent on not being able to perform owing to the COVID-19 pandemic.
"The artists claimed their work could not have economic value. However, it was different from the deceased Didi Kempot. Didi Kempot continued to work by holding concerts at home and could be seen on social media and other means through devices without having to venture outdoors," he remarked.
In the eyes of Pranowo, the songwriter of "Sewu Kutho" was an artist, who was immensely popular and phenomenal. Didi Kempot continued to create songs of campursari.
"Hence, I hope the spirit of the deceased would be a source of inspiration to young people and other artists, who can emulate him by continuing to work until success is gained," he stated.
Pranowo pointed out that Didi Kempot was a campursari artist, who made his mark and transcended all boundaries and groups of music lovers in Indonesia through his works.
"He can understand what makes listeners tick and how to increase the popularity and acceptability of campursari music in this fairly modern world. The traditional campursari music can be made immensely popular and loved by all groups of community. He was a maestro, who was able to bring worldwide acclaim to traditional music," Pranowo stated.
Pranowo also fondly recollected the national event held by the military and police on the Pancasila field, Simpang Lima Semarang region, during which he had sung and danced along with Didi Kempot and thousands of his fans, referred to as Sobat Ambyar.
"It was very exciting and entertaining. All the Sobat Ambyar sang and danced together, regardless of ethnicity, race, or religion. There were brothers from Papua singing and dancing together. It was very good," he recalled.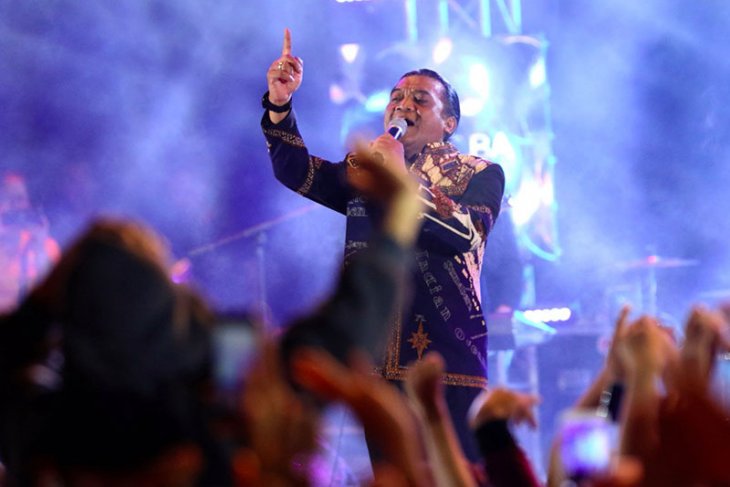 Jakarta Governor Anies Baswedan also expressed his condolences on the demise of campursari music singer Didi Kempot.
Baswedan admitted to being heartbroken. The governor condoled Didi Kempot's demise through his personal Twitter account, @aniesbaswedan. Baswedan also uploaded a photo of Didi Kempot.
"Heartbroken over the death of Pakde Didi Kempot," he stated.
Baswedan said he also felt the loss of Didi Kempot's demise and prayed to God that he give strength to the family to tide over these difficult times.
Meanwhile, Chairman of the Muhammadiyah Central Executive Board Haedar Nashir stated that the late Didi Kempot was a humble person and a shining example for youngsters to follow.
"Indonesia lost Didi Kempot, a great humble artist, who was popular across all ages and groups," Nashir stated.
Nashir said Didi Kempot's songs were meaningful and a hit and evoked a sense of enthusiasm among listeners.
He pointed out that the Campursari music singer was a person in love with his culture that was reflected through his work.
Presently, Didi Kempot's work has gained popularity among people from all age groups and languages. His songs are immensely popular among various community groups, including youngsters from several regions.
Although the maestro Didi Kempot is no more, his musical works will always remain eternal and a source of inspiration for people.
Related News: Didi Kempot, 'The Godfather of Broken Heart', and why he matters

Related News: Celebrating heartbreaks with Lord Didi

Related News: Didi Kempot, melancholic tunes, and catharsis for broken hearts