If we look at the infrastructure, there is a slight slowdown due to COVID-19
Indonesia's digital economy potential is valued at US$133 billion, while in the ASEAN, it reached US$300 billion.
Indonesia also possessed sufficient capital for digital transformation and for tapping the potential since 180 million of the population had internet access.
Of the 180 million internet users, 150 million are active users and 105 million are online service users.
Of the total 83,218 villages, 84.92 percent, or 70,670 villages, can access 4G network services.
Some 32 percent of Indonesian population are Generation Y in the age band of between 20 and 39 years.
Following this, Coordinating Minister for Economic Affairs Airlangga Hartarto said that the government would continue to foster the development of digital infrastructure, such as 4G network expansion in 12,548 villages yet to avail the service.
This is especially in the outermost, frontier, and least developed (3T) areas, where there are nine thousand villages.
The multi-function SATRIA satellite will also become operational in 2023 to connect 150 thousand public facilities that comprise schools, local government offices, health facilities, and ministries/institutions.
Satellite of the Republic of Indonesia (SATRIA) project is currently the country's biggest telecommunication satellite, valued at US$550 million.
Next, Indonesia will prepare 5G services, with its trial prioritizing regions ready for the fourth industrial revolution or integrated industrial area.
The industrial reform and digital transformation are projected to enable the national economic recovery and bolster the country's economic foundation for sustainable development.
It would enable economic transformation to help the country emerge from the middle-income trap, with the required growth of 5.7 to six percent, he added.
Meanwhile, Minister of Finance, Sri Mulyani Indrawati, said the growth potential for Indonesia's digital economy is extraordinary, which can be seen through projections from research conducted by Google, Temasek, and Bain & Company.
The report that illustrates the potential of Indonesia's digital economy is extraordinary, Sri Mulyani said.
Sri Mulyani said researchers estimate that the growth potential for the internet would more than triple from US$40 billion to US$133 billion between 2019 and 2025.
The value of e-commerce transactions is projected to more than quadruple from US$20 billion to US$82 billion and online travel services from US$10 billion to US$25 billion.
Furthermore, online media is estimated to grow from US$3.5 billion to US$9 billion, and online vehicle services from US$5.7 billion to US$18 billion.
This means that Indonesia has tremendous potential in the digital economy sector, but this potential cannot become concrete if it does not develop various necessary and submission conditions, Sri Mulyani observed.
The submission condition in this case is adequate infrastructure so that all Indonesian people from Sabang to Merauke can access the internet, she explained.
There are no terms (such as) outermost, marginalized, or left behind. They need internet access, so we need to build infrastructure, Sri Mulyani said.
Moreover, according to research from the World Economic Forum (WEF), Indonesia can succeed in achieving this goal if it can address four problems, she pointed out.
The four problems are infrastructure, including information and communication technology (ICT), increasing the capacity of human resources to enable ICT adoption, as well as institutions, and regulations, she said.
"If we look at the infrastructure, there is a slight slowdown due to COVID-19," Sri Mulyani noted.
Even though infrastructure development has shrunk this year, Sri Mulyani said she will ensure the government pushes it next year by allocating a budget of Rp413 trillion in the 2021 State Budget.
What is that for? To build a base transmission station in more than 5 thousand villages; we know that there are 12 thousand villages that are not connected to ICT, Sri Mulyani stated.
Key for economic growth
Governor of Bank Indonesia (BI), Perry Warjiyo, has said digitalization will be key for Indonesia's future economic growth, therefore, President Joko Widodo's bid for digital transformation must be endorsed.
This is where the digital transformation initiated by the President is very good, and BI has carried out digital transformation, especially in the Indonesian payments system, Warjiyo said.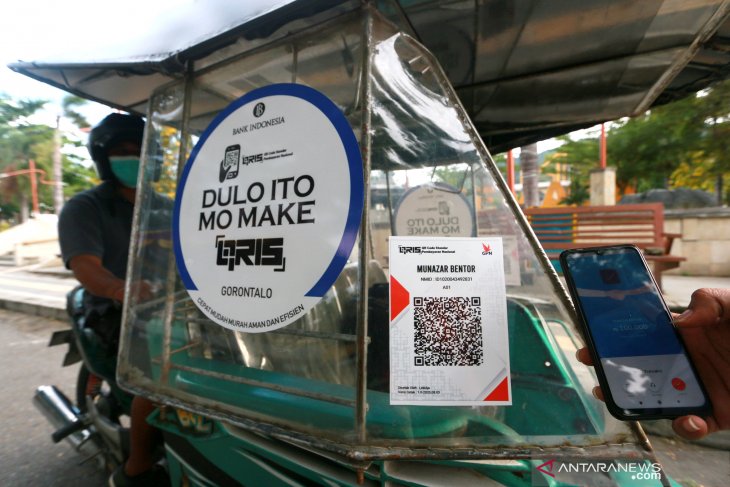 BI ​began exploiting the potential for digitalization by launching the Quick Response Indonesian Standard (QRIS) last year, which, until now, has seen extraordinary progress, he added.
QRIS is now connected to more than 5 million merchants. The digital payments system connects retail financial inclusion through QRIS, the BI Governor remarked.
QRIS is also one way to increase financial inclusion and financial literacy, he said adding, direct practice can help increase both.
The electronification of transactions has increased, as evidenced by 542 local governments (pemda), ranging from the provincial to district / city level, opting to electronify transactions through QRIS, he noted.
The fastest (way to financial) literacy is (to) just do it (digitize). This means doing financial inclusion as well as financial literacy, he said.
BI is also digitizing banking, with 15 banks signing up for digital banking so far, he added.
Not only that, BI plans to integrate digital banking with fintech (financial technology), and in order to do so, it has begun the process of Application Programming Interface standardization, he informed.
Anything that is serviced by open banking and fintech will be connected through the Application Programming Interface, the BI Governor said.
In addition, Warjiyo said, BI is preparing for Bank Indonesia Fast Payment services by building a retail infrastructure payment system, which, from next year, will start covering end-to-end payment retail transactions.