Li-ion battery packs rely on highly robust protection circuits to reduce heat generation while charging and discharging and to enhance safety. These circuits must feature low power consumption and high-density packaging, requiring MOSFETs that are small and thin and that deliver low On-resistance.
SSM14N956L uses Toshiba's micro-process, as does the already released SSM10N954L. This ensures both low power loss, due to industry-leading[1] low On-resistance characteristics, and low standby power, realized by industry-leading[1] low gate-source leakage current characteristics. These qualities help to extend battery operating hours. The new product also uses a new small, thin package, TCSPED-302701 (2.74mm x 3.0mm, t = 0.085mm (typ.)).
Toshiba will continue to develop MOSFET products for protection circuits in devices powered by lithium-ion battery packs.
Applications
Consumer electronics and office and personal devices with a lithium-ion battery pack, including smartphones, tablets, power banks, wearable devices, game consoles, electric toothbrushes, compact digital cameras, digital SLR cameras, etc.
Features
Industry leading[1] low On-resistance: RSS(ON)=1.1mΩ (typ.) @VGS=3.8V
Industry leading[1] low gate-source leakage current: IGSS=±1μA (max) @VGS=±8V
Small and thin type TCSPED-302701 package: 2.74mm x 3.0mm, t=0.085mm (typ.)
Common-drain structure that can be easily used in battery protection circuits
Note:
[1]: Among products with the same ratings. As of May 2023, Toshiba survey.
Main Spesification: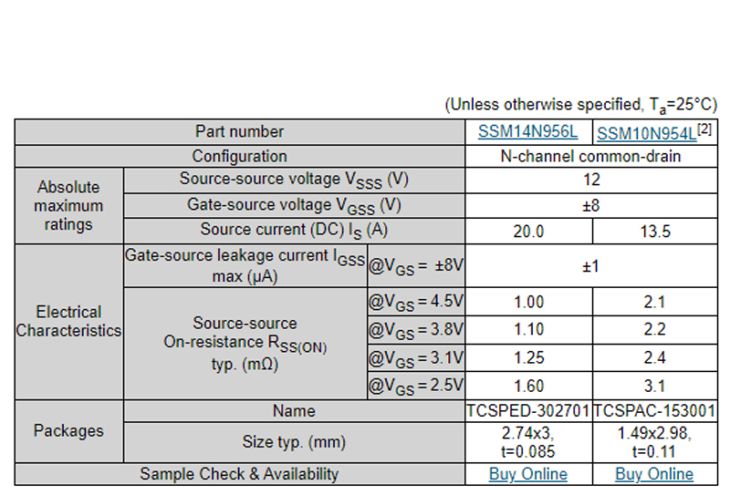 Note:
[2] Already released product.
Follow the link below for more on the new product.
To check availability of the new product at online distributors, visit:
SSM14N956L
* Company names, product names, and service names may be trademarks of their respective companies.
* Information in this document, including product prices and specifications, content of services and contact information, is current on the date of the announcement but is subject to change without prior notice.
About Toshiba Electronic Devices & Storage Corporation
Toshiba Electronic Devices & Storage Corporation, a leading supplier of advanced semiconductor and storage solutions, draws on over half a century of experience and innovation to offer customers and business partners outstanding discrete semiconductors, system LSIs and HDD products.
The company's 21,500 employees around the world share a determination to maximize product value, and promote close collaboration with customers in the co-creation of value and new markets. With annual sales approaching 800-billion yen (US$6.1 billion), Toshiba Electronic Devices & Storage Corporation looks forward to building and to contributing to a better future for people everywhere.
Contacts
Customer Inquiries
Small Signal Device Sales & Marketing Dept.
Tel: +81-44-548-2215
Contact Us
Media Inquiries:
Chiaki Nagasawa
Digital Marketing Department
Toshiba Electronic Devices & Storage Corporation
Source: Toshiba Electronic Devices & Storage Corporation