Nezar Patria, Deputy Minister of Communication and Informatics who opened the event stated that Indonesia is the country with the highest number of startups in Southeast Asia (ASEAN). Therefore, the government encourages startups to develop innovations in various aspects, because innovation promises business sustainability. "As a country with the highest number of startups in Southeast Asia, we should strengthen efforts to improve the quality of Indonesian startups," stated Nezar.
This event brings together startups and stakeholders, including business players, investors, and various institutions. HUB.ID x Nex-BE Fest 2023, held in Nusa Dua, Bali, serves as a platform for startups to scale up their businesses, as they can meet potential investors, potential partners and product users.
As an edtech based company, Cakap explains the social impact that has been achieved to the realization of synergies with entities including state owned enterprises (SOE) subsidiaries including Telkom Group through various programs. Tomy Yunus, CEO & Co-founder of Cakap also expressed his optimism that the education sector is still promising, especially in an effort to unleash the true talents of the nations. "Indonesia has the biggest number of workforce in ASEAN, so we are optimistic to take part in order to equalize quality education access and unleash the potency of Indonesian young talents, so they can compete both at the ASEAN region and global levels," stated Tomy in a discussion panel in front of stakeholders from Kemenkominfo, and ministry of SOE representatives.
"Through the HUB.ID x Nex-Be Fest 2023 event, we really appreciate the Ministry of Communication and Information and SOEs for their support to startups in Indonesia, through their innovation and solutions to various national problems. This is proof that startups contribute to build the nation," Tomy added.
Currently, Cakap holds the status of a Centaur, a company with a valuation exceeding $100 million USD. Supported by three pillars: language, upskilling, and business in the second quarter of 2023, Cakap was able to achieve a double-digit revenue increase year on year (YoY). Cakap's presence at the HUB.ID x Nex-Be Fest 2023 event is proof that education companies still have great potential to grow, both in terms of business scale and valuation.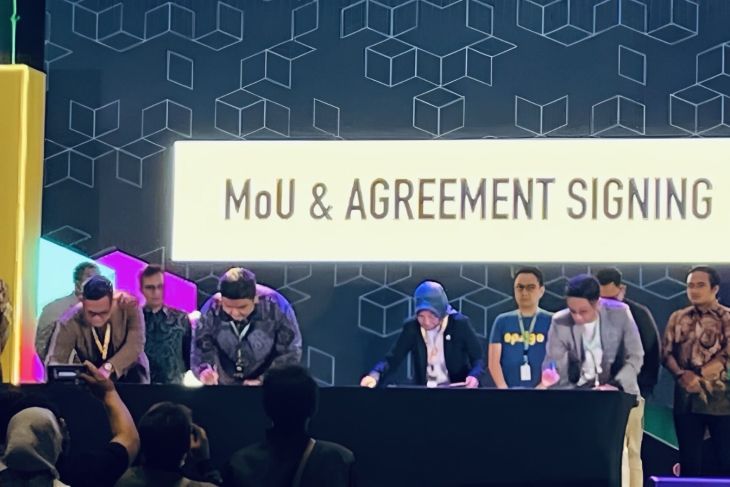 One of the collaborations established in this event was the signing of a memorandum of understanding (MoU) between Cakap and Metranet, which is a subsidiary of Telkom Indonesia in the field of digital multimedia. Metranet and Cakap will collaborate in providing Education Digital Content on the Metranet Platform, namely Cazbox Edu. The target market includes public and private schools from various levels across Indonesia, with the aim of improving the quality of national tallents and unleashing their true potential.
Faisal Yusuf, Business Director of Metranet welcomed the partnership and expressed his support for this collaboration. "We believe that technology has great potential to bring positive change in education. As a digital enabler company, this collaboration is our concrete step to help improve the quality of education in the country, and we are fully committed to making it happen," concluded Faisal.