With a population of some 570 million, Southeast Asia's largest economies comprising Indonesia, Malaysia, the Philippines, Thailand, Vietnam, and Singapore are among the swiftest growing markets in the world.
Economic growth in the region has averaged five percent annually in the past five years and has exceeded the global growth average by approximately two percentage points over the past decade.
This is suggestive of a stable and rapidly developing region that is well on track to becoming a major economic powerhouse.
By 2030, Southeast Asia is expected to become the world's fourth-largest economic bloc.
Another phenomenon is reshaping Southeast Asia's fastest growing economies: a highly connected and Internet-enabled community has taken root in recent years and is growing at a rapid pace.
A decade ago, almost four in five Southeast Asians (ASEAN) had no Internet connectivity and limited access to the information superhighway.
Currently, Southeast Asians are the most engaged mobile Internet users in the world.
The region added over 10 million Internet users last year, bringing the total number of people connected to the Internet to 360 million in 2019.
Google's report on Southeast Asia's (ASEAN's) digital economy recorded that the Internet user base is presently 100 million larger than it was in 2015.
Several of the new additions constituted young users, in the age group of 15 to 19 years. Supported by the region's healthy demographics, this savvy brigade is set to grow.
Some 150 million Southeast Asians will turn 15 over the next 15 years, which works out to be 10 million people joining the "mobile age" every year.
They will enter adulthood, having grown up with a device that enables them to communicate with their friends and family; work with classmates on school projects; entertain themselves with the latest games, videos, and music; and discover information that helps them in their studies.
As these waves of young, mobile, and digitally connected users move into their working lives, they will indeed become part of the Internet economy, further driving its growth.
Managing Director of Google Indonesia Randy Yusuf stated that Indonesia's digital economy will reach US$130 billion by 2025.
As the largest and fastest growing Internet economy in the region, Indonesia is well on track to cross the US$130 billion mark by 2025.
Estimated at US$40 billion in 2019, Indonesia's Internet economy has more than quadrupled in size since 2015, at an average growth rate of 49 percent a year.
In particular, he noted, the e-commerce and ride hailing sectors are firing on all cylinders, fueled by intense competition between Indonesian and regional players.
All sectors are also benefiting from the growing adoption of digital payments. The growth is supported by endless investment.
This year, Indonesia is on track to match the record established in 2018, when almost US$4 billion was raised, Yusuf remarked.
Indonesia, in comparison with six other countries, with rapid-growing internet economy, is more significant in terms of value.
He revealed that large funding rounds completed by Indonesian Unicorns, such as Bukalapak, Gojek, Tokopedia, and Traveloka, are leading the way.
Singapore-based Grab has also announced a multi-billion-dollar commitment to invest in the country over the next few years.
In terms of internet users in the Southeast Asia, Yusuf noted that Indonesia is leading, with 152 million internet users.
In 2019, e-commerce booked a significant growth. The growth of e-commerce has reached 88 percent since 2015.
Meanwhile, a Gross Merchandise Value, or GMV, of US$21 billion was clocked this year.
In addition, online travel is at US$10 billion, while online media recorded US$4 billion.
On the other hand, ride-hailing stands at $6 billion.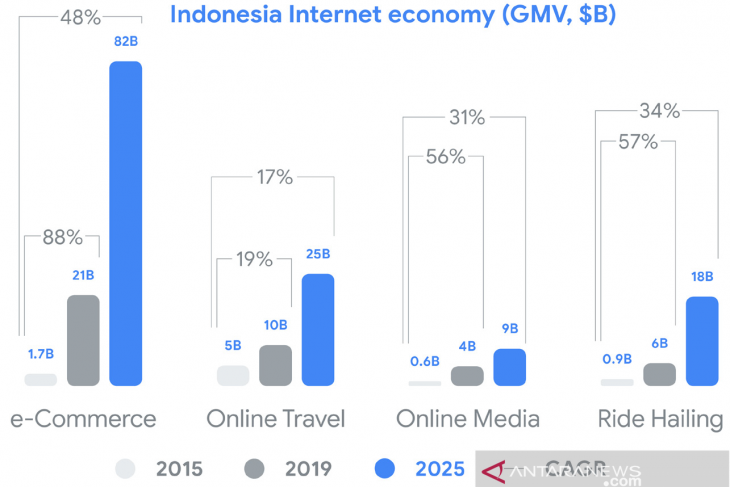 According to the Indonesian E-commerce Association (idEA), the e-commerce sector became a main contributor to Indonesia's digital economy.
Google's report estimated that the e-commerce sector would reach US$21 billion by the end of the year. In 2025, its contribution will reach US$82 billion.
Furthermore, IDEA's spokesperson Astrid Warsito stated that the current growth of the e-commerce sector was high.
Meanwhile, the growth of e-commerce was estimated to continue to increase not only in the retail sector but also in the business to business.
She pointed out that such aggressive and massive growth of e-commerce continues until now.
Although Indonesia has a huge market, the number of players in the domestic market is also large.
In addition, e-commerce penetration is uneven between big cities and other cities due to infrastructure and logistics.
"Comprehensive assistance is required, as all businesses have entered the digital segment. In addition to technology transfer, players also need to develop their business," Warsito noted.
Meanwhile, the government should issue a supportive policy and provide ease in obtaining access to funding.
A leading player
Executive Director of Komunikonten Institute for Social Media and Diplomacy Hariqo Wibawa Satria stated that the government should improve human resources in an effort to make Indonesia a powerful digital player in Southeast Asia.
"First, human resources should be expanded. We need large numbers of data scientists, software engineers, developers, data engineers, security engineers, and others," Satria emphasized.
To improve human resources, Satria noted that for improving human resources, the people do not need to go through formal schooling. However, they can participate in free courses organized by the government and private sector for those driven by true passion and who clear the selection process.
Furthermore, the people's mindset should be changed. People taking up courses or education should strive to usher in greater prosperity for the community.
Several startups disband over personal interests overriding shared interests.
Secondly, there is a pressing need to step up collaborations among scientists and government, society, the private sector, and others.
"Do not allow the community to only become an object, but the members must be empowered. A startup not only aims to attract the public money but also provide additional income to the community," Wibawa remarked.
The third area of focus is to curtail any issue that is not substantive in the public or media space. An issue that can create rifts in the community or a conflict between organizations should be avoided.
"We should speak about the challenges in future. We should call on young people to cooperate with all stakeholders to build a world-class startup. However, the cooperation should be followed with mutual respect," Wibawa stated.
With a population of 260 million, Indonesia's digital economy has grabbed the attention of global technology and investment giants.
Indonesia becomes a country with one of the youngest, largest, and most digitally savvy demographics in the world.
Indonesia has also one of the biggest internet, mobile, and social media markets in the world. With over 150 million mobile subscribers and 80 million internet users, the people of Indonesia have embraced social media.
Taking into account such potentials, Indonesia deserves to become a giant of Southeast Asia in the digital economy.
Related news: Indonesia can become model of digital economic development for AIS
Related news: Indonesia's digital economy forecast to hit US$40 billion by 2019-end
EDITED BY INE