The monotonous swamp welcomes visitors to North Hulu Sungai District in South Kalimantan Province.
On the left and right sides of the narrow street toward the capital city of the district, as far as the horizon, one can only see swampy area occupied by grass, water hyacinth, and some others from the wild grass family.
It looks like a deserted wetland. But, in fact, for creative individuals, the peat swamp is a rich area with an unlimited supply of raw material for handicraft production.
Supian Noor is one craftsman from Banyu Hirang Village in South Amuntai Sub-district who has experienced this potential. He has made various handicraft products using water hyacinth and grey sedge as raw material.
At least 50 handicraft items were produced by Noor and his colleagues in Kembang Ilung business group in the village, including wallets, bags, baskets, mattresses, room separators and chairs.
The newest product is the eco-straw made of grey sedge (Lepironia articulata), a wild plant in the swampy area known locally as purun, that has become a popular alternative for plastic straws following the massive campaign against plastic straws in Indonesia.
Many restaurants, cafes, and hotels do not provide plastic straws to their customers anymore. Instead, people have started to carry straws made of bamboo, paper, stainless steel or glass, when traveling.
According to Noor, he has received an order to export 100 thousand such eco-straws to the Netherlands. Unfortunately, he cannot meet the demand as he can only produce 50 thousand straws per month.
"We have to send the straws to traders in Bali. Thereafter, an exporter in Bali will send the product to the Netherlands. We are not ready to export the product directly," he said.
Meanwhile, Supian Noor who has run the business for more than 10 years will improve the technique to cut the purun and recruit more workers to increase production.
Noor did not use any special technique to cut the fragile grey sedge. From a 1.5-meter long sedge Noor can only get two to three pieces of straw to ensure that the product is of the same length, with round holes and is flawless.
He cuts the dried sedge one by one with a razor blade carefully so as not to crack the fragile grass.
The remaining part of the grey sedge can be used to make a wallet, a bag, or it can be used as a house decoration.
The eco-straw was sold at Rp20 thousand for a pack of 100 pieces. It is more expensive than a plastic straw but offers a long-term benefit especially to the environment, especially since plastic straws are one among 10 types of waste found in the sea, according to the Ocean Conservancy.
Indonesians use more than 93 million plastic straws every day, based on the data of habits to dine out, production of beverage that provides straw, and the number of straws provided in each food kiosk in a big city, according to the Divers Clean Action team.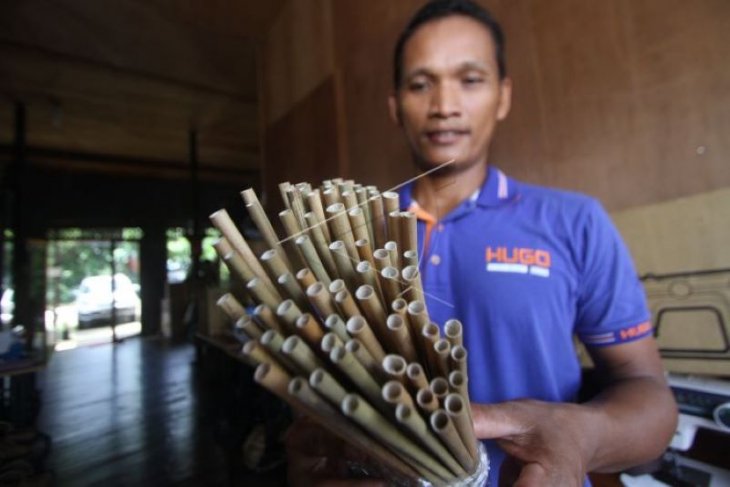 Low production
The swamp has dominated some 89 percent of the area in the district with only 50 thousand hectares being used for agriculture, North Hulu Sungai District Head Abdul Wahid said.
In the disadvantaged district that covers an area of 915 thousand square meters with a 225 thousand population, a majority of the people work as farmers and make wicker handicrafts for some additional income.
Unfortunately, craftsmen in the district still focus on the domestic market, especially in Jakarta, Yogyakarta and Bali, as they find it difficult to penetrate the export market because of its low production capacity.
Last year, a Chinese importer has asked the group to supply 200 thousand units of various handicrafts from grey sedge and water hyacinth, Noor said. But he could not meet the demand due to the lack of craftsmen required for mass production.
"There were importers from three countries namely China, South Korea and Germany that have visited our gallery," Noor said recently.
The importers have expressed their interest in buying the products, he said. However, Noor's group which coordinates 120 craftsmen from several villages could not meet the demand.
In a bid to improve the human resource quality, several training schedules have been conducted by local authorities, including those facilitated by the Peatland Restoration Agency (BRG).
The agency realized that the local practice to make wicker products could help preserve the peatland ecosystem and at the same time empower people living in these areas.
Related news: Younger generation urged to become craft, fashion entrepreneurs

Related news: Craft industry pillar of people`s economy