The cost of living for Aulia Bening Safira, a student of the Jakarta State University (UNJ), has decreased after college lectures were replaced with online classes to allow students to continue studies at home.
Distance learning (PJJ) via online mode has been implemented in educational institutions in wake of the spread of the new coronavirus disease, or COVID-19.
Before the COVID-19 crisis prompted campuses to implement online learning, Aulia needed around Rp2 million per month to meet living expenses.
But now, Aulia's living expenses have reduced as she is no longer living in a rooming house (kos) and has shifted in with her parents in Tambun, Bekasi, West Java.
Although she is now studying online, there has been no increase in her internet spending as there is a Wi-Fi in her home, she noted.
"From financial considerations, online lectures are more efficient. Studying from home, we do not spend a lot of money on fees, printing assignments, and other tasks," she pointed out.
Nevertheless, distance learning has its drawbacks. Online lectures are less effective in building an understanding of course material, she said.
"The material delivered by the lecturer is not fully understood by me. Because when I am studying online, I am lying down, I am less focused on the lecturer's explanation, and no one is watching me. In a face-to-face class, lecturers fully supervised me and other students," she revealed.
Related news: Waging war against an invisible enemy
Related news: Internet infrastructure readiness as corona keeps people home
Aulia is not the only student facing difficulties with online lectures.
Feri Wantono, 23, a student at the University of Muhammadiyah Jakarta, admitted that online lectures are less effective, especially for coursework requiring question-and-answer sessions.
"The signal at students' location is sometimes bad and makes the internet connection falter. This happens when students (conduct) face-to-face (interactions) with lecturers through the Zoom application," he explained.
Using the Zoom or Google Meet applications to hold interactive sessions with lecturers also requires a large internet quota.
"During online lectures, (Internet) data gets wasted," he said.
He felt face-to-face lectures are more effective for core courses.
"I am majoring in civil engineering and currently in semester 2. Core courses related to calculations require direct question-and-answer (sessions) between students and lecturers. Questions from students are directly answered by lecturers during face-to-face lectures," he said.
During online lectures, he continued, questions from students are sometimes not answered promptly by the lecturer, thereby hampering learning.
"For example, if a student asks a question today, it may be answered two days later. Eventually, students become unsure of the material being taught, making them less enthusiastic about learning," he said.
Student understanding of lecture material during face-to-face lectures is anywhere between 75-90 percent. But, for online lectures, it ranges from 50 percent to 60 percent.
"In my opinion, during online lectures, students are not too focused when listening to lecturers. Because there are students who study online while watching television, eating, and so on," he said.
He added lecture material and assignments can be accessed through e-learning applications prepared by campuses, and these platforms also allow students to submit assignments.
"We also use WhatsApp and e-mail for lectures," said the student.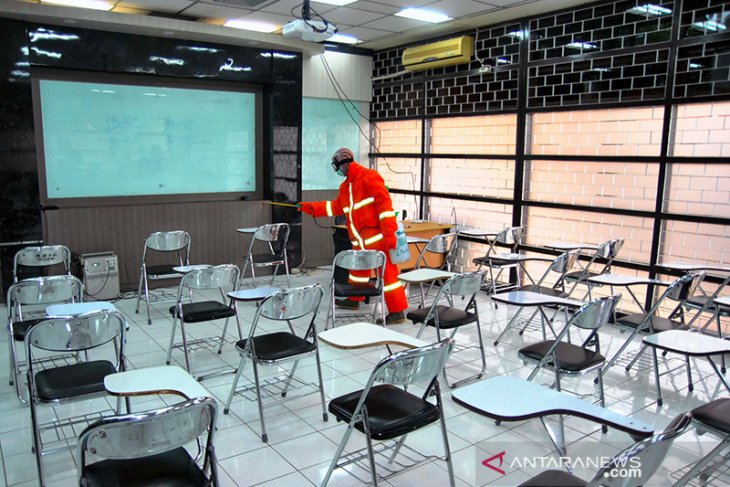 ​​​​Feri Wantono's opinions are echoed by Tika Vera, 20, a Jakarta State University student. Tika said that not all students are happy with online lectures.
"There are a number of lecturers who are technologically handicapped when using existing facilities such as Zoom, Google Classroom, Xixao, Whatsapp services, email, and so on," she pointed out.
This makes the online lecture process less than optimal when compared to face-to-face lectures, she added.
"Often, there are lecturers who ask how to use Zoom and Google Classroom," she revealed.
Usually, such lecturers are aged 50 years and above.
"But, there are also lecturers who are under 50 years asking students how to use the Zoom application or Google Classroom," she pointed out.
In addition, the strength of the internet signal also affects the quality of online lectures.
If the signal is bad, students miss materials presented by the lecturer.
"To be able to meet (online) with the lecturer, students use the Zoom application. With this application, they can hear the lecturer's explanation of a material for 40 minutes. Zoom can be used free of charge, but the duration of video conferencing is limited to only 40 minutes and the maximum number of participants in a session is 100 people," she said.
In addition, practicals cannot be performed during online lectures, Tika pointed out.
"I am majoring in special education, and am currently in semester 4. Actually, in semester 4, students practice a lot. But, because of the COVID-19 pandemic, we cannot practice," she said.
Nevertheless, Tika is still eager to take part in online lectures with all the existing limitations, ranging from bad signals to wastage of Internet data.
Pulse Subsidies
Meanwhile, the Ministry of Education and Culture has issued a new policy to encourage universities to conduct online lectures and issue work-from-home guidances.
The policy calls for universities to reallocate operational costs.
The reallocated budget can be used to help students learn from home, through measures such as subsidized credit purchases or free internet quotas.
But, the policy, according to Tika, has not yet been fully implemented by campuses.
"Until now, I have not received a subsidy for internet quota from my campus. In addition to a subsidy for internet quota, there should be tuition discounts for students," she stated.
She expressed the hope that the campus would be able to make it easier for students to pass courses or final assignments.
Secretary of the Directorate General of Higher Education at the Ministry of Education, Paristiyanti Nurwardani, said the Rector Council of State Universities in Indonesia has agreed to the request of the Ministry of Education.
He said the Ministry of Education would give campuses autonomy in preparing assistance and budgeting schemes.
According to Paristiyanti, the Ministry of Education has also allowed campuses to work with internet service providers to provide free internet to students.
There are now several providers ready to help campuses, but their number is still limited.
In the meantime, some universities, such as the University of Gadjah Mada, are providing pulses worth Rp100 to Rp150 thousand per month to students.
The Veteran University of Jakarta is providing educational assistance in the form of pulses worth Rp50 thousand per month to each student.
Related news: Solo mayor declares emergency over coronavirus, shuts down schools
Related news: Government revokes 2020 national exams