In late August this year, Nadi, 47, saw a record number of mortal remains of COVID-19 patients arriving at the Pondok Ranggon public cemetery.
"We received a total of 36 bodies on August 31, it was the highest number we have (recorded) since March," Nadi, chief command of the cemetery's officials, said earlier this month.
On average, the cemetery has received around 27-28 bodies a day, with total burials reaching 2,623 between March and August, he added.
Situated in eastern Jakarta, Pondok Ranggon is one of the public cemeteries designated by the Jakarta provincial government for interring coronavirus patients. Besides Pondok Ranggon, the Jakarta authority has also appointed Tegal Alur public cemetery at the southern side of the capital city for the same purpose.
In March this year, when Indonesia reported its first two coronavirus cases, the authorities allocated about 7 thousand square meters of land at the Pondok Ranggon cemetery for deceased patients. However, the cemetery received at least 1,100 bodies in less than two months, Nadi said on September 4, 2020.
The rapid spike in coronavirus cases in Jakarta, one of the COVID-19 epicenters in the country, came on the heels of the authorities declaring a less strict partial lockdown measure in early June, 2020.
Related news: Jakarta reports 3,832 coronavirus cases, 338 recoveries

Related news: Jakarta increases budget to contain COVID-19 outbreak
For more than two months, all business activities, shopping centers, and public facilities in the capital city returned to normal under strict health protocols, such as wearing face masks, maintaining physical distance, and practicing personal hygiene.
However, the transition to less strict restrictions led to the emergence of more than 90 new clusters of infections at both public and private offices, including at the Ministry of Health, Ministry of Tourism, Ministry of Transportation, as well as the Jakarta Provincial Government's Office/Jakarta City Hall.
As of September 9 this year, the Jakarta authorities have reported a total of 11,245 positive cases, while the national count stood at 203,342, and the number of deaths at 8,336.
Necessary break
In an effort to slow infections as well as anticipating overcapacity at cemeteries, the Jakarta provincial government has decided to slam the "emergency brake" and reimposed the partial lockdown in the capital city for 14 days, starting September 14.
"We see a new significant spike in positive cases in Jakarta. On August 30, positive cases in the capital city were recorded at 7,960," Jakarta Governor Anies Baswedan said at a press conference, the day before the partial lockdown was reimposed. He added the positivity rate in Jakarta increased 49 percent in the first 12 days of this month.
Therefore, the provincial government was left with no other option but to reimpose the partial lockdown.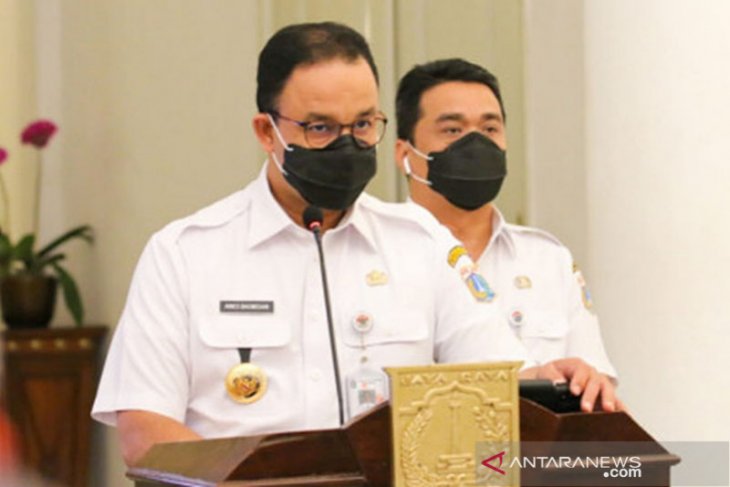 Related news: COVID-19: Jakarta Governor slams emergency brake, re-enforces PSBB
In the second partial lockdown measure, or the "full" large-scale social restrictions, only few essential businesses have been allowed to continue their operations from offices, but they have been asked to limit their capacity to at least 25 percent.
Out of hundreds of offices operated in Jakarta, the provincial government has permitted 11 sectors to remain open, which include healthcare services, logistics, energy and electricity, communication and information technology, hospitality, construction, strategic industry, basic services and public utilities, as well as daily basic needs.
Besides temporarily shutting down most offices, the authorities have also restricted social gatherings involving over five people.
"It's part of our collective efforts to control the outbreak," Baswedan remarked this month.
He also added that COVID-19 patients exhibiting no symptoms have to be isolated at special places designated by the provincial government, as residential areas have emerged as a new cluster of infections.
"We already see a growing number of new clusters at homes, as not all people have knowledge and awareness on the importance of maintaining personal hygiene," the governor remarked.
Baswedan added the Jakarta administration has prepared two apartment towers at the Wisma Atlet COVID-19 emergency hospital for patients showing no or mild symptoms.
"There are at least 2,500 rooms for the patients," he informed.
However, top-ranking officials at some ministries have opposed the full social restriction measure in the capital city.
Related news: Jokowi urges to not be hasty in enforcing regional lockdown
The move has sent a mixed signal to the business sectors as well as investors, Coordinating Minister for Economic Affairs, Airlangga Hartarto, said. He suggested the provincial government contact its counterparts and other stakeholders before reimposing the full restriction.
Amid the criticism, the Institute for Development of Economics and Finance (INDEF) has said the authorities need to make all efforts to control the outbreak before taking steps for economic recovery.
"When the outbreak has started to ease, there's a possibility (of a) recession only occurring for two to three quarters," INDEF's head of research, Berly Martawardaya, remarked.
Related news: Jokowi asks ministry to design COVID-19 testing plan for provinces

Related news: As asymptomatic cases rise, COVID-19 testing gains traction