As a special interest tourist destination, activities on Curiak Island cover a summer course, school of conservation, and volunteers' activity. Here we will observe the primates and participate in conservation activities
An alpha male bekantan sits alone on a bench on the banks of Barito River in Curiak Island, Barito Kuala District, South Kalimantan, relishing his bananas in silence.
Once a dominant male that led the Alpha group, the proboscis monkey currently lives alone after his position, as the leader, was replaced by another dominant male.
"He has retired. Another dominant male has replaced him as the leader," Ferry F. Hoesein, founder of the Sahabat Bekantan Indonesia (SBI), stated.
Proboscis monkey, or locally known as bekantan, live in groups of 10-12, usually led by a dominant male, with the roaming area reaching up to one square kilometer. A male bekantan is characterized by its long nose, longer in size than the female.
SBI, a non-profit organization that focuses on bekantan preservation in South Kalimantan, has developed special interest tourism in Curiak Island as part of its efforts to conserve the endangered species. Here, visitors can watch up close the bekantan's life.
It took some 25 minutes to reach a small pier under the Barito Bridge from Banjarmasin City and a 10-minute boat ride to the small island.
Observation of primates is one activity that visitors can engage in to gain a broader understanding of their behavior.
A delta in the middle of Barito River, the largest in South Kalimantan, stretches over 800 kilometers. Curiak Island is home to Bekantan, although it is not set as a conservation area. Other primates that have inhabited the island are silvery lutung (Trachypithecus cristatus) and long-tailed macaque (Macaca fascicularis).
The long-nosed monkey was first found in the island in 2015. SBI, with the support of the Lambung Mangkurat University in 2018, established the Bekantan Research Station, not far from Curiak Island, as a natural laboratory of wetland ecosystem.
"As a special interest tourist destination, activities on Curiak Island cover a summer course, school of conservation, and volunteers' activity. Here we will observe the primates and participate in conservation activities," SBI founder Amalia Rizki remarked.
Rizki stated that the organizer targets tourist groups that have special interest in conservation. Visitors mostly constitute researchers and students from domestic and foreign schools as well as universities.
The visitors will obtain information on the types of flora and fauna in the wetland ecosystem and efforts undertaken to preserve them. The visitors will join a field observation on wild life in the island. They can select to observe the primates or reptiles, such as monitor lizard and snake, and birds.
The tour is offered free of cost, but visitors would donate and participate in the planting of rambai trees (Sonneratia caseolaris). Rambai, a type of mangrove, is a much-favored food of the proboscis monkey.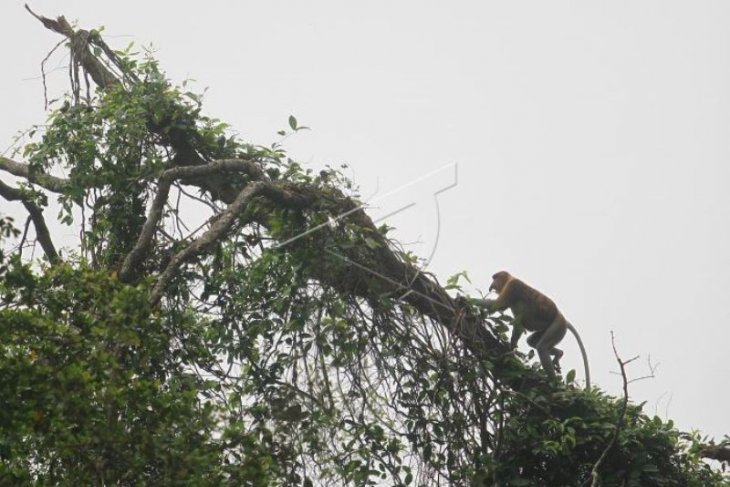 Outside the conservation area
Amalia acknowledged the difficulties encountered in preserving the species, known as the Dutch monkey, known for its long nose and red skin, outside the conservation area. Moreover, Curiak Island is situated in a busy river lane traversed by barges, carrying coal and containers, and close to residential areas.
Hence, tourism activities on the island also involved local fishermen to empower the local people.
"We can observe local wisdom here, watching fishermen set their fishing net in the river and helping them to plant mangroves that will increase fish stock in the area," she added.
Hence, special interest tourism in Curiak Island will also offer economic benefits to local fishermen.
"They can get the money from boat rentals and providing rambai seeds. More important, they can enjoy the increased fish stock, as the mangrove population has also increased," she stated.
A local fishermen pointed out that when waters of the river receded, they can catch fish and shrimp easily by setting a net along the river banks.
"We then sell them at a floating fish market here," he remarked.
Visitors will also partake in the plastic war campaign. While taking the river cruise, they can collect plastic waste that had drifted from the upstream area of Barito River.
Population doubled in Curiak
It seems that special interest tourism -- an amalgamation of tourism and conservation efforts -- in Curiak Island has yielded results.
The population of proboscis monkey has doubled, from only 14 when it was first detected in the island in 2015 to some 28 in 2020. They were divided into three groups: Alpha, Bravo, and Charlie.
Similarly, the replanting area of rambai trees has increased, and the island's area has extended, from 2.7 hectares to nearly four hectares within three years.
"We need support from the government, media, academicians, and the public to protect this endangered species," Amalia emphasized.
South Kalimantan has 11 Bekantan conservation areas, including those in Bakut Island, Kaget Island, and Kuala Lupak in Barito Kuala District.
Their population in Bakut Island -- a 15.58-hectare delta in the middle of Barito River -- is expected to reach 60, divided into four groups.
The population of Bekantan, one of the 25 species protected by the government, must be increased. In less than five years, its population should be increased by at least two percent.
The International Union for Conservation of Nature (IUCN) has placed Bekantan on its red list of endangered species in 2000. It was also placed in Appendix 1 of CITES that prohibits the trading of the species.
The Dutch monkey's preservation has been threatened by the massive change of land use as well as land and forest fires that have shrunk its habitat. Illegal trading has worsened the situation.
According to data of the South Kalimantan BKSDA, in 2019, 2,400 Bekantans were left in the province, from five thousand in 2013. The figure is expected to dwindle further, with extensive illegal trading and forest fires.
Related news: SBI team rescues endangered male proboscis monkey in South Kalimantan

Related news: Saving Julia and Cykita
Close
EDITED BY INE