- New device is suited for high voltage automotive batteries –
Kawasaki, Japan--(ANTARA/Business Wire)-
Toshiba Electronic Devices & Storage Corporation
("Toshiba") has launched "
TLX9160T
," a normally open (NO) 1-Form-A photorelay suited for high voltage automotive batteries. Housed in an SO16L-T package, the new device is Toshiba's first to feature a high output withstand voltage of 1500V (min). Volume shipments start today.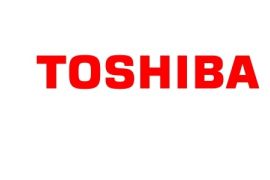 Incorporation of high voltage MOSFETs in the new device achieves an output withstand voltage of 1500V (min). An SO16L-T package made of a resin in the IEC 60664-1 international standard material group I[1], which has CTI[2] exceeding 600 and four fewer pins (pins from 11 to 14 are removed from existing SO16L package), realizes creepage of 5mm or more[3] at the device's detector. This ensures support for 1000V supply voltage under IEC 60664‐1, suiting the photorelay for high voltage automotive applications with a battery voltage of up to 1000V.
Notes:
[1] IEC 60664-1 groups molded materials according to CTI[2] value.: CTI 600
[2] Comparative Tracking Index: IEC 60112 defines CTI as the maximum possible voltage before droplets of ammonium chloride solution on the surface of the insulating material cause tracking, under the given test conditions.
[3] @Working voltage=1000V, material group I, pollution degree 2 (the degree of pollution of the operating environment where electrical equipment is used; pollutants are entirely non-conductive, but could potentially be rendered conductive by condensation.)
Applications
Automotive equipment
 • Battery Management Systems: battery voltage monitoring, mechanical relay sticking detection, ground fault detection, etc.
Features
 • High output withstand voltage: VOFF=1500V (min)
 • Normally open (1-Form-A) device
 • Avalanche current rating: IAV=0.6mA
 • High isolation voltage: 5000 Vrms (min)
 • AEC-Q101 qualified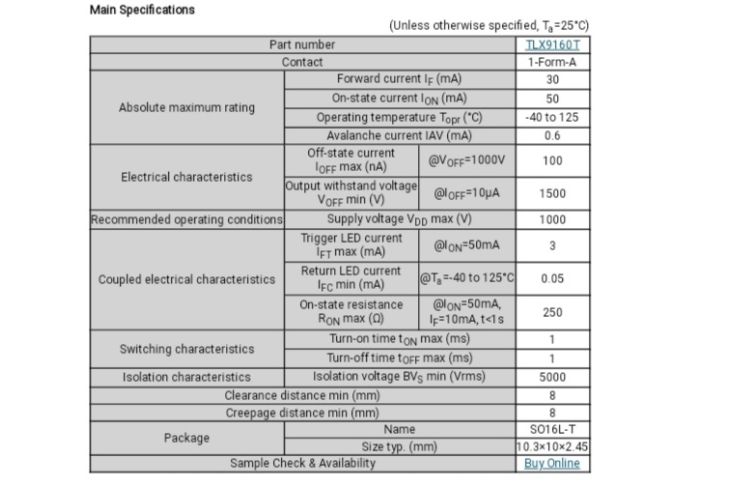 Follow the link below for more on the new product.
Follow the link below for more on Toshiba's Isolators and Solid State Relays.
Follow the link below for more on Toshiba's Automotive Devices.
To check availability of the new products at online distributors, visit:
Customer Inquiries:
Optoelectronic Device Sales & Marketing Dept.
Tel: +81-44-548-2218
* Company names, product names, and service names may be trademarks of their respective companies.
* Information in this document, including product prices and specifications, content of services and contact information, is current on the date of the announcement but is subject to change without prior notice.
About Toshiba Electronic Devices & Storage Corporation
Toshiba Electronic Devices & Storage Corporation, a leading supplier of advanced semiconductor and storage solutions, draws on over half a century of experience and innovation to offer customers and business partners outstanding discrete semiconductors, system LSIs and HDD products.
The company's 22,000 employees around the world share a determination to maximize product value, and promote close collaboration with customers in the co-creation of value and new markets. With annual sales now surpassing 710-billion yen (US$6.5 billion), Toshiba Electronic Devices & Storage Corporation looks forward to building and to contributing to a better future for people everywhere.
Contacts
Media Inquiries:
Chiaki Nagasawa
Digital Marketing Department
Toshiba Electronic Devices & Storage Corporation
Tel: +81-44-549-8361
Source: Toshiba Electronic Devices & Storage Corporation