Constituting over 17 thousand islands, with a population of some 255 million, Indonesia is home to a plethora of ethnic groups, religions, cultures, and languages.
Acknowledging this diversity as a blessing, the founding fathers of Indonesia had declared "Bhinneka Tunggal Ika," or "Unity in Diversity," as the national motto placed under the state's symbol "Garuda Pancasila" that contains the five principles serving as a guiding beacon in the nation-building efforts.
In keeping with the same spirit of the Indonesian founding fathers, the cultural diversity of a country, called the "Thousand Island State," was amply highlighted during the Independence Day ceremony at the Merdeka Palace in Jakarta on Saturday (Aug 17), as the guests showed up in an array of traditional clothing that symbolized the ethnicity of 34 provinces across Indonesia.
Since President Joko Widodo (Jokowi) assumed office in 2014, he had made wearing cultural costumes as a mandatory dress code for the annual Independence Day ceremony at the Merdeka Palace.
Keen on wearing different traditional clothing for every flag-hoisting ceremony, Jokowi dressed in a traditional black attire of Klungkung, Bali, during the 74th Independence Day ceremony on Saturday morning.
Related news: Jokowi wears traditional Balinese attire for Independence Day ceremony
The national motto of "Unity in Diversity" was showcased by thousands of attendees, who came dressed in different traditional clothing and shared the same vision to make Indonesia prosperous and their pure joy in celebrating Independence Day.
Dressed in a red costume, with ornaments made of cattle's horn adorning it, Adrian, a public official, holding a spear and shield, elaborated on the traditional attire that represented his province while expressing his feelings about Independence Day.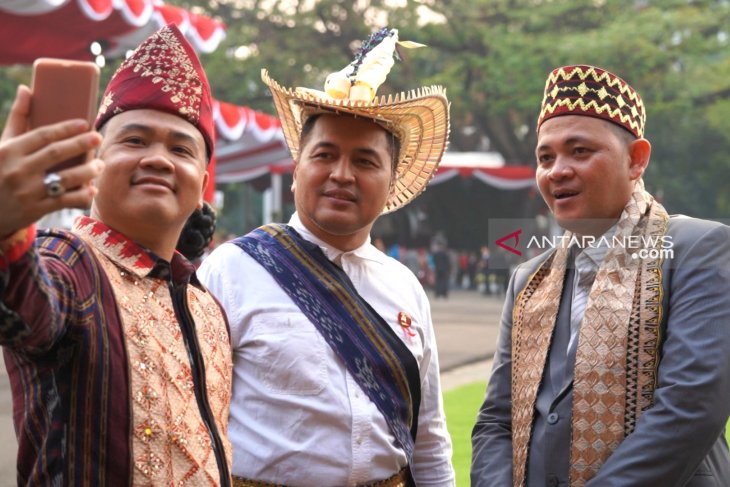 "It is from Minahasa, North Sulawesi. This is called 'Kabasaran,' which means traditional dance that depicts traditional war," Adrian stated at the Presidential Palace on Saturday.
For Adrian, this year's Independence Day slogan was "SDM unggul, Indonesia Maju," which meant great people for a better Indonesia.
"We need it for a better future for Indonesia. I will do my best for Indonesia, for a better Indonesia," he noted.
Related news: State guests wear traditional clothing for Independence Day ceremony
Wearing clothing that bore resemblance to that of President Joko Widodo during the Independence Day ceremony, Yusuf noted that his costume, comprising a light yellow Balinese clothing, with a red and gold headdress, symbolized blood from the ancestors that meant bravery and prosperity.
"It is special, as everybody wears ethnic clothing that might not be observed in other countries," he stated on Saturday.
"Indonesia has potential, both in terms of its culture and human capital, to which end Jokowi has set a basis to advance the development of Indonesia," Dimas noted in connection with the rich Indonesian diversity.
Two young ladies -- Dina and Dianti -- who wore different ethnic attire, echoed the same slogan of "Unity in Diversity."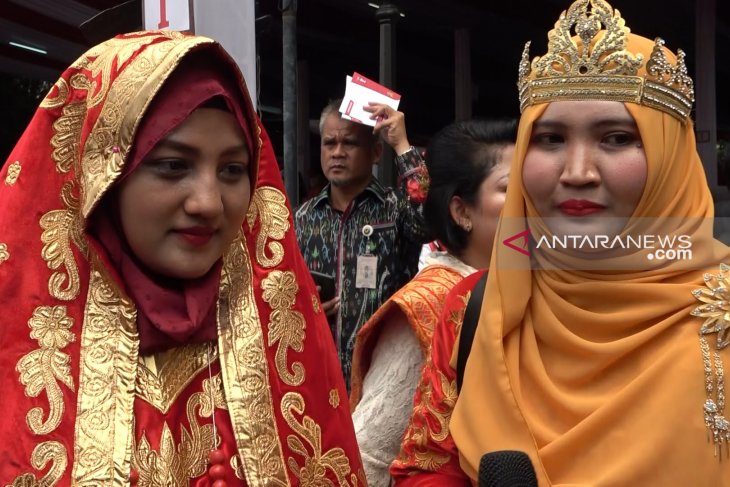 "For me, Indonesia's Independence Day is the day for all Indonesian people," stated Dina from Aceh, the northwest province of Sumatra Island.
"Hence, we can all sense the beauty of togetherness through customs and cultures around Indonesia," Dina added.
"We have different tribes, customs, and cultures, but we are one, Indonesia," noted Dina, who adorned Acehnese traditional attire to honor Tjoet Nja' Dhien, a national heroine from Aceh.
"The attire I am wearing is from Kutogadang, Agam, which is commonly worn by Muslim women in Minangkabau," Dianti from West Sumatra, who came dressed in red ethnic clothing with gold embroidery, stated.
Priding herself on her Minangkabau background, Dianti affirmed that diversity is a gift from God that should be maintained for the nation's unity.
"Indonesian Independence Day is the day that we must be grateful for by respecting each other's ethnicity and culture. We could maintain the unity of Indonesia," she stated.
Independence Day, or "Hari Kemerdekaan," as called by Indonesians, was a nationwide celebration to commemorate Indonesia's proclamation of Independence Day on August 17, 1945.
Related news: Jokowi wears traditional Sasak clothes at DPR, DPD 2019 annual session
Related news: NKRI integrity must be placed in most important position: President