You can learn to be a palm reader, but this kind of work needs a strong sensibility of observing people and an ability to entertain your customers
Under the searing heat of Jakarta's Old Town (Kota Tua), sat a man, in a red plain shirt and Batik headband, awaiting customers seeking fortune-telling advice and future matches or merely travelers curious about palm-reading.
He sat motionless for hours at the sidewalk near the entrance of the Jakarta History Museum while preparing piles of red cards and some yellow signboard bearing pictures of palm lines and its meaning for people's traits. His wait ended when a young girl, wearing a mixed pink-purple colored bucket hat, approached the palmist and inquired about the price of his services.
"Pay as you wish," Dede Hidayat, the palm reader, replied.
Hidayat began his work by asking the young girl her date of birth. The young girl mentioned the complete date and day she was born after which the palm reader directed his focus to meticulously observe some fine lines on both her palms.
"You are an independent woman, ambitious, and assertive. You are a straightforward person when it comes to clearing the air with others. However, you need to be more compromising with your colleagues, as it will be good for your career. There will be no problem with money, but you're a bit of a spendthrift. Use your money wisely. For romance, no worries, you have a good and loyal partner, as you are honest and loyal to him," Hidayat told his young customer after observing her palm lines.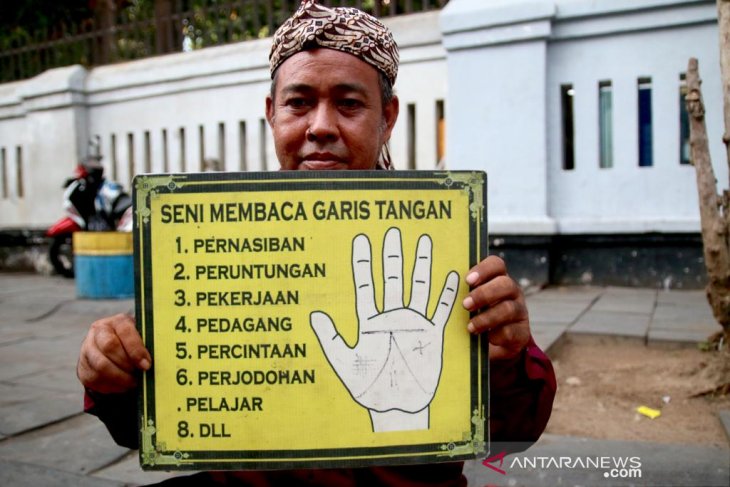 After a few-minutes-long session of reading palm lines, Hidayat requested the young girl to pick out four red cards from its deck. The cards were called
Ogan
, a traditional Tarot deck originating from the eastern region of West Java Province, Cirebon District.
Unlike the Italian Tarot deck that comprised 78 cards, Ogan contained over 100 cards symbolizing fortunes and claiming to forecast the future. For instance, in the
Ogan
deck, a picture of stars in the black sky was defined as hope or a possible bright future, while a drawing of a gold trophy suggested that a person may win over something or may lead some groups, Hidayat explained.
Disparate to some people's claims of Hidayat's practices being superstitious and lacking logic, the palmist called his services as part of street psychology.
"I read people's gestures, their behaviors. The way people present themselves explains their basic traits," Hidayat confided.
However, since he possesses no degree in psychology, Hidayat preferred to name his palm-reading practice as an art.
"You can learn to be a palm reader, but this kind of work needs a strong sensibility of observing people and an ability to entertain your customers," he revealed.
Hidayat has practiced palm reading for almost two decades since the early 2000s, and now, his services have turned into a tourist attraction organized by the Jakarta's Old Town Management Office (UPK Kota Tua), the chairman Norviadi Setio Husodo stated.
Under his administration, Husodo remarked that the Old Town Management Office had set up several communities of not only palm readers but also street musicians, bike rental operators, and living statue performers to work together to attract tourists while protecting the historical Jakarta's Old Town landmark.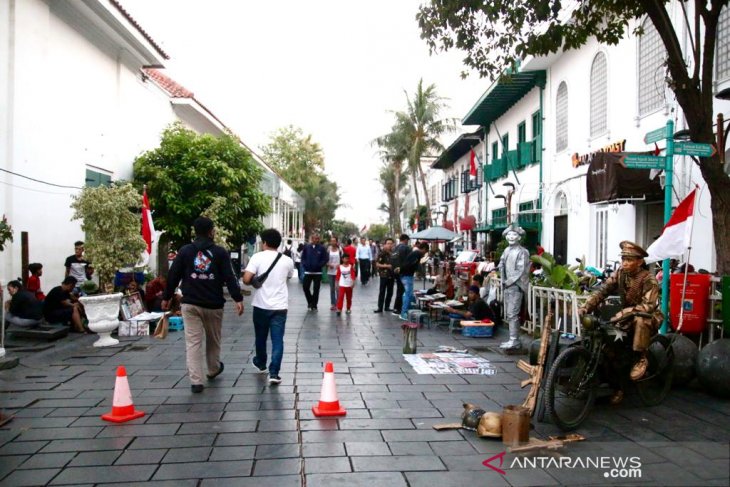 "I must ensure that performers, who worked at the Old Town, must introduce the culture and tradition of Indonesia, as this historical site was a top destination for locals and foreign travelers once they were in Jakarta," Husodo explained.
Hence, any street performances that fail to portray the true essence of the country's diverse cultures, arts, and traditions will be asked to leave the Old Town, he emphasized.
"Once, the streets beside the Jakarta History Museum were full of
pocong
and
kunti
(the local ghosts). I asked them to perform other characters, such as our national heroes, the Dutch soldiers, or our Wayang (puppet arts) characters," Husodo noted.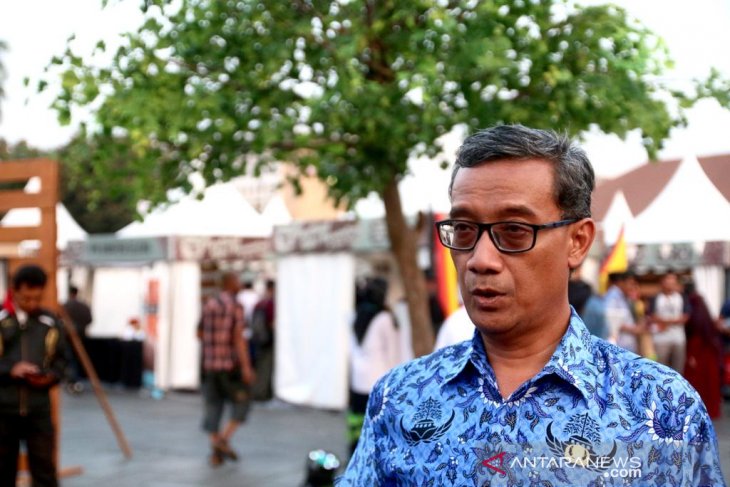 The magic continues
Hidayat was not the sole performer, who had succeeded in drawing the attention of tourists at the Old Town historical site. Near his stall, travelers may spot an odd image of a man floating above the ground. The man, in full make-up and wearing a complete set of Javanese war attire, levitated, with no tools suspending his limbs. For nearly three hours, he would float and stay still, while striking a pose whenever some tourists asked him for a picture.
The living statue performer, Yusuf Sumbagio, told that he played the Javanese mythical war hero character, Gatot Kaca. Sumbagio expounded that his character originated from the ancient Indian epic Mahabharata that was adapted to the Javanese shadow puppet arts.
"Performing as a living statue of Gatot Kaca was a full-time job for me, but it is not all about the money. I do not charge the people, who take pictures of me, as it's a pay-as-you-wish job. However, I enjoy the times when they ask me about the character I perform," Sumbagio remarked.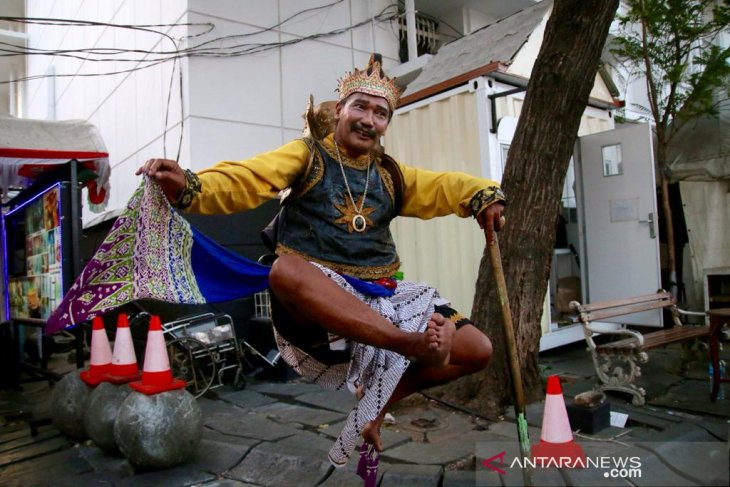 Despite having set no fixed price for his performance, Sumbagio would receive over Rp100 thousand daily on the weekdays and at least Rp500 thousand on the weekends. Apart from his regular income, Sumbagio would collect more cash whenever some event organizers and TV programs were to invite him to perform.
"The Old City Management Office also promoted me to perform during some events held here at Fatahillah Square," he stated while attempting to stand up and end his performance.
The palm reader and living statue performers were part of the attractions that travelers might come across during their visits to the Old Town. Near the attractions, other leisure activities at the historical site include a visit to the Jakarta History Museum and some nearby coffee shops and cafés.
Jakarta's Old Town historical site was a capital city of the Dutch East Indies, Old Batavia or in Dutch,
Oud Batavia
. The site covered the area of not only Pinangsia, Taman Sari, and Glodok in West Jakarta but also Penjaringan in North Jakarta. The main landmark of the compound was the Jakarta History Museum, a building that was established in 1710 as a Town Hall or
Stadhuis
of the Dutch East Indies government. In the meantime, the Fatahillah Square or
Stadhuisplein
was a 1.3-kilometer-square ground located right in front of the town hall. For the colonial government, both areas were used as prisons, court, and an execution ground for prisoners.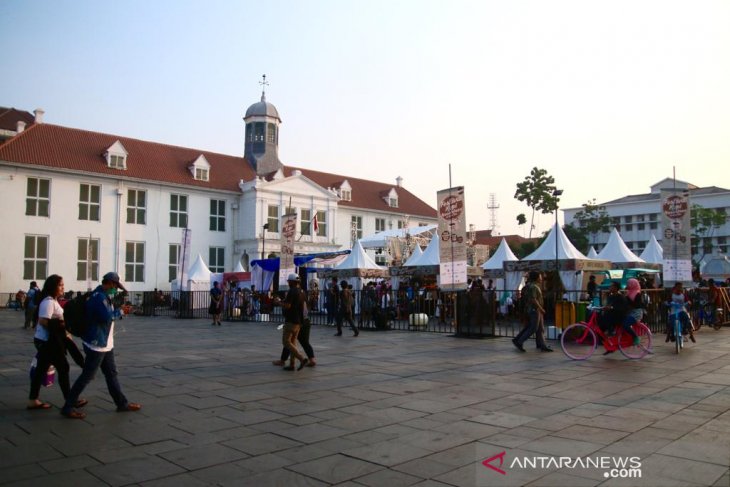 When Indonesia gained independence in 1945, the
Stadhuis
was once used as a military base. However, since March 30,1974, seventh Jakarta Governor Ali Sadikin had revitalized the building and launched Jakarta's Old Town as part of the historical site of the country.
Sadikin's work on restoring Jakarta's Old Town continues until today. The Old Town Management Office remarked that the revitalization programs of Fatahillah Square and Jakarta History Museum had completed last year. In 2019, the office has finished restoring another landmark, Kali Besar, a bridge nearby the Fatahillah Square.
For the office's chairman, the multiyear restoration projects aimed at transforming the historical site to not only serve as a sightseeing destination but also designed as a platform to introduce the country's diverse and rich cultures.
Related news: Kali Besar, an ocular feast in the old town of Jakarta

Related news: Formula E race to be held in June 2020: governor

Related news: Jakarta Governor Baswedan opens Urban Kampung Conference 2019
Close
EDITED BY INE