After observing the latest developments, I and our pastoral team decided to divert our worship meetings to only be conducted online. We made this decision because we love all of you and are responsible for the health of the congregation
The coronavirus disease (COVID-19), which broke out late December last year in China's Wuhan, has spread to countries across the globe, with more than one million persons contracting the infection worldwide, including Indonesia.
At last count on Friday (April 3), Indonesia recorded 1,986 confirmed COVID-19 cases, with 134 patients declared cured, and 181 patients dying of the virus.
Indonesia and many other countries around the world are currently struggling to stem the spread of the novel coronavirus, a new virus strain that causes acute respiratory complications.
The COVID-19 pandemic has affected various aspects of human life since efforts to stem the spread of the virus have fundamentally influenced, or even changed, the way people function. One major impact of the pandemic has been the economic slowdown.
With people refraining from venturing out of their homes in view of social distancing measures put in place to curb transmissions, there has been a decline in consumption, which, in turn, has resulted in a drop in purchasing power.
In addition to the economic slowdown, efforts to prevent the further spread of COVID-19 have also affected the religious aspect of human lives, specifically on the conduct of mass religious activities.
For instance, in Indonesia, the government has been assessing religious events involving crowds of people congregating at one place at a time.
"We have to evaluate religious events involving several people," President Jokowi remarked during a limited meeting on the COVID-19 Task Force report at Istana Merdeka in Jakarta.
As the government's current national priority is aimed at containing the spread of COVID-19, Jokowi reiterated the significance of restricting people's mobility and preventing direct physical contact, intensifying information dissemination on social distancing, and reducing the likelihood of people congregating in one place as it can increase the risk of spreading COVID-19.
The President also encouraged all Indonesian religious activists and institutions to partake in supporting the fight against the COVID-19 contagion.
In accordance with a circular from the central government, places of worship in all provinces in the country, including churches, have been encouraged to direct congregation members to worship in their respective homes.
The Indonesian Communion of Churches (PGI) has welcomed the government's call to limit the mobility of citizens in crowded areas, including for religious activities, as part of efforts to prevent COVID-19 infections from spreading further.
PGI has asked churches to develop "e-church" to allow congregants to keep up with Sunday services -- through online services, worship, and sermons -- by utilizing social media and digital technology.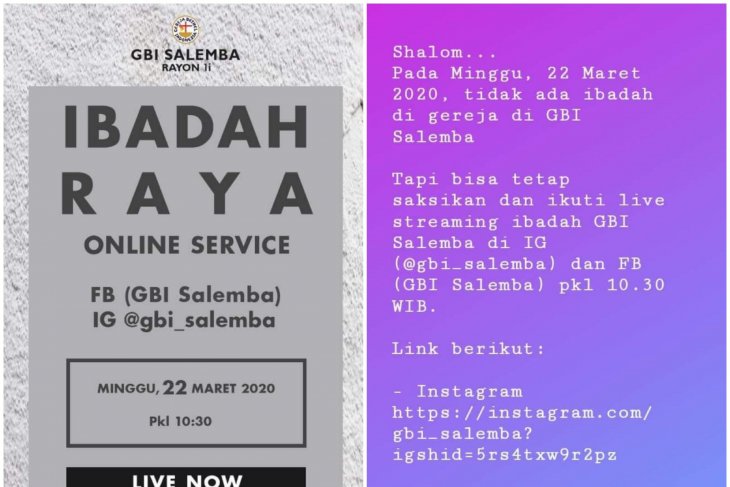 Since early on, a number of churches in Indonesia, such as the Indonesian Christian Church (Gereja Kristen Indonesia/GKI) and the Jakarta Praise Community Church (JPCC), have temporarily suspended all congregational activities in the church and have implemented an e-church program for Sunday service.
"After observing the latest developments, I and our pastoral team decided to divert our worship meetings to only be conducted online. We made this decision because we love all of you and are responsible for the health of the congregation," stated JPCC's senior pastor Jeffrey Rachmat, in a pastoral message received here in Jakarta.
He also encouraged all JPCC congregation members to continue to believe that the true church is in every believer and asked them to continue to pray and give thanks for God's grace.
"Yes, we need to pray that the Lord Jesus will work for the good of all of us. However, we also need to do our part by not giving chance for the coronavirus to spread. As I often say —prevention is better than cure," pastor Rachmat remarked.
Responding to church services being moved online, some congregants from different churches said they have accepted the change as it is necessary in view of the current circumstances.
JohnTobing (37), a congregant of the Indonesian Protestant Christian Church (GKPI), felt it is important to carry out the government's advice to temporarily suspend mass worship activities in the church in order to stem the spread of COVID-19.
He also quoted some Bible verses that teach Christians about respect for authority, namely
Romans 13:1-3 (NLT):
Everyone must submit to governing authorities. For all authority comes from God, and those in positions of authority have been placed there by God. So anyone who rebels against authority is rebelling against what God has instituted, and they will be punished. For the authorities do not strike fear in people who are doing right, but in those who are doing wrong. Would you like to live without fear of the authorities? Do what is right, and they will honor you.
"In this case, it is very important for us to obey the government because it concerns the interests of the people including all Christians. The Lord Jesus also taught us to obey the government. Besides, praying and worshiping can still be performed at home with our families," John remarked.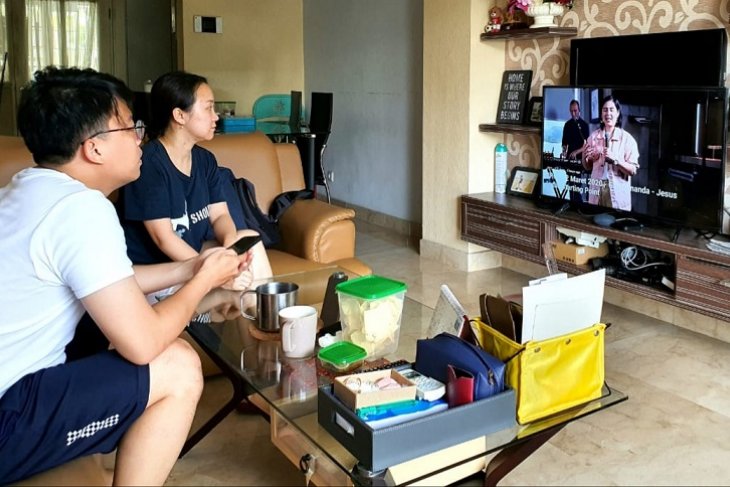 Meanwhile, Joklif (32) — a congregant of Bethel Church of Indonesia (GBI) Margonda in Depok city — argued that online services and sermons are innovations by churches to keep abreast of the times in order to stay relevant, and they are also creative ideas that come from the mind given by God.
Humans are indeed created to be able to adapt and innovate in response to various circumstances and changes, including in the ways they worship and connect with the Almighty, he said.
Most importantly, given the current situation, all Christians need to join all the people in the world in prayer for the end of the coronavirus outbreak, he added.
The human race has already been given the ability to tackle various issues, including health problems. By God's will, we will soon conquer COVID-19.
Related news: Prayers at home to fight COVID-19 spread
Related News: Hindus chant mantras, burn incense at home amid pandemic

Related News: Confucians, Buddhists urged to remain home due to coronavirus