Maybe that, for me, was the most impressive thing to happen during our reporting journey in Sebaru Kecil
"A day prior to our trip, I conducted an internet research, but Google threw little information on this remote, unoccupied island of Sebaru Kecil..."
Fauzi Lamboka, ANTARA's journalist covering the Jakarta issue, later accrued information from several sources that Sebaru Kecil, located in the northern area of Seribu Islands, is a two-hour boat trip away from its nearest settlement island.
ANTARA, the Indonesian news agency, formed a team of three -- Lamboka, Sugiharto Purnama, and Akbar Nugroho Gumay -- with each in charge of text, video, and photograph news, covering the mass quarantine of Indonesians evacuated from two coronavirus-exposed international cruises.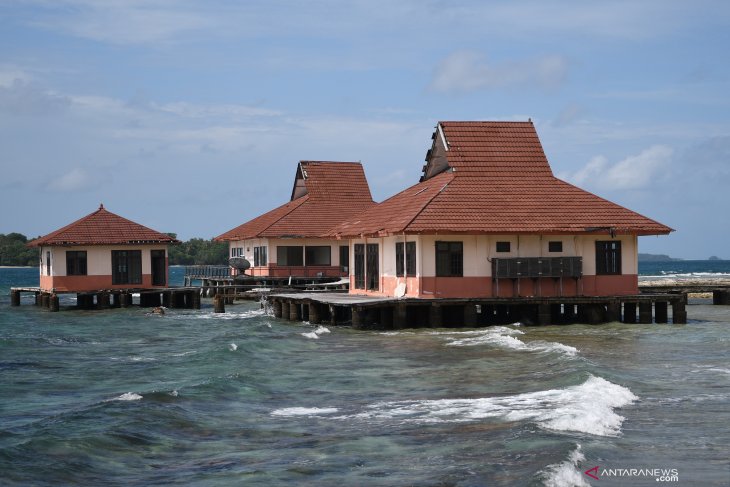 Wednesday, February 26
The team, with insufficient information on COVID-19, departed for Sebaru Kecil from the Marina Port in North Jakarta.
The common guideline was only to maintain a safe distance of some two meters from "suspected people," as the virus can be transmitted through human droplets. Hence, physical contact with the infected person is more likely to spread the contagion.
During that time, it was perceived that COVID-19 was "too far away," as the disease had solely impacted China, especially Wuhan City, and several other countries, including Japan and South Korea, until Indonesia confirmed its first two cases on March 2.
Related news: World Dream's 188 crew members to soon reunite with kin
Related news: 188 Indonesians start their 14-day quarantine in Sebaru Kecil , the Island
Team members were firstly concerned, as they would have to directly interact with those evacuees or people involved in the evacuation process. However, these feelings soon took a backseat once they arrived at the location.
Sebaru Kecil is an uninhabited island, so the government deemed it safe and far from local settlements. However, facilities, such as buildings and water supply equipment, were already in place there, as "it used to be a drug rehabilitation center."
The team has two days to make some preparations before evacuees from the first ship of Dream Cruise arrive as scheduled.
As a precautionary measure against a worst-case scenario in which people in quarantine had already contracted the coronavirus disease, the team planned to do the news coverage aboard a floating boat close to the island, though with the likelihood of choppy waters.
"However, at the moment, we observed that on the very first day, we located Lipan, a nearby empty small island equipped with a dock, only about 500 to 600 meters away from Sebaru Kecil's dock," Lamboka stated.
Friday, February 28
During this reporting period, the team stayed on a settlement island of Harapan from where it took two hours to reach Lipan aboard a rented local fisher's boat.
They usually leave the lodging at 7 a.m. local time after eating their breakfast while also packing some meals for lunch.
The Indonesian naval vessel KRI Dr. Soeharso-990 sailed near Sebaru Kecil that day in the afternoon. Its Landing Craft Utility (LCU) continued the journey of evacuation to the island.
The ANTARA team was on standby at Lipan's pier, with Lamboka set to pen down his observations in an article, Purnama ready to record the ongoing events through his camera zoom, while Gumay had prepared his telephoto lenses and camera drone to capture the moments.
Despite the distance being perceived as extremely safe, team members made it a point to adhere to the health and safety procedures by wearing masks and goggles.
The LCU docked at around 4:30 p.m. local time, and all 188 evacuees disembarked.
That was the last visual moment of World Dream's crew evacuation process, as they undergo quarantine at the observation area thereafter.
The team undertook another two-hour boat trip to return to Harapan Island to take some rest.
They would have returned to Jakarta City later on Sunday but then received information on another evacuation process of the Diamond Princess Cruise's crew members scheduled on Monday morning. Hence, the return trip was cancelled.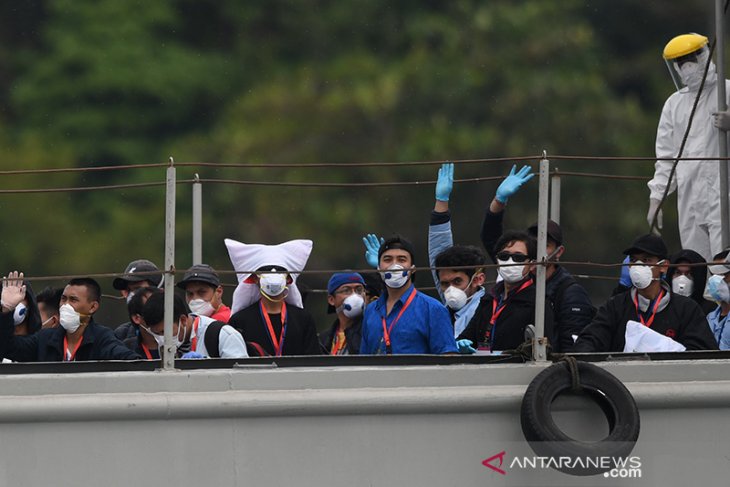 However, things did not go as planned. Certain conditions during the journey compelled KRI Dr. Soeharso-990, with 69 evacuees onboard, to merely sail close to Sebaru Kecil in the evening.
Furthermore, the team faced uncertainty owing to the absence of a fixed schedule on disembarkation, while they still had to make the four-hour-long round trips from Harapan to Lipan on a daily basis.
Wednesday, March 4
"It was almost evening, and in the face of severe weather, we decided to tell our rented boat operator to return to Harapan without us. We were still awaiting embarkation at that time," Purnama stated.
"However, it all went in vain, as strong winds blew and huge waves lashed the islands," Purnama recalled.
Thus, the evacuation process was again cancelled.
Later that night, the ANTARA team, along with several other TV journalists, had to endure stormy weather conditions aboard a rescue ship and to avoid being swept away at Lipan, the small island, they then fled to the nearest resort island reachable through a 30-minute trip.
"Maybe that, for me, was the most impressive thing to happen during our reporting journey in Sebaru Kecil," Gumay noted, adding that he was drenched, as waves reaching heights of 1.5 to two meters, struck the ship.
Friday, March 6
The team had completed its duties, as 68 evacuees, one of whom was required to undergo further medical tests aboard the ship, had disembarked to enter the quarantine facilities on Thursday, and the members then prepared to return home.
The 500-meter reporting distance might have eased the anxiety of team members, but they still required to undergo a medical checkup after landing in Jakarta to ensure that they were healthy and especially free from COVID-19.
Lamboka, Purnama, and Gumay concurred on this being the right procedure to follow before returning back to family and friends, with no lingering concerns or apprehensions.
The medical tests were completed at early dawn on the next day, thereby marking the end of the COVID-19 reporting experience in Sebaru Kecil that stretched, from the earlier planned five days to 10 days.
Related News: Covering a COVID-19 burial: The photojournalists' stories

Related News: Wuhan to Natuna: Journalists' take on covering repatriated Indonesians