I would like people to know that COVID-19 is a serious disease. It kills people
In mid-March, weeks after the first two cases of the coronavirus disease (COVID-19) were reported in Indonesia, the number of patients testing positive and deaths in Jakarta, the virus epicenter, began to alarmingly rise. The capital city's administrator reported burying over one thousand bodies in line with the coronavirus protocol during the month, with the ensuing impact on health workers owing to infection and fatigue.
By the end of March, a growing number of positive cases were found outside the epicenter, and several believed it could be the start of a health crisis of unprecedented proportion to have ever occurred in the country.
Despite the critical situation, several have apparently not been heedful of the importance of following health protocols aimed at avoiding the transmission of the infection. A group of ignorant people claimed the outbreak was a result of a conspiracy theory, an unsubstantiated view rejected by scientists and epidemiologists.
In dealing with some baseless views on the contagious disease and growing misinformation on coronavirus, Muhammad Adimaja, a photojournalist working for
ANTARA
, decided to head to Pondok Rangon and Tegal Alur, the two largest public cemeteries specially designated for COVID-19 victims in Jakarta.
Adimaja was looking forward to witnessing up-close the manner of working of people affected by COVID-19 working on the forefront against the pandemic. His main concern was the burial workers handling the bodies of COVID-19 victims.
At the public cemeteries, he witnessed a "high influx" of bodies of coronavirus patients and suspected patients that had been treated in line with the COVID-19 protocol.
While working on the field, he witnessed that the gravediggers were overwhelmed by the outbreak, as they have to work round-the-clock to complete the funeral process for COVID-19 victims.
"There was a day when these burial workers had to work until 11 p.m. local time," he had stated last week.
"I would like people to know that COVID-19 is a serious disease. It kills people," Adimaja reiterated.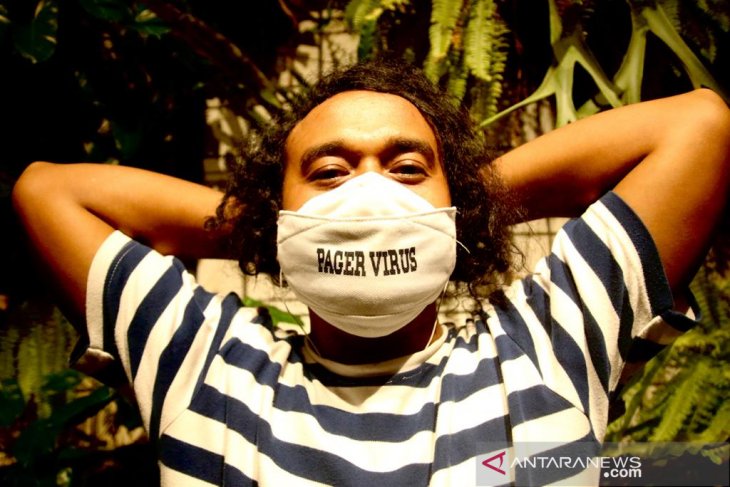 Since it first surfaced in Wuhan last year, COVID-19 has currently infected over eight million people in 216 countries and locations. Over 460 thousand globally have succumbed to the highly contagious respiratory disease, the World Health Organization noted on its official website, Tuesday.
Meanwhile, on Monday, June 22, Indonesia had reported 954 new cases, thereby bringing the total number of confirmed cases to 46,845, one of the highest figures in the Southeast Asian region. Of the total cases, 18,735 patients had made a recovery, while 2,500 patients had died of the infection.
During assignments to cemeteries, designated as COVID-19 red zones -- places with greatest risk of infection -- Adimaja admitted to being slightly apprehensive while clicking pictures of cemeteries.
However, Adimaja learned a valuable lesson from gravediggers, who spent most days at cemeteries.
"Even when you are in a place where the likelihood of contracting coronavirus is high, you could manage the risks by following strict health and safety protocols under any circumstances," he pointed out.
"As far as I know, they never tested positive for coronavirus," he remarked.
Hence, whenever he was on assignments, Adimaja would always wear double-layered face masks, which are a surgical/fabric mask, and a reusable carbon-filtered mask; goggles; and a pair of gloves and protective suit.
After completing his job on the field, Adimaja would undergo regular health checkups, including taking a rapid-antibody test for COVID-19 and a PCR-based swab test.
"I underwent a couple of rapid antibody tests and two swab tests, the results of which show no presence of coronavirus in my body. However, I will stay on alert, as you could always be a carrier or a patient with no symptom," he noted. The tests are mandatory from ANTARA for its journalists who reporting in the field and are at risk of contracting the virus.
Unlike print journalists, photographers do not have the luxury of tele-reporting and are particularly exposed to risk.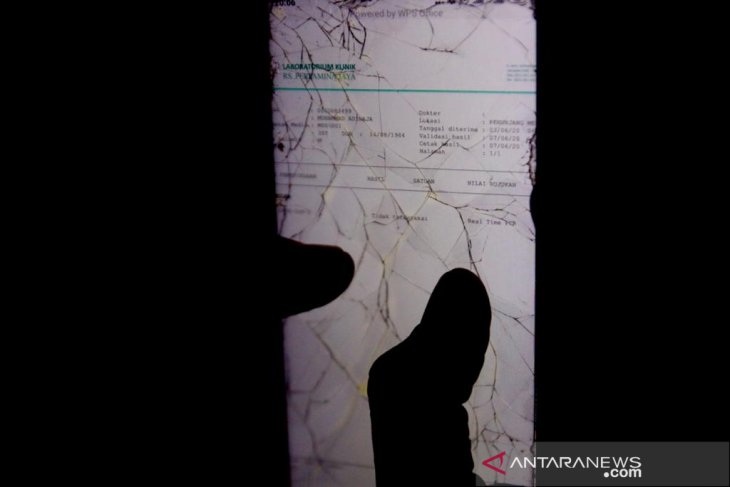 Following his funeral visits, Adimaja published dozens of compelling yet heartbreaking
pictures of COVID-19 funerals
, the gravediggers, and aerial views of public cemeteries, all of which are widely quoted by news outlets, both in the home country and overseas.
"It is our job that when you are working for a news agency, you have people waiting for your pictures. Whatever it takes, you have to be among the firsts to capture breaking news and historic moments, including anything that occurred amid the pandemic. The thing is we have never seen anything like this before. We saw earthquakes and floods, but they are all visible to our eyes, but not the pandemic and not the virus," Adimaja stated while highlighting his main objective behind pursuing stories at the coronavirus' cemetery.
Outside the epicenter
Despite Jakarta being the epicenter of the country's coronavirus pandemic, a growing number of positive cases began to emerge outside the capital city. In West Sumatra Province -- a two-hour-flight from Jakarta -- the first case of coronavirus was reported on March 26. Two days later, the provincial government reported the first death, seven confirmed cases, and 16 suspected patients.
Iggoy el Fitra
, an ANTARA photojournalist for the West Sumatra Bureau, braced for the coronavirus pandemic by pursuing the first COVID-19 funeral in the province on March 28.
"Most local TV reporters and other photographers were reluctant to follow the ambulance carrying the body of COVID-19 victim," el Fitra, named Fitra Yogi since birth, had stated last week.
El Fitra and a local photographer were the only photojournalists to arrive at the funeral held at a private cemetery in Lubuk Kilangan, 12 kilometers from the Semen Padang Hospital where the patient had been treated.
"We were at least 80 meters apart from the burial workers. I used my
tele
lens. I thought I was safe, but not until dozens of locals, all of a sudden, roamed the cemetery. Some of them were not wearing face masks, while few gravediggers stood too close to the casket carrying a COVID-19 body, with improper protective gear. It was scary," he recalled.
"I shout at them, gravediggers, asking them to put on their face masks or any fabric they use to cover their nose and mouth," El Fitra remarked while expressing concern.
After handing over
pictures
to the newsroom, he returned to the office and sprayed disinfectant over his clothes and gear; took a shower; changed his clothes; and went straight home. ANTARA issued guidelines for on-the-ground reporting to ensure the journalist safety.
"I could take a shower twice or thrice a day whenever I am on an assignment," he noted.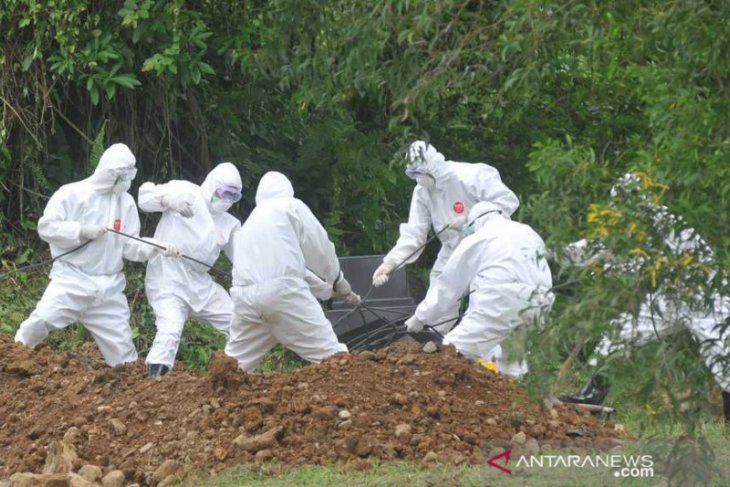 According to el Fitra, the provincial government of West Sumatra had relaxed restrictions during the past weeks, and some had returned to work.
"We have been practicing to adapt to the new normal now. I may stop taking pictures at the cemetery, as we already have extensive documentation. Apart from the pandemic, I must also stay alert to earthquake and other natural disasters that may unexpectedly occur in the province," el Fitra stated.
West Sumatra, mainly in its capital city Padang, is a seismically active region owing to its location on the convergence zone of four major tectonic plates.
Apart from El Fitra,
Abriawan Abhe
, 38, a photojournalist working for ANTARA at the South Sulawesi Bureau, during an interview last week, also shared his impromptu experience on covering the COVID-19 funeral in the province.
"I was at the cemetery on April 5. I was there for covering some security preparations for the COVID-19 funeral, as days before, many people were
rejecting the patient bodies
. All of a sudden, an ambulance carrying a deceased patient arrived at the cemetery," he noted.
Abhe was keen on capturing the burial, but some officials stopped him since he was not wearing a protective suit.
"I turned around at the back of cemetery and climbed a wall. I found a perfect spot in front of the water tank. I took a couple shots of them -- burial workers, carrying a casket of a COVID-19 body to the graveyard. It was quick. In less than five minutes, the body was covered with soil," Abhe recollected.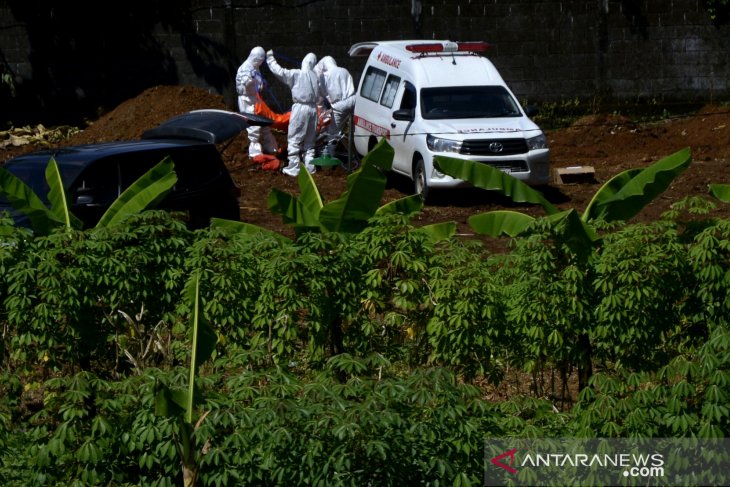 Days after
his pictures published
and were quoted by some national and local news outlets, a colleague on the COVID-19 volunteer group contacted him and offered him a protective suit.
"I did not know from where he got my number. However, he saw me working at the cemetery without using the ones. We are running short of protective suit at the moment," Abhe stated while expressing gratitude.
In the early days of the pandemic protective suit was hard to find, therefore not all journalists have protective suit. But now, ANTARA has equipped all its office bureaus throughout Indonesia with protective suits, face shileds and masks.
Days before an assignment at the cemetery, Abhe also covered a COVID-19 potential cluster at
the Asia's World Ijtima 2020
, a canceled Islamic mass gathering in the province in March.
"To be honest, I was terrified standing among those that had congregated, as I only wore a face mask for protection," he remarked.
Several of those that had congregated disregarded health protocols and did not maintain a safe distance, Abhe pointed out.
As he returned home from the assignment on the mass gathering, Abhe admitted to experiencing a sore throat and cold.
"I was panicking, of course, but five days after quarantining myself at home, I felt so much better. I eat plenty of healthy foods and vitamins," he stated.
"I'd always bring all my protective gear and a tube of hand sanitizer, and of course, vitamins, whenever I am on an assignment amid the pandemic," Abhe added.
Related News: Reporting on COVID-19 mass quarantine 500 meters from Sebaru Kecil

Related News: Wuhan to Natuna: Journalists' take on covering repatriated Indonesians