I honestly hope (the MRT Jakarta) is not as bad as the commuter
Kuala Lumpur (ANTARA News) - People in Jakarta will soon be able to avail a new public transportation service to support their daily mobility.
Construction of Jakarta`s "Moda Raya Terpadu," or mass rapid transit (MRT), covering the Bundaran Hotel Indonesia-Lebak Bulus route, has been completed and tested several times for the public, including the media.
While awaiting the Jakarta MRT to become officially operational in March, Antara headed to Kuala Lumpur to experience first-hand the MRT Kuala Lumpur that has been in service since 2016.
MRT Kuala Lumpur has been integrated with other means of mass transportation, such as light rapid transit (LRT), monorail, and KLIA Expres, a premium non-stop, high-speed train service that connects KL International Airport and the Kuala Lumpur city center.
Antara used the high-speed train from the airport to KL Sentral, which is Malaysia`s largest transit hub. It is Kuala Lumpur`s integrated rail transportation centre that offers global connectivity and seamlessly links all urban and suburban residential, commercial, and industrial areas.
It took only 30 minutes to reach KL Sentral, which has an underground MRT station named Muzium Negara.
Access to the MRT station is fairly easy, even for tourists carrying a lot of luggage, as it is equipped with escalator and travelator facilities, as well as special elevators for people with disabilities.
Muzium Negara Station, alike other MRT stations in Kuala Lumpur, also has supporting facilities, such as signboards, CCTV, toilets, bins, waiting seats, and information boards for notifying about train arrivals.
Ticket purchase services at all MRT stations in Malaysia use vending machines with touchscreen interface that enable passengers to select their destination and pay travel fares by inserting banknotes or coins.
The ticket price for each destination varies depending on the distance traveled. To travel from KL Sentral to Bukit Bintang, which are only three stations apart, the ticket price is 1.8 RM, with a travel time of seven minutes.
The MRT price to travel from Merdeka Station in the Pudu area to Sungai Buloh Station, the end station located in Selangor, which is 22 kilometers away, is pegged at 3.8 RM. The journey from Merdeka Station to Sungai Buloh Station takes 40 minutes.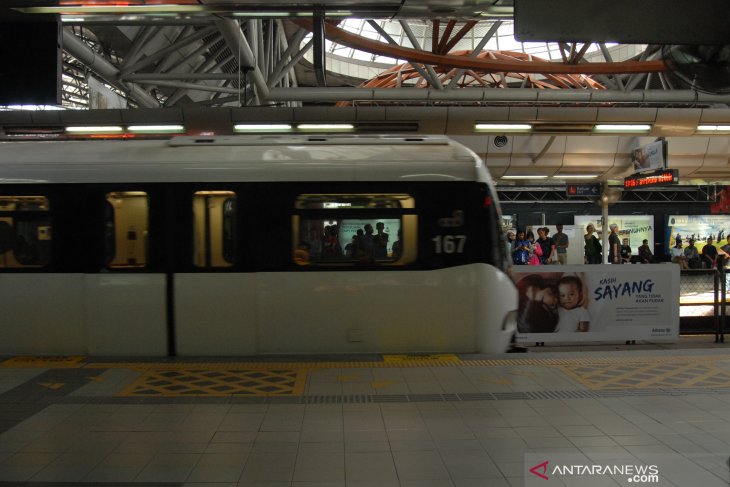 The MRT ticket is a blue token that passengers need to tap at the entrance.
Passengers thereafter only need to await the train`s arrival that can be monitored from the signboard. The train arrival interval varies from station to station, ranging from once every three to five minutes.
After the train arrives, prospective passengers must wait for other travelers looking to get off before entering the train.
Facilities on the train are adequate. In addition to seats for priority passengers, handrails are provided for standing passengers, air conditioners, as well as information on the departure and destination status of trains is delivered both in audio and visual.
The MRT in Malaysia is run based on a fully automatic technology. There is no room for machinists, and the train door can open and close automatically.
After arriving at the destination, passengers can exit by inserting a token at the exit of the station. Hence, passengers have to keep the blue token during the trip.
A clerk stationed at the customer service counter located near the entrance and exit gate can be contacted in the event of any problem, such as a token getting lost or passengers failing to alight at the intended initial station.
Various facilities, access, and technological sophistication within the MRT are proven to provide convenience for the mobility of local residents and tourists visiting Malaysia.
Then, what is the public`s opinion about this public transportation?
Lukas Jung, a tourist from Germany, criticized the lack of signs and information owing to which he choose the wrong platform several times.
He also suggested that if the MRT Kuala Lumpur works on a card system that can be used multiple times or during a certain period of time, such as three days or one week, then it would become easier for foreign tourists, thereby eliminating the need to buy tickets every time they go.
"Nonetheless, this MRT is very useful for me to travel around, as it is affordable and very environmentally friendly," Jung emphasized.
For Malaysians, the MRT is immensely useful as a complementary alternative to the KTM Commuter that is slower.
The locals also benefit from additional policies set by the Malaysian Government regarding My100 and My50 pass cards.
By buying a card for 100 RM, passengers can travel several times using an integrated train in the Rapid KL network or a 30-day bus network for unlimited travel using LRT, MRT, monorail, BRT, Rapid MR buses, and feeder buses.
The 50 RM card can only be used to travel using Rapid KL buses and feeder buses, not including BRT.
"Unfortunately, MRT services are only available around Klang Valley (Kuala Lumpur) and Selangor. It has not reached other states, such as Kelantan or Negeri Sembilan," Nur Asilah Soraya binti Lokman, a student at the Universiti Islam Antarbangsa Malaysia, stated.
As for Indonesian tourist Abdul Bari, using the MRT in Malaysia for the first time was a new experience. In addition to affordable ticket prices, Bari praised the MRT integration in Malaysia with other modes of transportation that facilitate mobility.
He expressed hope that MRT Jakarta would be able to match up to MRT Kuala Lumpur.
"I honestly hope (the MRT Jakarta) is not as bad as the commuter," Bari stated.
Malaysia`s Sungai Buloh-Kajang MRT network began operations in December 2016, with the opening of the first phase of a 21-kilometer line covering Sungai Buloh-Semantan, with 12 stations.
Construction continued with the second phase, and on July 2017, the Sungai Buloh-Kajang 51-kilometer line was fully operational, with a total of 31 stations.
The MRT project, valued at 23 billion RM, serves as a corridor for a population of 1.2 million people, connecting residents to their destinations in the city.
Each MRT set that serves the Sungai Buloh-Kajang line has four cars, with a total capacity of 1,200 passengers per trip. The Sungai Buloh-Kajang MRT line serves 170 thousand passengers daily.
Malaysian authorities are in the process of constructing the third line of the Sungai Buloh-Serdang-Putrajaya MRT, which is expected to become fully operational by 2022.
Related News: MRT creates new culture of transportation