Sukomala wore an apron while entering the alley and welcomed three women guests whom she ushered through a brown-painted door of a room by her left whilst awaiting a
pujari
(priest) to start
puja
(worship).
Thereafter, Sukomala sat on a chair at the terrace and requested ANTARA to excuse herself to finish folding a paper box for lunch that she had prepared earlier while explaining that, "we only cook vegetarian dishes here."
The 40-year-old woman was busy tending to her daily duties at this Hare Krishna temple, disguised as a normal oldish house building situated at Jalan Pasar Baru Selatan Number 7F, Central Jakarta.
Nothing lays special emphasis on this close relation to a Hindu temple than a banner depicting deities pinned on the wall of the stairs and the
Archa-Vigraha
as a representation of God in the
puja
room.
The three different cupboards each displayed goods to sell: one for handmade crackers, the other for
puja
items and
sarees
, while another for spiritual books.
At this temple, Sukomala attributed "the job" she does as
seva
, translating to service offered to the temple without expectations of receiving anything in return for it. Her
Guru
(spiritual teacher) advised her to live her life as it is.
Another temple member will distribute the meal cooked by Sukomala to the people around. It was one of the kind acts they performed in accordance with the principle of ensuring that no one suffers from hunger within a distance of 10 meters from them.
That was also considered as how those people in the temple mingle in society, which we all know might follow a different, specific culture or belief.
"We often give the meal while also performing the
kirtan
(act of recitation of the holy names of God)," Sukomala stated and later took off her apron.
Related news: Looking closely at Chinese community in Jakarta
Behind the green apron, Sukomala wore a white outer blouse adorned with a festive design pattern in a combination of pink, green, orange, and blue that was quite a joyous sight.
However, the inner tunic dress along with the trousers were in the least bit joyful, as she chose to wear the carmine shade of red in the sweltering Saturday.
Sukomala is a typical Indian woman accustomed to wearing traditional clothes that she accessorized with pieces of jewelry, including bangles, necklaces, and earrings, and applied
bindi
and
sindoor
(red cosmetic powder on the forehead and between hair partings).
It is certain that Sukomala is among the scores of women residing around Pasar Baru that present themselves in line with such Indian traditions.
Sukomala might be emblematic of women in the community as she strongly pointed to the aspect of self-identification. She attests to the fact that she is of an Indian descent, nonetheless to be highlighted here that she confidently defines herself as Indonesian.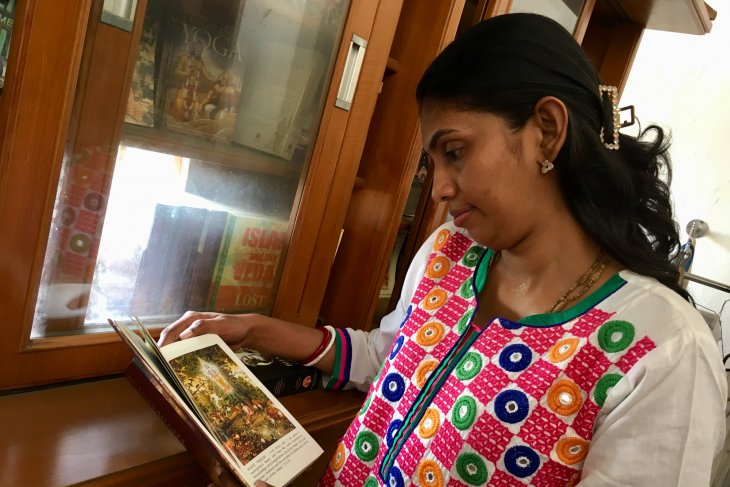 "I was born and grew up here and that was enough for me to harbor the feeling that I am Indonesian," she affirmed and giggled thereafter as though attempting to show that it was no big deal at all.
Her clarity on this matter became evident as she said, "all through my life here, I have never experienced any such thing as discrimination either in my social circles, religion, or the food I usually eat. They are all fine."
When it comes to performing
puja
or doing
seva
, the tunic set or also the
saree
dress were traditionally believed as the apt garments to serve God. Apart from that, they are normally worn for the wedding party and family event as well.
"This is considered as a tradition followed by our ancestors yet is quite common in our daily life," Sukomala stated.
Related news: Pekojan Arab Village -- Standing the test of time
Pasar Baru area also houses another temple of Indian descent. A Sikh temple is located not too far from the former, at Jalan Pasar Baru Timur Dalam.
ANTARA, while en route to the temple, came across a smiling, affable woman, dressed in black tunic sets, bearing little flowers motif, along with white, loose trousers.
The woman is 61-year-old Parmi, more fluent in English than Indonesian. Her accent, in a way, revealed who she is.
Parmi have been living in Indonesia for over four decades, which meant she had moved here in her 20s when she tied the knot with current husband, an Indian descent Sikh-Indonesian, though Singapore was where she was born and grew up.
"I have been a citizen of Indonesia for 40 years, so I recognize myself as an Indonesian," Parmi affirmed while tidying the shawl she was wearing over her neck.
"Besides this, the neighborhood is quite fine with us since we together lead a social life here," she added.
She has made attempts to mingle in every possible way she could, in spite of the fact that she might be "different" in some other aspects, such as religion.
"They have no problem with the way I perform the Sikh worship and tradition or the way I dress myself up. The thing is that I feel comfortable wearing this," Parmi added.
Neither Sukomala nor Parmi have any qualms about expressing themselves as being of Indian descent in Pasar Baru. Moreover, they can conveniently remain Indonesians while adhering to the core tradition of their ascendant.
EDITED BY INE
Related news: Destiny lies in piles of ancient Chinese books