The Chinese people have a long history of migrating overseas, with approximately 50 million ethnic Chinese living outside of China's mainland, which itself is home to nearly 1.4 billion Chinese. Ethnic Chinese people comprise 3.7 percent of the world's population beyond China's borders.
Chinese immigrants who come to the country usually live together in one area. The densely populated Chinese communities outside of China often referred to as "Chinatowns". The citizens of Chinese descent generally merge into the community in the country.
Related news: Destiny lies in piles of ancient Chinese books
Indonesia is one of the countries that has quite a large community of Chinese descents.
The arrival of ethnic Chinese in Indonesia took place long before the Dutch East Indies trade partnership, the Vereenigde Oostindische Compagnie (VOC), built the city of Batavia (now Jakarta) in 1619.
As in other countries, people of Chinese descent in Indonesia also merge into society.
Chinatown in Jakarta​​​​​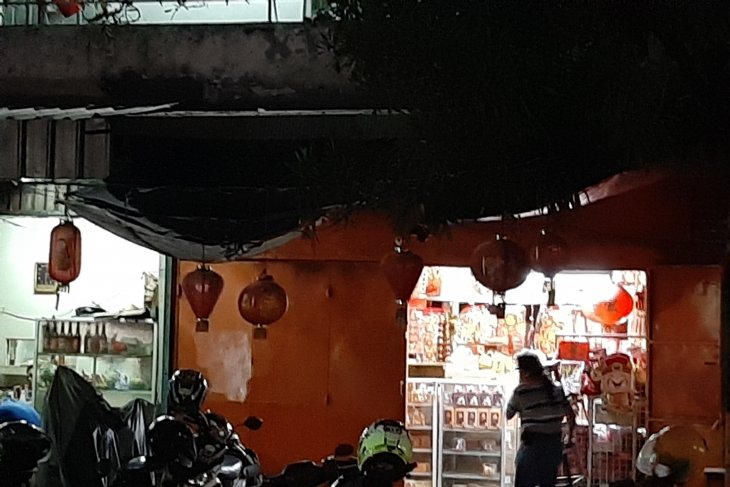 The presence of communities of people of Chinese descent, who have long been part of Indonesia's plural society, are now reflected by the existence of several Chinatowns in Indonesia.
Chinese descendants in Indonesia are widespread in various regions, including the Java island.
The Chinatowns are spread over several areas on the island of Java, one of which is in Indonesia's capital city of Jakarta.
Chinatowns in Jakarta is one of the largest in Indonesia. It shows a form of cultural fusion between Chinese and Betawi -- an Austronesian ethnic group native to the city of Jakarta.
Chinatowns in Jakarta are scattered at several points, namely starting from the Glodok area located in West Jakarta, Pasar Baru in Central Jakarta, to Kelapa Gading and Pluit in North Jakarta.
Chinatown areas of Glodok and Petak Sembilan are the most famous in Jakarta. This area has existed since the 1700s.
For more than 200 years, Glodok has become a trading center which is also one of the veins of the Jakarta economy.
Related news: From palmist to living statues: transgressing sightseeing at Kota Tua
Meanwhile, in the Chinatown area of Petak Sembilan, people can find typical Chinese cuisine and snacks as well as various trinkets that are sold by citizens of Chinese descent in Jakarta.
Most of the Chinese descendants in Jakarta, especially those who live in the Chinatown area, work as traders. They have long been known as good traders.
Moreover, those Indonesian Chinese descents who are in Jakarta's Chinatowns generally live in a "ruko" which is sort of a shop-house that is utilized as place of business as well as residence.
The "ruko" (or shop-houses) in Chinatowns can be recognized from its typical characteristic which is a two-storey building. The first floor is used as a place of business, while the second floor is used as a residence.
"We chose to live in a shop-house because it is more economical and practical. We are happy to be living in the same place where we work and do business," said Lim Sin Djan, an Indonesian citizen of Chinese descent who lives in West Jakarta.
Lim Sin Djan (65) whose Indonesian name is Djaniati came from South Sumatra and went to Jakarta, where she has lived for decades.
Preserving Chinese Culture
While making a living by trading in Chinatowns, most of the Indonesian citizens of Chinese descent also continue to preserve the cultural heritage of their ancestors, including the belief system.
Therefore, the Chinese civilization in some Chinatowns in Jakarta was also marked by the establishment of temples, one of which is the Dharma Bhakti temple - at Kemenangan Street in Petak Sembilan - which is the oldest in Jakarta. The temple has been a place of prayer for people of Chinese descent living in Jakarta who follow Buddhism.
Besides Buddhists, some of the Indonesian citizens of Chinese descent are believers of Confucianism, also known as Ruism, which is a system of thought and behavior originating in ancient China.
Djaniati said that Indonesians of Chinese descent tend to embrace any religion which is in harmony with Chinese customs and culture.
"People of Chinese descent believe that any religion can be adhered to, as long as the tradition of respecting the spirits of the ancestors is maintained," she stated.
In Indonesia, Confucianism has again been recognized as one of the nationally acknowledged religions after Indonesia's 4th President Abdurrahman Wahid - or who is familiarly called Gus Dur - revoked Presidential Instruction No. 14 of 1967 issued by President Soeharto banning all Chinese traditional practice in public.
Related news: Water Festival enlivens Lunar Year celebration
In 1999, President Gus Dur granted freedom to all Indonesians of Chinese descent in the country to celebrate the Lunar New Year and practice other Chinese traditions in public.
The Lunar New Year celebration is carried out with many activities, ranging from praying in the temple to the Lion dance and attraction in various places, especially Chinatowns.
Many religious leaders also emphasized that the Lunar New Year indeed is not a religious holiday. As with the turn of the year at the end of December, Chinese people celebrate Chinese New Year as a tradition of welcoming the New Year.
Djaniati said that she continues to carry out several activities of Chinese cultural traditions, including celebrating the Lunar New Year and Cheng Beng or Qingming Festival, which is an annual Chinese ethnic ritual for praying and grave pilgrimage as per the teachings of Confucianism.
She feels free to carry out Chinese cultural traditions in public within a pluralistic Indonesian society, she claimed.
"I still practice the Chinese traditions, but not all, only what I consider to be the main and important, such as the Lunar New Year and Cheng Beng. For Cheng Beng, I return to my hometown every year to visit my parents' graves," she explained.
Djaniati's daughter, Roseni Mulyani (33), admitted that she and her mother have always been proud to be Indonesians of Chinese descent.
When asked about her attachment to her Chinese origin and nationality as an Indonesian, Mulyani claimed she was proud to be a person of Chinese descent as well as an Indonesian citizen.
"I am always proud to be a woman of Chinese descent as well as an Indonesian citizen. I am also grateful to be able to live in a pluralistic Indonesian society," she said.
EDITED BY INE
Related news: Pekojan Arab Village -- Standing the test of time