Two motorcycle taxi (Ojek) drivers dying near the Muara suspension bridge in Amnunggi Village, Ilaga Sub-district, Puncak District, Papua, on Sept 26, adds to the list of innocent civilians violently killed by armed Papuan rebels.
The deaths of these two Ojek drivers -- La Ode Alwi and Midung -- have also exposed the dirty underbelly of these merciless armed rebels' ongoing campaign to slay civilians in Papua since the separatist organization, Free Papua Movement (OPM), declared war against Indonesia early this year.
Papua provincial police spokesman Sen. Coms. Ahmad Kamal stated that members of the Venny Murib-led armed separatist group had killed Alwi and Midung.
On September 17, a group of armed rebels also got engulfed in a gun battle with Indonesian troops in Olenki Village, Mabugi Sub-district, Puncak District, resulting in the deaths of three civilians and five others sustaining injuries.
The three civilians killed in the firing are Tekiman Wonda, 33, and two infants identified as Edison Mom and Rudi Mom.
Four of the five villagers, with gunshot injuries, were identified as Topina Mom (36), Tabuni (37), Herina Kinal (32), and Yefrina Mom (16), while the other was a man whose right leg had got injured.
Related news: Police confirm two Ojek drivers gunned down by Papuan separatists
Related news: Soldier securing Trans-Papua road project dies of shot wound: mily
These armed separatists often apply a hit-and-run tactic as their combat principle. However, while drawing reference to the civilian casualty count in the Olenki gun battle, the rebels also often used villagers as human shields.
It is a glaring and grim reality that Papuan separatists have become a tangible threat to both Indonesian security personnel and innocent civilians since they have continued to target the latter.
In fact, over the past year, armed Papuan separatists had not only campaigned a spate of killings of civilians and security personnel but were also involved in other heinous crimes, including holding civilians hostage and raping the victims.
On February 2, 2019, the armed Papuan rebels had also gunned down a civilian in a village of Jayawijaya District.
This murder of Sugeng Efendi, a resident of Wuyukwi Village, Mulia Sub-district, has increased the death toll of civilians in the hands of armed Papuan rebels following the killings of 31 construction workers in December 2018.
This 25-year-old kiosk keeper was murdered two days after the OPM echoed its official support for its armed wing's declaration of war against Indonesia.
Sentient of the nefarious ongoing campaign of this OPM's reckless armed wing to slay civilians in Puncak's areas, the district head, Willem Wandik, confirmed that more troops will be roped in.
"I will call for more troops to respond to the shootings of civilians," he told ANTARA on Tuesday.
In addition to the deployment of more troops, the local authorities have also maintained constant communication with various parties, including those from the armed separatist groups, to persuade them into not attacking civilians.
Wandik also highlighted the need to ensure that communication channels with the local community and religious leaders remain open under the district government's endeavor to create peace for all.
In addition to combined efforts by the government and civil society to bring peace in the provinces of Papua and West Papua amid a spate of violent protests and riots that claimed the lives of tens of innocent civilians, there is a pressing need to handle the armed rebels' criminal inhuman acts.
To this end, the Indonesian police have vowed to devote efforts into handling the so-called "armed criminals" targeting civilians after potential protests and anarchic acts in Papua Province could have significantly been curtailed.
Related news: Wiranto discloses conspiracy involving separatist leader Benny Wenda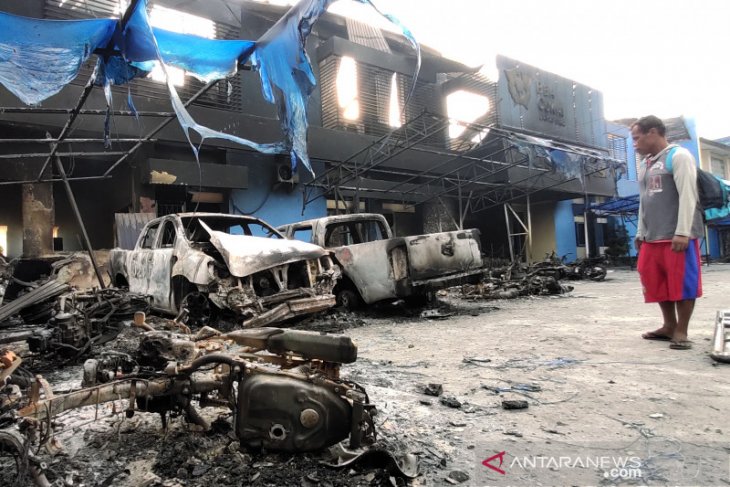 National Police spokesman Brig. Gen. Dedi Prasetyo affirmed that security measures against the armed criminals were directed at maintaining law and order in this easternmost province.
Currently, some three thousand police personnel are stationed in the province until December 2019. Several thousand policemen are also assigned to secure West Papua Province, he noted in a statement made on Sept 12.
The police personnel will not be recalled over the strong likelihood of certain parties looking to create security disturbances in the provinces until the end of this year.
The recent violent protests that erupted in several cities in Papua and West Papua to oppose the alleged racist slurs against Papuan students in Surabaya, East Java, on August 16 might have also been related to the High Commissioner for Human Rights' meeting on Sept 9. By having so, the Papua riots could be incorporated into this commissioner's report.
Prasetyo's argument holds ground since during the convening of the UN General Assembly in New York on Sept 23-26, a deadly riot had erupted in Wamena, the capital city of Jayawijaya District.
This deadly riot that broke out during a rally staged by native Papuan students on September 23 claimed the lives of 33 innocent civilians, including a medical doctor, and wounded at least 77 others.
The riot had also compelled several thousand residents, mostly non-native Papuans, to take shelter in the local military and police compounds.
The dead and wounded comprised non-native Papuans, who were assaulted by rioters brandishing machetes and arrows. Several of them had migrated to Papua from their hometowns in provinces, such as West Sumatra and South Sulawesi, to earn a living.
Prasetyo alleged that Benny Wenda, a West Papua movement separatist group member, played a role in creating and proliferating hoaxes pertaining to fake racist slurs against the native students that had spurred an act of solidarity among native Papuans.
"As a figure of the West Papua National Committee (KNPB), Benny Wenda's role behind this design cannot be overlooked," he stated on Sept 24, adding that the police had conducted a comprehensive examination of the KNPB members over their role in using students to provoke community members.
In the face of unrelenting terror acts committed by the armed Papuan rebels, defending the presence of Indonesia's military (TNI) and police personnel in Papua has become a pressing need of the hour.
Defence Minister Ryamizard Ryacudu also reiterated that the TNI and police personnel will not be called back from the province owing to the unceasing firing between the armed Papuan separatists and security forces.
"I have repeatedly stated that the TNI and National Police will not be withdrawn from Papua because, once they are pulled out, Papua will secede," he pointed out.
Related news: Police to put Veronika Koman on most-wanted list
Related news: National Police names 48 suspects in Papua unrest