The duration is some 45 minutes, during which nine song tracks are played, during the time from warming up, core training, to cooling down
Everyone yearns to have a healthy and fit body, though effort and discipline are the main cornerstones to achieving such a level of physical fitness.
Tedious sports movements and nippy weather conditions are some of the reasons behind people at times feeling lazy to exercise.
When the mercury dips, a general sense of lethargy and laziness sets in, with one feeling too lazy to move.
In fact, physical activity is necessary to keep the body healthy.
The rainy season should not be an impediment to engaging in physical activity, including sports.
However, a change in atmosphere is needed to stir enthusiasm and boost motivation to exercise.
Currently, a fitness center is offering contemporary sports that blends sports and today's lifestyle.
The place called the Sweat Club fitness center will make visitors feel at home as they exercise for a long time.
Located in Menara Harton, Kelapa Gading, North Jakarta, Sweat Club has redesigned the fitness center or modern commercial gymnasium.
Sweat Club is a re-branding of UFitness, which is an outdoor sports arena.
UFitness was re-branded in 2019 to give a reformed training experience like no other.
Co-founder Tamanna Chugani brings in the vibe of London-style training centers to present clienteles with an enhanced boutique gym experience.
This gym spans an area of 560 square meters and is replete with all facilities and equipment for exercising.
This gym offers a class that is a must-try and is what sets Sweat Club apart from other fitness centers.
Sweat Club offers rave cave, a cardio exercise conducted in a dark room, equipped with Aqua Training Bags and state-of-the-art lighting, high-energy club-inspired beats with JBL sound system
This form of sports, currently trending in London, England, offers a fun element since it follows the rhythm of music.
Sweat Club owner, Agnes Yoshia, stated that this form of sports is indeed the latest in Indonesia.
Yoshia, also a trainer, noted that the sports form follows the rhythm of music to uplift the mood of people exercising.
"Rave Cave is a cardio boxing class conducted in a dark room. There is sound, music, and lights that will build up the adrenaline to exercise enthusiastically," Yoshia stated.
Yoshia collaborated with Tamanna Chugani to establish the Sweat Club.
Yoshia noted that one instructor will accompany Rave Cave users in the Sweat Club while matching step to the music.
It is the instructor's choice of music that is upbeat, be it techno, rock, or others.
Engaging in sports at rave cave is a huge calorific burn, according to Yoshia.
"The duration is some 45 minutes, during which nine song tracks are played, during the time from warming up, core training, to cooling down," she noted.
During the core exercise, seven song tracks are played, with the first for warming up, the second track through seven being core training, and tracks eight to nine for cooling down.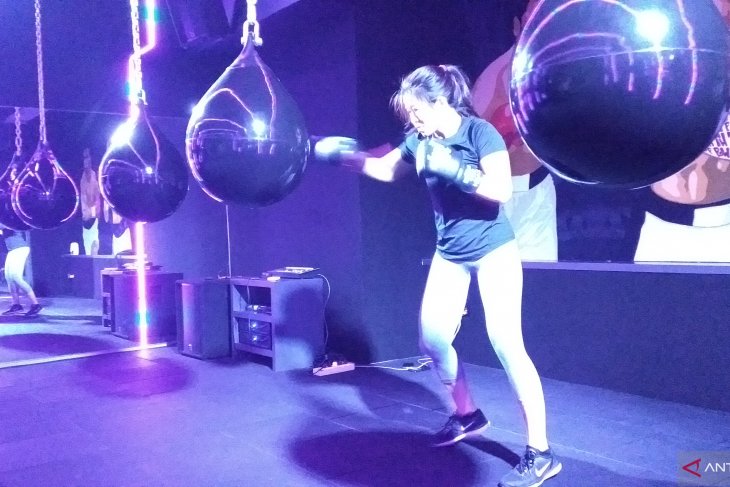 The exercise burns between 300 and 700 calories per session based on the activities carried out by the trainees," Yoshia noted.
The exercise movements do not focus on hands but other body parts.
"Trainees sometimes say it is boring just really boxing for 45 minutes," she noted.
Hence, during every training session, the exercise is combined with functional training.
A functional workout typically comprises compound exercises, such as squats, lunges, and deadlifts.
Compound exercises require more than one muscle group to work together, such as a squat, deadlift, lunge, or push-up. Hence, they typically mimic everyday movement patterns—like pull, push, squat, hinge, rotation—better than isolation exercises, like a biceps curl.
The instructor will practice cardio boxing, such as push-ups and kick moves.
Tools that are beaten and hung, like a punchbag, in the Rave Cave are different.
"What was hit was an Aqua Bag, filled with water. Thus, your hands don't hurt if you hit it for long. The impact on the wrists is less," Yoshia explained.
Women and men can be part of the exercise class in the rave cave, and the concept is made as fun as possible.
"There is no age limit to join the exercise class. No knee injury, not much jumping," she remarked.
Yoshia remarked that the heart performance will definitely improve by engaging in such aerobic exercise.
If you exercise twice a week, in the first and second weeks, the body may feel extremely tired. However, in the third and subsequent weeks, the body will acclimatize to the exercise and become more fit.
"Hence, we say 21 days is a period to adapt, whereas 90 days later, it will become a lifestyle. The body will become more fit and healthy," she stated.
The exercise can, in fact, be done at home, though it would be better when performed with a coach and in the company of friends.
Exercise is different from eating that is fun activity for most people, so can be done alone.
In the meantime, exercise is an unpleasant activity for the first time. Workouts for most people feel akin to torture.
"Hence, you need friends or partners, who support you to stay on track," she emphasized.
The gym also offers a variety of other activities that can be tailored to your needs.
On offer are Muay Thai classes, exercising using fitness equipment, or joining certain classes with other Sweat Club members.
"We have a concept of featuring the most dynamic and effective training style to date. We see what people need to practice," Yoshia added.
Related News: De-cluttering: making the most of a rainy day at home

Related News: When it is raining: Create a weekend book club

Related News: A coffee adventure amid Jakarta's rain