Unlike Marie (Kondo), I do not sort clothes based on how they spark joy in my heart, but only based on whether they fit my body
Last year was perhaps the time when the de-cluttering trend had hit its ultimate peak.
There appears to be no better trigger than the Netflix hit show "Tidying Up with Marie Kondo" starring Kondo, a Japanese de-cluttering guru herself.
Before the show aired, Kondo was known among global audiences for her best-selling books, including "The Life-Changing Magic of Tidying Up: The Japanese Art of Decluttering and Organizing" that has been translated from Japanese to over 40 languages, with more than seven million copies sold worldwide.
Through her books and show, Kondo introduces the KonMari method that encourages tidying by category, starting with clothes and then moving on to books, papers, miscellaneous items or
komono
in Japanese, and finally sentimental items.
The 35-year-old tidying consultant suggests people to keep only things that speak to the heart and discard items that no longer spark joy---thank them for their service and then let them go.
Gaining popularity for her quote of "spark joy", Kondo has been helping people globally to transform their cluttered homes into spaces of serenity and inspiration.
Kondo says her method draws inspiration from the Shinto religion. Cleaning and organizing things are considered a spiritual practice in Shintoism that is related to the energy or divine spirit of things (
kami
) and the right way to live (
kannagara
).
"Treasuring what you have; treating the objects you own as disposable, but valuable, no matter their actual monetary worth; and creating displays, so you can value each individual object are all essentially Shinto ways of living," Kondo stated in an article posted by the Huffington Post, January 2019.
The
KonMari website
speaks of such philosophy having drawn people from across the globe to practice her de-cluttering method, not only due to its effectiveness but also since it lays significant weightage on being mindful, introspective, and forward-looking.
One may ask when is the best time to start practicing de-cluttering? Probably, when you are at home with ample time at your disposal during the rainy season.
Yes, despite entertaining yourself with books, movies, or cooking---de-cluttering can be an exciting activity to try. It is somewhat addictive in nature for some people too.
For Elva Nur, 25, tidying up and de-cluttering is something she likes to do over the weekend or during her free time, especially when she does not have some place to go or gets stuck at home since it is raining outside.
Just like Kondo, Nur usually begins by sorting her clothes, books, and papers, before moving on to miscellaneous items. She skips sentimental items as she does not have many.
"(By tidying up) I like to make more space in my room," she told ANTARA.
De-cluttering has always been the right wave to ride on, particularly when she has a lot in mind or when boredom strikes.
"It relieves me in a way, akin to doing my laundry," Nur explained.
Meanwhile, Via Manurung, 26, opined that de-cluttering is a way of purging her space of old clothing.
Buying fashionable clothing is her hobby, though unfortunately she tends to gain weight fast.
"I think I gain weight faster than anybody else, making it necessary for me to buy clothes more often than anybody else," Manurung said.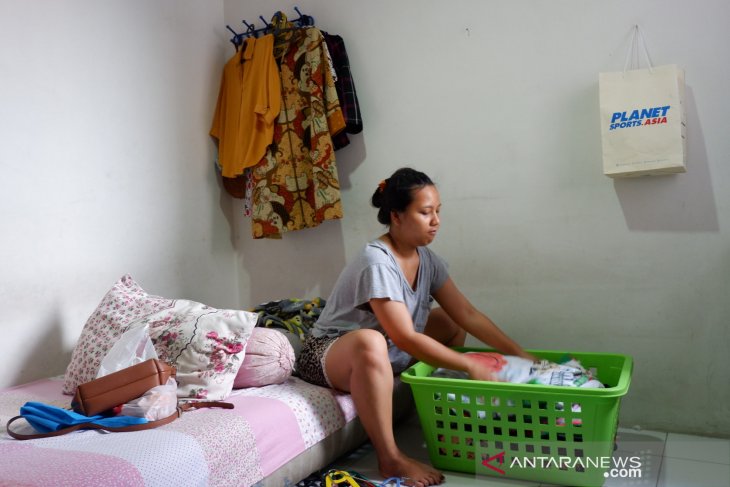 Most of the clothing she did away with on account of decluttering no longer fit her body or no longer meet her daily formal clothing requirements as a banker.
"Unlike Marie (Kondo), I do not sort clothes based on how they spark joy in my heart, but only based on whether they fit my body," she stated after breaking into laughter.
De-cluttering may feel like such a tiring activity for Manurung, who usually spends over two hours in tidying up her room.
"It seems exhausting at first, but when the process is done, you will feel such a sense of satisfaction to finally see everything is clean and in order," she emphasized.
After de-cluttering, some people may sense confusion over what to do with the clothing or items they no longer use.
The good news is: it need not have to be an issue anymore.
Currently, several organizations are making the best out of used clothing or goods for social missions.
Sadari Sedari, for instance, has been engaged in the education and environment sectors by collecting used clothing from the community and reselling it to the community both through online and offline means.
Profits from the sales are channeled to meet the educational requirements of foster children in social welfare institutions as well as to introduce an eco-friendly lifestyle among members of the community, such as the concept of reduce, reuse, and recycle (3R).
Another non-profit organization --
Sumbangi Sambangi
-- provides a platform for people to donate not only their clothing but also other used items, ranging from books, stationaries, and electronics to technologies.
The organization will collect used items from donors and then distribute them to communities or people in need, such as the victims of the earthquake and tsunami that struck in Palu, Central Sulawesi, two years ago.
One would have never guessed that items that no longer "spark joy" in our hearts are in fact needed and expected by others?
Hence, by grasping the concept of de-cluttering -- what benefits lie in store for us personally as well as for others through proper donation channels -- there is no reason whatsoever for us to not attempt to practice it.
Related News: When it is raining: Create a weekend book club
Related News: Rave cave, cardio exercise meets night club experience

Related News: A coffee adventure amid Jakarta's rain