The third and fourth week of 'work from home' was the peak of the stress that I experienced. My mood swings got a little bit out of control since I have no one to interact with directly, and I was thinking about all the things that I shouldn't think
The novel coronavirus disease (COVID-19), which broke out late December last year in China's Wuhan, has spread to countries across the globe, including Indonesia, with more than three million people contracting the infection worldwide.
Indonesia is among the countries that are currently struggling to stem the spread of the new virus strain that causes acute respiratory complications.
The COVID-19 pandemic has affected various aspects of human life since efforts to stem the spread of the virus have fundamentally influenced, or even changed, the way people function.
People are refraining from venturing out of their homes in view of social distancing measures that have been put in place to curb transmissions.
In Indonesia, the central and regional governments nationwide have been making persistent efforts to flatten the coronavirus curve by imposing healthcare protocols and social restrictions.
Large-scale social restrictions have been applied in several cities, including Jakarta, Bogor, Depok, Tangerang, and Bekasi.
The central government has also banned homebound travel, locally known as "mudik", during the fasting month of Ramadhan and the Idul Fitri holiday season.
Such measures and efforts to prevent the spread of COVID-19 have severely limited people's mobility, and, to some extent, affected their mental health.
A mental illness crisis is looming as millions of people worldwide are surrounded by death and disease and forced into isolation, poverty, and anxiety by the pandemic, United Nations health experts stated on Thursday (May 14, 2020).
Mental health issues have emerged among workers who still have to work while staying at home.
Some workers in Indonesia have complained about feelings of isolation after working from home for about two months without being able to venture out.
The pressure of isolation and boredom is increasingly being felt by workers who are migrants or new-comers living in boarding houses in the cities where they work.
Yulianty Briliant (25) is one such worker. Although her home is in Tangerang city, Banten province, she has been living in a boarding house as she is working for a foreign capital investment company in Purwakarta town of West Java province.
"When I have to work from my boarding house, I often feel so alone and bored. I also get confused because there are no more activities, and the shops here close quickly at 5 p.m. due to social restrictions," she said.
Briliant said that she initially used her free time after work watching Netflix movies, reading books, or playing online games on her cellphone. However, after two months, she admits, those activities have become less interesting and she is becoming tired of them.
She also said the cramped boarding room has gradually affected her mood.
"Living and working in a boarding house for a long period has definitely affected me psychologically because I have very limited space here and sometimes it makes me feel dizzy," said Briliant.
"There was a time when I began daydreaming and my mind wandered so that I thought of strange things that made me sad and I even panicked," she added.
To cope with her situation, Briliant tried to adapt and find some mental balance by doing positive things, such as performing body and facial treatments, sunbathing in the morning, and praying and worshiping.
"I do sunbathing in the morning because it can change my mood for the better, and the improvement of pro-vitamin D (levels) in the body with the help of sunlight can strengthen my immune system. What is also important is to get closer to God through prayer and worship," she said.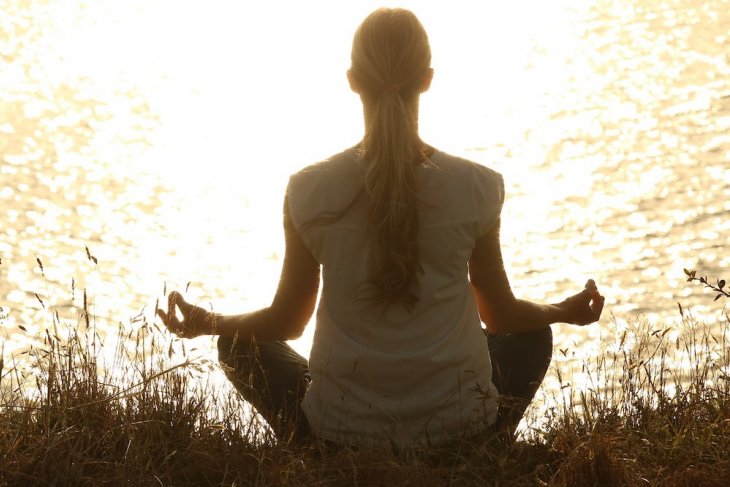 Rendy (29), who has been working from his boarding house in Jakarta, tells of similar psychological challenges.
"The third and fourth week of 'work from home' was the peak of the stress that I experienced. My mood swings got a little bit out of control since I have no one to interact with directly, and I was thinking about all the things that I shouldn't think about," he remarked.
He admits that the hardest part in the current crisis has been staying alone, far from his colleagues and his family in West Kalimantan.
"I do my own work in my own room without a partner for discussion, as is usually done in the office. By not interacting with anyone, we might avoid conflict with others, but in the long run, it will cause conflict with ourselves, and I think that is more dangerous and depressing," he opined.
"And, in my situation, without family or people that I know living with me, this condition got even more severe," he added.
Fortunately, Rendy made it through the stressful times and is now in a better mental state after taking several measures, such as undertaking regular exercise to improve his positive mood and maintaining a good diet for better health.
In addition, he has been watching comedy movies instead of thrillers or sad dramas, reading inspirational books, and only paying attention to positive social media content.
"I also regularly communicate with my family in Kalimantan using video call since I feel that talking with people that I love definitely can recharge my positive energy," he said.
Briliant and Rendy are examples of workers who have overcome their mental health challenges during the pandemic.
However, most likely there are still many workers and migrants living in narrow-roomed boarding houses who are still struggling with mental health issues.
This certainly needs to be a matter of concern for the government because mental health is as important as physical health.
Presenting a U.N. report and policy guidance on COVID-19 and mental health, director of the mental health department of the World Health Organization (WHO), Devora Kestel, said an upsurge in the number and severity of mental illnesses is likely, and governments should put the issue at the "front and centre" of their responses.
"The mental health and wellbeing of whole societies has been severely impacted by this crisis and is a priority (that needs) to be addressed urgently," she stated.
Related news: Coping strategies for parents to protect mental health amid pandemic

Related news: Coronavirus taking a mental toll on medical workers