Lake Toba has been designated as one of the new icons of Indonesian tourism on account of its natural beauty.
Some people liken Lake Toba, which covers an area of approximately 1,145 kilometers, to a "small sea". In fact, it is the largest natural lake in Southeast Asia and one of the deepest lakes in the world.
Currently, the Indonesian government has designated Lake Toba as a super-priority tourist destination, besides Likupang, Borobudur, Mandalika, and Labuan Bajo.
The decision to make Lake Toba a super-priority tourism destination has certainly involved some thoughtful consideration.
The beautiful lake, which stretches across seven districts in North Sumatra — Simalungun, Toba, North Tapanuli, Humbang Hasundutan, Dairi, Karo, and Samosir, has great potential as a world-class tourist destination.
One of the strategic places to soak in the beauty of Lake Toba is North Sumatra's Dairi district, which is located in the Bukit Barisan plateau at an altitude of about 700-1,250 meters above sea level, or about 200 meters above the surface of Lake Toba.
This strategic location of Dairi district allows visitors to take in the beauty of Lake Toba up close.
Located in the northwest of North Sumatra province, Dairi district covers an area of approximately 192,780 hectares, or 2.69 percent of the total area of the province. The district consists of 15 sub-districts.
Dairi district, which is home to around 317,751 people, is just 153 kilometers, or three hours away, from Medan City. It is also on the route used by people to go to Aceh province.
However, even though Dairi is located strategically and is not far from some important tourism destinations, such as Lake Toba, so far, not many people are familiar with the mesmerizing tourist sights offered by the district.
Tao Silalahi
For instance, while in Dairi district, tourists can make a trip to Tao Silalahi, which is the perfect spot to enjoy the beauty of Lake Toba.
The Tao Silalahi attraction, which is located near Lake Toba, specifically in Silahisabung sub-district, offers a host of nature tourism activities.
Here, besides being able to enjoy the beautiful panorama of Lake Toba, visitors can opt for tourism facilities provided by local tour operators and choose from a range of activities -- from camping, lounging, to swimming.
In addition, tourists can also go around the lake on boats provided by some local tour agents.
For photography enthusiasts or even professional photographers, the wonderful vistas of Tao Silalahi are sure to be a draw, especially sunsets. Moreover, during their visit to the attraction, tourists can even be treated to a stunning lavender panorama.
Secretary of the Dairi Tourism Office, Besli Pame, said that Tao Silalahi is indeed one of the main tourist sites in the district and has managed to bring in more tourists from a number of other tourist sites around Dairi.
Moreover, now there is an application called Visitdairi which can help potential visitors to get to know places of interest in the district.
Tao Silalahi is quite special when compared to other tourist attractions in the Lake Toba area since it has the longest unspoiled beaches, forests with a wealth of flora and fauna, as well as unique biodiversity.
Tao Silalahi, which is also part of the Toba Caldera, has been designated as a UNESCO Global Geopark Geosite. This is certainly a great opportunity for the Dairi district government to develop the tourism sector in the area.
Religious tourism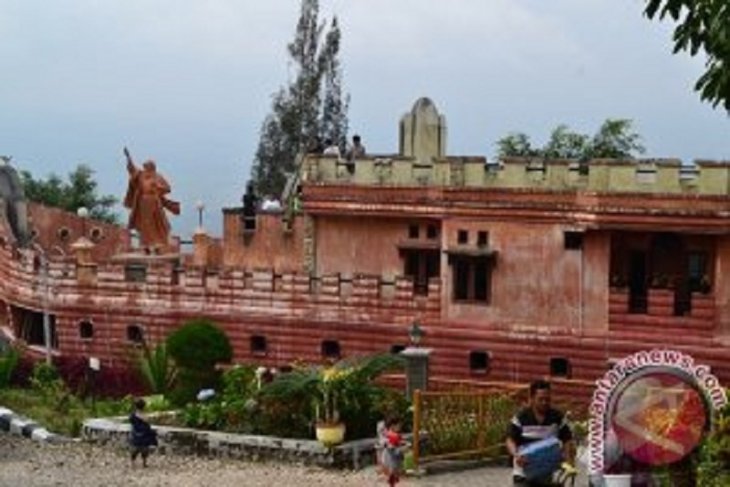 Another tourist attraction in Dairi district is Taman Wisata Iman Sitinjo, a religious tourism park located in Sitinjo village, Sitinjo sub-district.
Spanning approximately 10 hectares, Taman Wisata Iman Sitinjo, or TWI, has become one of the main tourist attractions in Dairi.
The groundbreaking for TWI was carried out by Minister of Religion, Said Agil Husin Al Munawwar, in 2005.
Currently, it is the only religious tourism site in North Sumatra province where visitors can see various places of worship and some replicas, such as the Saddhavadana Vihara with a Buddha statue, a statue of Abraham, a statue of the Prophet Musa, the Church of the Oikumene, the Cave of Mary, and Noah's ark.
One of the most frequently visited areas in the religious tourism park are dioramas that depict the Life of Jesus Christ, including the Stable of the Sheep in Bethlehem, the place where Jesus was born, the story of Jesus feeding some 5,000 people, Jesus praying in the Garden of Gethsemane, 14 stages of the journey of the cross, also known as Via Dolorosa, Jesus' crucifixion on Mount Golgata, and the Resurrection of Jesus.
In addition, the park houses places of worship of several other religions, such as Buddhist temples, Hindu temples, as well as the Hajj Manasik Field and Mosque.
The religious tourism park symbolizes the diversity of religions practiced by the people of Dairi district, who live in harmony and peace.
Another interesting feature of this tourist site is its hilly terrain. To enjoy all the beauty that exists in this place, visitors have to be willing to walk as well as climb and descend many steps.
Secretary of Dairi Tourism Office, Besli Pame, said that experiencing religious tourism at TWI in Dairi district can be an alternative for people traveling to Lake Toba tourism areas.
Lake Toba with all its wonders and beauty is widely known as a tourism destination in Indonesia.
However, the current challenge is to make Lake Toba a tourism destination that remains relevant and continues to evolve according to the times so that it can attract more tourists, both local and foreign, in a sustainable manner.
For this reason, all districts around Lake Toba, including Dairi district, must be able to maintain and develop their potential, be it in terms of natural beauty, culture, culinary delights, or handicrafts.
Another important thing is ensuring the preservation of the environment around tourist attractions and destinations, especially Lake Toba itself and its ecosystem.
Related news: Pandjaitan invites Chinese Foreign Minister to Lake Toba

Related news: Toba Caldera inscribed on List of UNESCO Global Geoparks