A teacher has a huge influence on our lives, and without one we may not see any of the success we currently enjoy. It is because of teachers that we can read, speak, and think. And teachers are not just those we meet in school: Our parents, who teach us everything, are our teachers at home.
All countries in the world celebrate Teacher's Day to acknowledge the contribution made by teachers. In Indonesia, Teacher's Day is celebrated on November 25 every year. The celebration coincides with the formation of the Indonesian Teachers' Association, the PGRI. Thus, the day is marked by ceremonies.
Being a teacher is not easy: One must have good knowledge, skills, the right attitude, patience, and of course, love for children. All teachers have the same purpose, namely educating the nation. Teachers are proud on seeing their students succeed and becoming even more successful than them.
Teaching is considered an honorable profession and teachers provide the best knowledge and make the utmost effort for students sincerely. That's why teachers are called "Pahlawan Tanpa Tanda Jasa".
Students never can repay teachers' kindness and lessons learned from teachers remain etched in memory for a lifetime.
So, what do teachers have to say about Teacher's Day?
Rio Ari Prasetio has worked as a teacher at State Senior High School Mantang 1, Bintan District, Riau Island Province for seven years.
After graduation, he has devoted all his time to teaching, starting with a private school in a city. He said that as city students had an education mindset, he did not find teaching difficult. However, he said, he found real meaning in teaching after he became aware the remote island lagged in education, which prompted him to get more involved. It also fueled his desire to teach, he added.
The nearly two-year-long pandemic has created issues in the teaching process, he said. The motivation of students has weakened because they are also focusing on helping their parents, most of whom depend on fishing for a living, he added.
Due to the location of students' residences, the majority of which are located along the coast and islands, the Internet network is often patchy, he said.
To overcome these problems, Rio used blended learning and occasionally, face-to-face learning with strict health protocols, so that students could understand the lessons easily.
He described expressions of gratitude from students who won inter-school competitions, those who were motivated and summoned the courage to pursue a university education, and meeting school alumni as truly memorable experiences.
For Rio, Teacher's Day commemoration is not just a ceremony, but has deep meaning. He said it reminds him of how important and strategic a role teachers play in a nation's progress. It is also a moment for introspection, he said.
Rio expressed the hope that teachers in Indonesia would stay healthy, enthusiastic, and sincere in providing knowledge as well as follow the developments in science and technology so they can be relied upon by students. He also said he hoped teachers would serve as consistent role models.
The young generation, on its part, must uphold etiquette, Rio said. "Prepare yourself as well as possible, so in every opportunity, you can do it maximally. And never stop to learn because without knowledge, your old age would torture you," he remarked.
Another teacher, Fera Susanti, has spent 17 years teaching at Islamic Junior High School Pasaman Barat 3, West Sumatra. She said she wanted to become a teacher because she wanted to share her knowledge with children.
During the pandemic, she said she faced various challenges in the online teaching process because not all students had a gadget, especially laptops. In addition, a bad Internet network and the inability of parents to buy data also became obstacles to teaching, she added.
According to Susanti, to address those challenges, the school held limited PTM (face-to-face learning) alternately and focused more on enrichment and remedial tasks.
She said encountering a student who spoke rudely to the teacher, was uncivilized, and impolite was an unforgettable experience for her. She admitted that she sometimes feels unappreciated.
For Susanti, Teacher's Day is a day of remembrance, a ceremony for teachers who have served as educators to the nation. It is also a moment to reflect on how far teachers have worked, she said.
She further hoped that all teachers would find inner peace in teaching and educating, their economic needs would be sufficiently met, they would be prosperous, and get the opportunity to continue to learn and gain knowledge as well as update their skills.
May the young generation respect teachers, not tire of studying, practice their knowledge, and continue studying so that they can also become great teachers, she remarked.
Eni Kurniawati, a teacher at State Elementary School Cikedokan 01, Bekasi District, West Java, has been teaching for 20 years. She said she wanted to become a teacher because she wanted to devote herself to educating children. For her, Teachers' Day is a day of recognition of teachers and their work nationally.
According to Eni, during the pandemic, the teaching and learning process was not optimal. But, she said, she tried to teach using learning videos and even visited the homes of students.
She described getting special gifts or tokens on her birthday or Teacher's Day from students and their parents as memorable experiences as a teacher.
Eni said she hoped that all the teachers in Indonesia would become more innovative in teaching students.
She also asked the young generation to not give up doing positive things and keep on learning and praying diligently.
Wardoyo Sholeh Marzuuqy Asshobariy said he has taught at Senior High School Diponegoro 2 in East Jakarta for four years, but he has been teaching in madrasahs for decades.
He said he majored in education and for him, teaching is an honorable profession.
The pandemic posed some obstacles to teaching, he added. For example, he could not meet students and other teachers directly, had to deal with bad Internet connectivity, a lot of homework, non-functioning gadgets, and quota limitations, he explained. So, the teaching and learning process was not maximal, he added.
Asshobariy said he resolved those problems by using applications like
Google Meet
,
Zoom
,
Google Classroom,
and
Whatsapp
videos.
He said he will always remember students who remained active, disciplined, and managed to obtain good grades in the final examination, and students who were less clever but remained patient and kept trying till they finally got into state universities.
For Asshobariy, Teacher's Day is a historic day and needs to be commemorated to remember the noble task of teachers in educating the nation. Someone could become a doctor, engineer, cleric, or join another profession because of teachers, he remarked.
He wished Indonesian teachers would become educators who share their knowledge with students and also serve as role models. Hopefully, the government will pay more attention to the rights and obligations of teachers, he added.
For him, the nation's hope lies in the young generation. Therefore, as the millennial generation, students must prepare for their future by studying hard, he said. The youth must be strong and must have DUIT (Doa (prayer), Usaha (trial), Ikhtiar (effort), and Tawakkal (trusting in God's plan)), he added.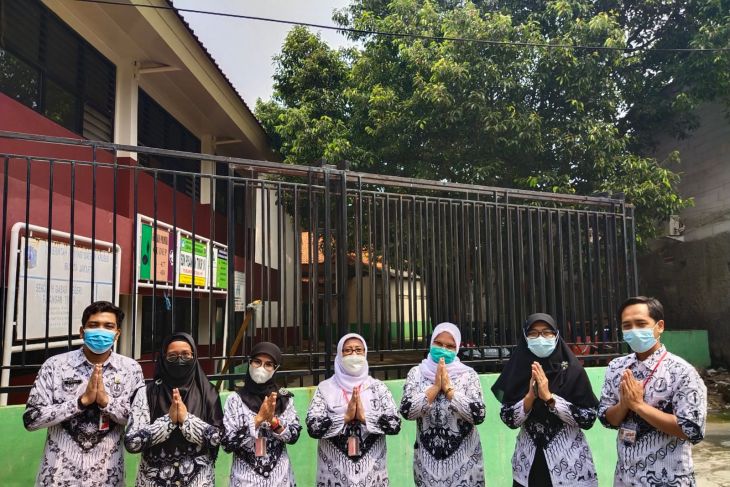 Evi Hidayati has been teaching for about 16 years at State Elementary School Pisangan Timur 18 in East Jakarta.
An interest in the world of education and wanting to be a person who contributes to the nation by educating children with good morals and knowledge—those were her reasons for taking up teaching.
Like the other teachers, during the pandemic, Evi also faced some obstacles such as poor Internet connectivity and limited quotas. She said some of her students' parents were working, so they could not monitor the students when they studied. Also, students' access to laptops and gadgets was limited, she added.
To address these issues, Evi said she kept communicating with the students' parents and giving time for homework until 10 p.m. local time. She also asked students about the lessons they had trouble understanding via Whatsapp, she added.
She said she called four students every day to ask them about their doubts and difficulties and used the
Zoom
application once a month.
Watching her student win a competition simply through her training was a great experience for her, she said.
Teachers' Day is a moment for remembering the great and noble kindness of teachers, Evi said. They teach students to be persons with good morals and knowledge, she added. This commemoration also reminds teachers to improve their knowledge to keep pace with the times so that students can build a good future, she added. Teachers were also born and educated by other teachers, Evi remarked.
She urged all teachers in Indonesia to keep the spirit to teach despite the lack of facilities and keep adding to their knowledge.
The young generation must take positive action and responsibility and never give up because it needs to continue the fight for the development of Indonesia to make it even better, she added.
Related news: World of education requires transformational leaders: Minister
Related news: Ministry encourages madrassa teachers to strengthen digital culture
Related news: Education Minister urges teachers to initiate changes in classrooms