Ever since Indonesia's proclamation of its independence on August 17, 1945, "the Seventeenth," known locally as Tujuhbelasan, has become a holiday for various celebrations nationwide.
Indonesia was earlier colonized by the Netherlands for about 350 years and was then occupied by Japan. After Japan surrendered in World War II, the nationalist Sukarno, who then became the first president of Indonesia, issued a proclamation and declared the independence of Indonesia.
However, despite the proclamation being made, it has been a bumpy road for Indonesia to retrieve freedom from the colonizers. It took four years of revolution, which is known as Indonesia National Revolution, that the Netherlands finally recognized the independence of Indonesia.
This year marks the 78th anniversary of Indonesia's independence. To commemorate Independence Day, Taman Mini Indonesia Indah (TMII), on Thursday (Aug 17), held "Karnaval Nusantara (national carnival)."
TMII, established by Siti Hartinah in 1975, is a synopsis of Indonesian culture, displaying the identity of 33 provinces of Indonesia in separate pavilions. The other recreational facilities comprise religious museums and zoos that represent the diversity of Indonesia.
On Thursday, over 300 staff wearing traditional clothing from 34 regions in Indonesia participated in the flag-hoisting ceremony in the morning and thereafter paraded around the Monument of the Fire of Victory (Plaza Tugu Api Pancasila).
Moreover, a series of festivities took place, such as the bicycle decoration competition, which reflected the Indonesian culture while enabling people to have fun on Independence Day, according to I Putu Mirayana, the corporate secretary of TMII.
During the bicycle decoration competition held in the afternoon, participants, ranging from kids to elders, decorated their bicycles with creativity, incorporating red and white ornaments that represent the national flag of Indonesia on their bikes.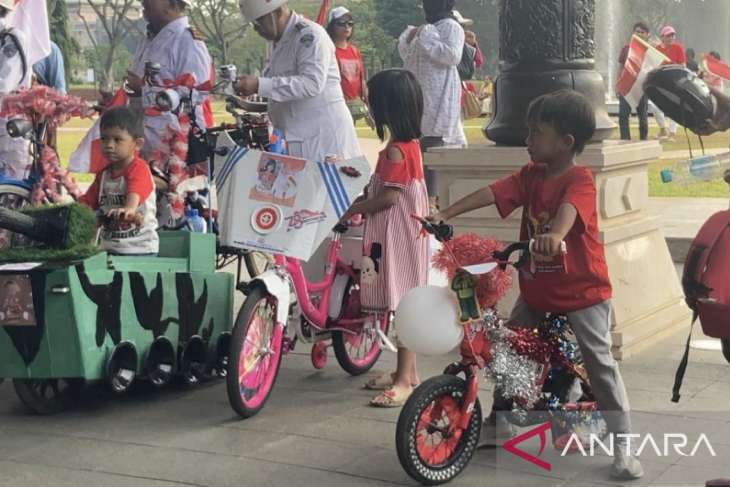 TMII is not the only place that celebrates Independence Day.
The entire nation was ecstatic about Independence Day, with several festivities and competitions been held around August 18.
"I feel proud on this day because we can commemorate the national heroes," Silmi Tasbih, a visitor, remarked.
"On Independence Day, I usually attend the ceremony first, followed by some competitions, and then parade along the neighborhood," she remarked.
With the easing of the COVID-19 pandemic, this year's Independence Day is a magnificent spectacle that marks a huge difference from last year's commemoration, Enemy Karwati, another visitor in TMII, stated.
"I am very happy because it could not be celebrated three years ago," Karwati remarked.
"Since the pandemic is been brought under control, we held competitions in our community, such as the sack race (Balas Karung) and inserting the thread into needle race (memasukkan benang dalam jarum)," Karwati stated.
The sack race, or the potato sack race, is a game wherein participants place their legs into a sack or pillowcase that extends up to their waist or neck level. By hopping, the person managing to reach the finish line first is the champion.
Apart from the sack race, more than 20 types of traditional games are held.
On this memorable day, the number of tourists visiting TMII reached approximately 10 thousand, according to TMII spokesperson Novera Mayang Sari.
Meanwhile, several international tourists flocking to TMII, included Ray, a Chinese tourist currently working in Indonesia.
In August, the atmosphere is very lively in Indonesia, according to Ray.
"When Independence Day approached, my colleagues started decorating the office with white and red ornaments. In addition, decorations and national flags can also be seen everywhere on the streets," Ray stated.
When asked about the difference between the National Day of China and Indonesia, he pointed out that the forms of the ceremonies are quite different.
"In China, most ceremonies and festivities are held by the government. Yet, in Indonesia, people initiate many activities and competitions proactively, just as other festivals," Ray explained.
The National Day of China is celebrated through a series of government-organized festivities and cultural events, he pointed out.
The national flag-raising ceremony is held annually at Tiananmen Square, with a grand military parade held in select years.
In comparison, several flag-hoisting ceremonies in Indonesia can commonly be seen on the streets in the morning of Independence Day.
The National Day of China is celebrated on October 1 and goes along with another six days of break, comprising the well-known "Golden Week."
Ray added that Chinese people tend to enjoy the holiday break but are not as engaged as Indonesian people.
Characterized by a variety of celebrations and people's enthusiastic participation, Indonesia's Independence Day creates a distinct and vibrant atmosphere that envelops the entire nation in a spirit of joy.
Related news: Police HQ plants thousands of trees to commemorate Independence Day
Related news: Polri increases tree-planting activities to help fight climate change