In the modern era, animation has metamorphosed owing to the emergence of computers that can create computer-generated imagery and replace traditional animation techniques.
The use of traditional drawing techniques has diminished and their place has been taken up three-dimensional (3D) animation.
Computers can create 3D models that can be moved to dominate animated films until now.
The first short animated film to use CGI was The Adventures of Andre and Wally B that came out in 1984.
This animated film was made by the Graphic Group production house that later became the basis for the establishment of the Pixar animation production house.
Pixar became the first production house to first produce the popular 3D animated film Toy Story in 1995.
Animated films have swiftly evolved, right since the black and white era until now.
Annually, fans are surprised by quality animated films that can be enjoyed on the big screen.
Animated films can currently be enjoyed by various audience groups, right from children to adults.
Currently, animated films are not only made to offer entertainment but also rather provide motivation and valuable life lessons -- be it to become a better person or how to achieve success.
Speaking of animated film, a variety of animated films in Asia are worth watching.
ANTARA has shortlisted five animated films from different countries: Spirited Away from Japan, Pororo the Little Penguin from South Korea, Arjun the Warrior Prince from India, Upin and Ipin from Malaysia), and Battle of Surabaya from Indonesia.
Spirited Away is an animated film originating from Japan and was released in 2001. The film sheds light on a 10-year-old girl named Chihiro attempting to save her parents, who have turned into pigs after eating food that was outside the human world (the world spirit). This film grabbed the attention of the film industry, especially animation, so Spirited Away won an Oscar.
The film kicks off with Chihiro and his parents moving house to a city. However, while looking for the address of their new home, they get misdirected into a tunnel that was the entrance to a spirit world replete with fantasy creatures.
At that place, they come across a restaurant full of good food. Chihiro's parents eat the food without giving a second thought to what would happen and despite Chihiro forbidding it. After eating the food, they turn into pigs.
Chihiro was saddened to see his parents in such a state. However, he meets someone named Haku, who was Yubaba's student and keen to learn spells from Yubaba. Haku was the one who would help Chihiro to turn his parents back into humans.
Haku spoke about how the world was. Haku advised Chihiro to go see Kamaji, who worked in a boiler house, to find work, so that his parents can be turned back into humans. Chihiro also worked in a bathhouse owned by Yubaba, who was a witch ruling the fantasy world. Yubaba changed Chihiro's name to Sen.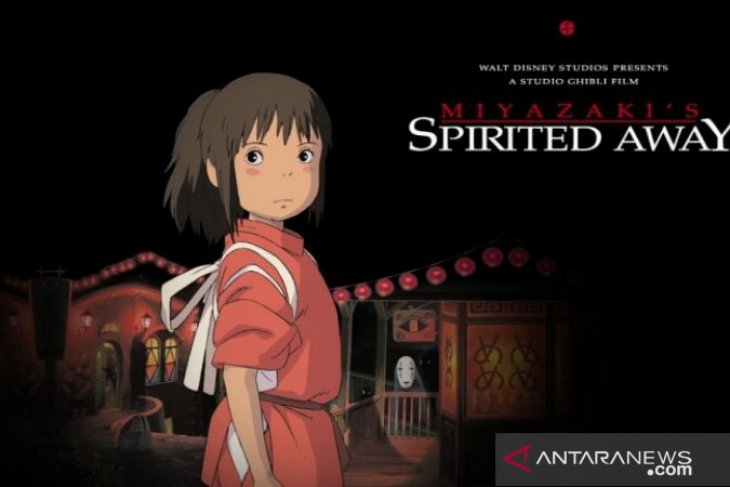 The film is quite inspiring. One stands to learn several moral messages from watching Spirited Away. Chihiro's struggle in turning his parents into humans again helped bring about a change in his character, from initially timid and a little spoiled to brave, unyielding, helpful, and curious.
Meanwhile, Pororo the Little Penguin, was one of Korea's cartoon characters, who was very educational, starting from the storyline to the animation.
The main character that was also the title of this cartoon was Pororo, a little blue penguin.
Pororo wore large orange flying goggles and a flying hat. Crong, a small green dinosaur, lives with Pororo and always gets into a fight with Pororo, though in the end, they always reconcile.
Moreover, there is Eddy, a smart red fox and inventor of genius; Poby, a polar bear with the largest size of other characters and gentle in nature; and finally Loopy, a beaver, who was always shy, sensitive, and sometimes resembled a little princess. There was also Harry, a hummingbird, who had lost his way from Summer Island and found where Pororo and his friends lived. He lived in a small cabin inside Poby's house.
This animation was first produced in 2002 and began airing in South Korea on EBS channel in 2003.
In 2003, Pororo received several awards from the South Korean Government, including awards from the Korean Ministry of Culture and Tourism. In 2006, Pororo had received Award for Best Animation Character from the president. Pororo received the Creative Brands Award in 2013. In 2014, Pororo was selected as the mascot for mass transportation in Seoul.
The characters in the Pororo the Little Penguin movie were portrayed humorously, suitable for children's viewing as the story was light and pertained to everyday life.
The animation also always offered lessons that were easy to assimilate by children.
In addition, India's animated action film -- Arjun the Warrior Prince -- was worth viewing.
The story was based on the early life of the Pandava brothers, taken from the ancient Indian epic Mahabharata. The storyline starts with Arjun as a nine-year-old boy and follows him until he grows into the warrior of worldwide acclaim.
The storyline explored his life with his brothers in Hastinapur, his training and education, and his ultimate discovery of the warrior within himself.
The animated film, released in India on May 25, 2012, received positive reviews.
Review aggregator Bollymoviereviewz, gave the movie 3.35 stars out of 5. Priyanka Ketkar of Koimoi gave the movie 4 stars out of 5, saying that Arjun: The Warrior Prince is an extremely engaging movie with fabulous animation and a story of our very own Indian hero.
The film was also selected for Fantasia 2012 in Montreal, Canada; the Oscar 2013 Nomination in the Category of Best Animated Features and Best Foreign Film, as well as the Bhusan International Film Festival 2012 (October), in Seoul, South Korea.
Furthermore, the endearing twins -- Upin and Ipin -- two Malaysian animated figures became the best-selling spectacle enjoyed by the wider community, including in Indonesia.
Upin & Ipin was a 2007 Malaysian television series of animated shorts produced by Les' Copaque Production, which portray the life and adventures of the eponymous twin brothers in a fictional Malaysian kampung.
The story sheds light on the lives of Upin and Ipin, five-year-old Malaysian twins, who reside with their elder sister Ros and grandmother Uda, whom they call Opah, in a village house in Kampung Durian Runtuh.
They lost their parents during infanthood. Upin and Ipin study at the village's Tadika Mesra (kindergarten), with a group of classmates, including the adorable and right-thinking Mei Mei, a joker and poetic Jarjit Singh, the clumsy and short-tempered Ehsan, an easygoing and sarcastic Fizi (Ehsan's cousin), and an entrepreneurial and meticulous Mail.
The headman of Kampung Durian Runtuh is Isnin bin Khamis, better known as Tok Dalang Ranggi, the Wayang Kulit champion.
Tok Dalang keeps a cluster of rambutan trees for commercial purposes, and a rooster named "Rembo". Among the village's other notable residents are Muthu, owner of the village's only food stall, who lives with his animal whisperer son Rajoo and pet steer Sapy; Salleh (Sally), a transgender-apparent, who owns a mobile library; and Ah Tong, a strident-voiced vegetable farmer. A new character later added in the series is an Indonesian girl named Susanti, who moved in with her family.
Battle of Surabaya
The animated film titled "Battle Of Surabaya" by director Aryanto Yuniawan received overwhelming positive response.
The film was launched in 2015 in two languages:​​ English and Indonesian.
After the proclamation was announced in Jakarta on August 17, 1945, the city of Surabaya was also filled with a surge of independence from the people and youth of Surabaya. The Dutch continued to look for ways to re-enter Surabaya as one of their efforts to re-establish Indonesia as a colony.
Musa, a teenager, who worked as a shoeshiner, also joined the flow of the revolution, after seeing his adoptive father, a Japanese officer named Captain Yamamoto, shot dead by the Dutch army, Moses' revenge on the Dutch increased.
Meanwhile, leaders of the Indonesian Army were in a state of confusion on how to break through the Dutch blockade, so that their letters could reach the troops safely.
After observing Musa and his abilities, it was finally decided to appoint Musa as a courier since he was unlikely to be examined on arrival at the Dutch guard post.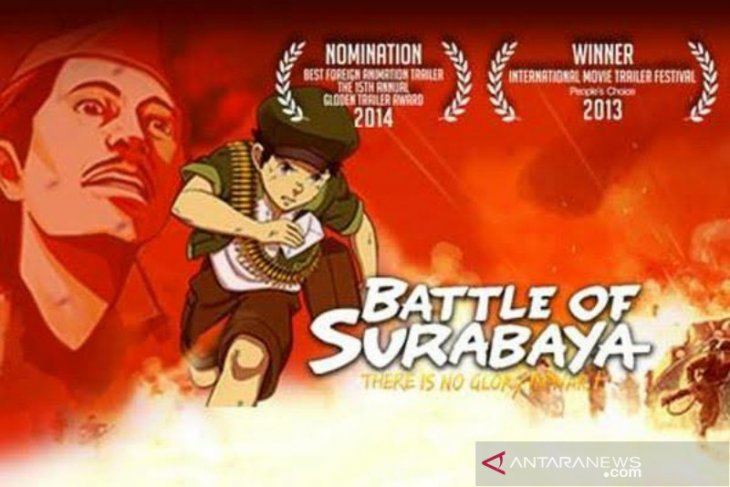 Musa also accepted the assignment. Danu, a former Volunteer Army of Defenders of the Fatherland, or Peta, was appointed to protect and oversee Moses from a distance. In this assignment, Musa was accompanied by Yumna, a young woman, who was also a close friend of Moses and Danu's adopted sister.
Musa once learned that Yumna was a former member of the Black Fan, which was a group formed by Japan and often blocked the struggle of The Indonesian Army and Surabaya's youth. Simultaneously, Musa lost his mother, who was killed when his village was burned down by Dutch soldiers.
Musa's task as a courier had to stop when he was taken prisoner by the Black Fan group that had apparently collaborated with the Dutch army. When captured, he also learned that Danu was also a member of the Black Fan.
Yumna was assisted by several members of the Indonesian Army attempting to save Musa. Though the effort was successful, Yumna and the Indonesian Army members, who had helped her, were killed.
Yumna then left Musa to Danu, who had realized his mistake.
The film's story is not entirely about the heroic battle, but it focuses more on teenagers, who witness the event.
This film highlights struggles, love stories, loyalty, courage, comedy, and ninja-like-action.
Battle of Surabaya was the first Indonesian cartoon film that was internationally accepted.
The film garnered several accolades, including an award at the 2014 Golden Trailer.
Related News: Looking thru beautifully brutal Asian movies
Related News: No more bad vibes with these Asian comedy movies
Related News: Exploring the taste of Asian drama movies
Related News: When the ghost is in our mind

Related News: Beyond Hollywood: Asia's hidden gems on thriller movies