"I've never really liked using these. They take away the rush. Squeezing a trigger, it's like ordering take-out. This is the thing. This is the pulse. This is what I do."
We can't not agree more with Mad Dog, the antagonist from the Raid: Redemption --a movie praised by many as the "it" movie that brings Indonesian martial arts, pencak silat, to the forefront-- when he put down his gun and readies himself for a fast-paced raw fight.
His spoken line, just before the iconic six minutes final fight in the 2011 movie, indeed summarized how action movies should be played out, showing hand to hand combat, which is violently artsy, brutally good and well-choreographed.
The Raid is one of many memorable Asian martial arts-based action movies.
The region is rich with various type of martial arts, from pencak silat to muay thai to kung fu and karate. Each martial art has its own characteristics and wisdom that will entice the audience to the mysterious and enchanting Asian cultures.
From the gentle looking, but deadly heroes, in Chinese wuxia movies, such as Li Mu Bai (Crouching Tiger, Hidden Dragon) to Broken Sword (Hero), to hard to die fighters, such as Rama (The Raid) and (Ting) Ong Bak, Asian action movies will never stop surprising its audience with their most insane fighting scenes.
The fighting sequences in these martial arts movies, although criticized by some for their lack of story lines, are so much that we believe that one good guy can win over a dozen bad ones in hand to hand combat and remain unhurt.
Some of the fighting scenes look so believable, making many wondering whether it really possible to kill people using ordinary items, such as a paper fan, chopsticks or duster.
​​ANTARA has shortlisted several of them, which are worth watching, from all across Asia. These are movies that will put to rest our coronavirus fears for a while, and let our minds enjoy the impossibility of endurance and strength of the human body.
If you favour of a violent hand to hand combat with bones cracking and godly martial arts abilities, then our recommendation will be The Raid and Ong Bak's series.
The Raid: Redemption (2011) and The Raid 2: Berandal (2014) are highlighted by Indonesia martial art, pencak silat. Pencak silat is a full-body fighting form incorporating strikes, kicks, locks, and weapons. Pencak silat commonly combines steps and stances to provide a foundation from which to defend oneself, or to launch attacks.
The Raid: Redemption has a simple premise: A heavily armed 20-man elite police squad is sent to an apartment complex in Jakarta's slum to arrest a ruthless drug lord, who runs the city.
For 101 minutes, the audience will see how the team sweeps floors, one by one, and subdues various criminal tenants to reach the drug lord, which is far from easy because he intends to slaughter them.
One thing that makes this movie different is the lack of props, wire or effects for the fighting scenes. For example, the iconic six minutes final fight between Mad Dog (Yayan Ruhian), Rama (Iko Uwais), the main protagonist, and Andi (Donny Alamsyah), Rama's long lost brother who became the drug lord's henchman, is filmed in a gloomy, bare room.
The director, Gareth Evans, gives a clear view for every step and stance that each actor uses to defeat one another. A brutal and bloodied hand to hand combat with men snaps and crackles in almost every scene, which is not to everyone's liking, but highlights the Pencak Silat's deadly techniques.
The Raid 2: Berandal follows Rama's journey as an undercover policeman, posing as the ruthless criminal, Yuda, to befriend Ucok (Arifin Putra), an heir of a mob boss who controlled Jakarta's underworld. In 148 minutes, the audience will see how Rama fights tooth and nail to climb through the hierarchy of competing forces and become entangled with corrupt politicians and police officials.
Many said that the sequel, armed with a denser story line, gives each character a more realistic background story that we do not find in the first movie. But still, the most important part is the mind-blowing fighting sequences, including the beautifully choreographed prison riot which takes place in a yard full of slippery mud, and the artsy kitchen fighting scenes.
Ong Bak will always be loved by all muay thai aspiring fighters, not only in Thailand but also around the globe. Muay thai is referred to as the "art of eight limbs" or a combat technique that uses eight points of contact, including fists, elbows, knees and shins.
Ong Bak: Muay Thai Warrior (2003) follows Ting (Tony Jaa), an extremely skilled muay thai fighter's journey to recover the stolen head of Ong Bak, an ancient Buddha statue. During his journey, Ting encounters many criminals and shows the world his hard-hitting fighting styles.
One of the most memorable is his scene in an underground fight club, one of the longest fighting scenes. He moves his way through three different fighters and shows his brutal, but graceful moves.
The prequel, Ong Bak 2: The Beginning (2008) and Ong Bak 3 (2010) are strange movies, in terms of the story line, but records some of the best fighting scenes, such as the slaver fight, the torture fight, and the village fight. Those two movies revolve around Tien (Tony Jaa), the son of a murdered nobleman in the 15th century of Siam, who goes on a lone mission to avenge his family's murder.
Ong Bak has been praised by many in bringing the muay thai to global audiences.
But if you favour the gentle looking fighting scenes with scattering life-advices throughout the movies, Ip Man the series, and several Zhang Yimou movies, will quench your thirst.
Zhang Yimou is known for his breath-taking scenes, in terms of colour palettes, backgrounds, and fighting moves. Some of his most talked about movies are Hero (2002), Curse of the Golden Flower (2006) and Shadow (2018). Each of these movies is pleasing to the eyes, allowing many to forget that all those gentle looking warriors have no mercy at all for their opponents.
Ip Man the series (2008 to 2019), consisting of four movies, is loosely based on the life of a grandmaster of the martial art Wing Chun. Ip Man (Donnie Yen) perfectly portrays the calm but dangerous kung fu master.
The Ip Man's struggle to survive under Japanese invasion generates some of the best fighting sequences, such as the 90 second fight against 10 karate exponents (one of the deadliest in the franchise), the fight against The Northerner (Ip Man uses a feather duster to fight a sword) and the fight against a shipyard gang (using a pair of bamboo sticks to defeat the entire gang).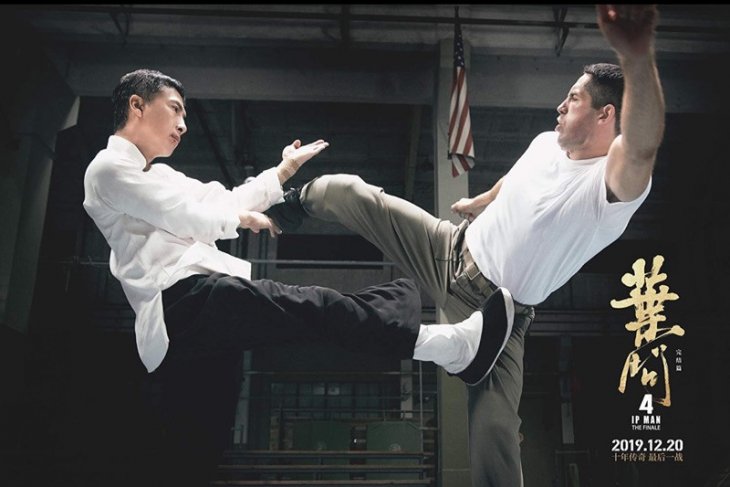 ​​​​​Asian action movies are also known to spice up the story with a hint of comedy. Jailbreak (2017) is one of our recommendations. Many praised the 100 minute movie as an entertaining fight flick which moves at a breakneck pace and has a sense of humour.
Jailbreak highlighted the Cambodian martial arts, bokator, which uses a diverse array of elbow and knee strikes, shin kicks and ground fighting that is based on the study of animal styles, such as the crane, horse and lion.
There is no better action movie than crowning a heroine as the main protagonist, and BuyBust (2018) and We Will Not Die Tonight (2018) are among these few. BuyBust narrates the controversial Philippine drug war. The film follows the story of Nina Manigan (Anne Curtis) in search of the Manila drug trade's big fish. The involvement of Brandon Vera, a MMA champion, delivers nerve-wracking fight scenes throughout the movie.
We Will Not Die Tonight follows the life of Kray (Erich Gonzales), a stunt woman, who finds herself entangled with a disturbing criminal who is harvesting organs from street children.
From pencak silat to bokator, long before Bong Joon-ho's Parasite won the most prestigious award in the cinematic world, Asia recorded some of the most beautifully brutal and brutally beautiful martial arts action movies, that never failed to attract fans around the world.
Related news: Beyond Hollywood: Asia's hidden gems on thriller movies

Related news: Exploring the taste of Asian drama movies