At a time when all Indonesian citizens have been asked to stay at home to curb coronavirus transmissions, there are many who continue to venture out on account of their jobs, including journalists.
Although some journalists can work using live streaming channels provided by the government or relevant sources or conduct virtual interviews, there are others who have to go to the field to get news.
A local journalist said that in order to cover news on COVID-19, she has visited a number of critical spots over the last two months — from Natuna Island, where Indonesian citizens repatriated from Wuhan, China in February were quarantined, to RSPI Sulianti Saroso and Wisma Atlet Kemayoran, referral hospitals treating COVID-19 patients.
"If you ask whether I am worried or not, of course I am. Although in those three locations, my team and I were covering from the safe zone, but I must say that we were at the center of the crisis," Yusrin Zata, a reporter with MetroTV told ANTARA.
Luckily, the media company where Zata works has provided her with adequate protective gear, such as masks, hand sanitizers, and vitamin and influenza vaccines to boost her body's immunity.
She said she has been disciplined about following recommended precautions, including physical distancing.
"Doorstop interviews have also begun to reduce. Sometimes, we have persuaded our sources to send interviews on video, without meeting face to face," Zata revealed.
However, Zata still cannot shake her fear as "we are facing an invisible virus and have not yet found a cure".
With many cases still to be detected, she worries whether the people she meets everyday on the field are infected or not.
"But, I also realize that this is the risk of my profession. I, personally, will always prioritize personal and team health while on duty to minimize the risks," she said.
The UNESCO Assistant Director-General for Communication and Information has voiced concerns about the safety of journalists reporting on the global health crisis.
Moez Chakchouk said that the role of journalists in informing the public during the ongoing crisis is absolutely crucial, considering that journalistic work can save lives in the current emergency situation.
"Journalists' physical and psychological safety should come first," Chakchouk said in a
statement
released by UNESCO on March 27.
Media organizations should make sure that journalists are trained on sanitary precautions and equipped with protective material. When sending journalists to report on the virus, their safety must be a priority, he continued.
Chakchouk also advised that states and duty bearers ensure the safety of journalists covering the health crisis and its social implications, as per international standards on freedom of expression.
Indonesian groups such as the
Alliance of Independent Journalists
(AJI), along with international organizations, including the
Global Investigative Journalism Network
and
Committee to Protect Journalist
s have also issued advisories for reporters covering the outbreak.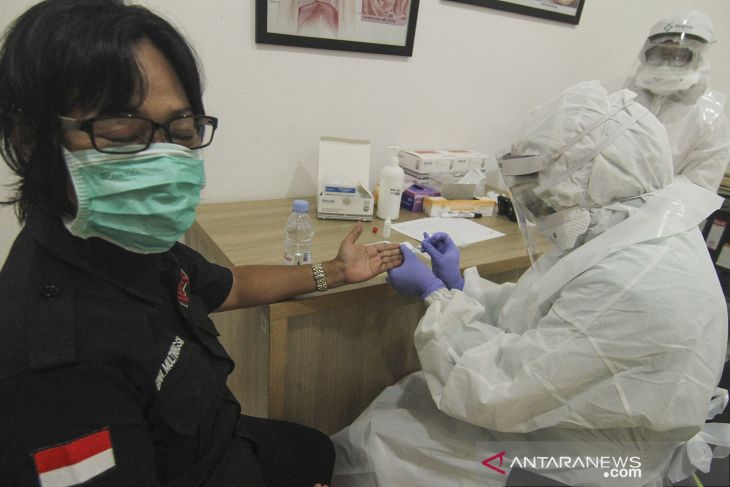 However, with a growing number of people infected with COVID-19 in Indonesia — confirmed cases have mounted to 3,842 so far with fatalities touching 327, the task of reporting is becoming increasingly challenging.
"As reporters we must always be prepared for coverage in places that are quite risky, such as in conflict or war zones. But, coverage of this outbreak is different from war. This COVID-19 reportage is more risky because we can bring the danger home," said Dita Alangkara, chief photographer with the Associated Press Jakarta Bureau.
"That is where caution is important and, in my opinion, that concern must exist, because that way we will always be aware of what we do," he continued.
For photojournalists who have to deliver a story through camera lens, going outside is a necessity. Especially for them, there are no terms such as working from home.
To avoid vulnerable areas such as hospitals, patient homes, or cemeteries, Dita has chosen to illustrate the COVID-19 outbreak with other visuals that are relatively 'safer' although on the occasion, he is forced to go to the field to cover breaking news.
"For example, news about a rapid test does not have to be illustrated by actual photos from hospitals that carry out rapid tests, because we know that in hospitals there is a risk that we can touch people who are coronavirus-positive," he explained.
"We can take photos from the events that are more general and low-risk," Dita said.
In addition to protective equipment and preventive measures, he emphasized that education is the "most important weapon" to fight the COVID-19 outbreak.
According to him, all journalists who work in the field must have the same knowledge and understanding of how the virus spreads and how to prevent it so that they can protect themselves and others.
"Do not encourage journalists to take unnecessary risks and make SOP (standard operating procedures) on safe coverage," Dita advised.
He also stressed on the importance of media organizations drawing up contingency plans to handle unexpected situations involving their journalists. This includes access to what health services can be provided as well as procedures that must be carried out.
"There is no news as important as our lives. Do not be so overeager on covering the news that you endanger yourself. Remember, news coverage of COVID-19 will be long. It is like we are doing a marathon and not a 100-meter sprint. So, you better save your energy," Dita advised journalists.
"Continue to educate yourself, too. The more we know about this virus, the more we can do to protect ourselves and our loved ones," he added. (INE)
Related news: Indonesia confirms 3,512 COVID-19 cases across 34 provinces
Related news: Jakarta first to enforce large-scale social distancing: Governor
Related news: Government asks citizens not to object to corona patient burials