After months of forcing herself to stay home due to travel restrictions imposed by the Indonesian government amid the COVID-19 pandemic, a woman living alone in a rented room in Jakarta chose to undertake a hundred miles road trip to a city in Yogyakarta.
"I knew the health risk, of course. That's why I planned my road trip carefully. All must stick to the plan (when traveling)," Manissa Laras, 30, a human resource consultant, said as she described how the coronavirus has changed the way people travel.
Just two days before hitting the road, Manissa said she and her four travelmates took COVID-19 tests as a precautionary measure.
"When the test results declared we were negative for coronavirus, we tried our best to avoid crowds and have minimum contact with other people during the trip," Manissa said.
"That's why we chose to travel by car instead of a flight," she added.
During the pandemic, some people still had to venture outside their homes and travel to other cities or even islands for various reasons. But, for people who had the privilege to stay at home and work remotely, the stay-at-home order had a "side-effect" on their mental health.
According to
a scientific report
published in the journal
The
Lancet
last year, staying at home for long periods of time can trigger post-traumatic stress symptoms, confusion, and anger in a number of people.
"Suicide has been reported, (and) substantial anger (has been) generated,"
the report
added.
The adverse effects on mental health may also occur as quarantine measures cause "separation from loved ones, loss of freedom, uncertainty over disease status, and boredom", and they may create a dramatic effect,
the report
highlighted.
Researchers have concluded that the stressors include longer quarantine duration, infection fears, frustration, boredom, inadequate supplies, inadequate information, financial loss, and stigma. "Some researchers have suggested long-lasting effects," the report noted.
While the researchers did not advise against imposing quarantine as it is deemed necessary to curb COVID infections, they cautioned "mandatory mass quarantine needs to be weighed carefully against the possible psychological costs".
Manissa and her travel companions are yet to read the report, but they said that months of complying with the stay-at-home order disrupted their work dynamics and led to burnout and mental breakdown.
The road trip was aimed at coping with the breakdown, Manissa said this week. She felt it could reverse the burnout and help return things to normal.
"It wasn't a typical tourist trip as we didn't go to some popular attractions, which are normally packed with visitors. We avoided crowds as much as possible. Therefore, we just stayed at our villa until the last day of our stay. You could say we actually moved our working spaces from our rooms to a new refreshing place," Manissa said about her version of safe and responsible travel amid the pandemic.
For Manissa and her travelmates, safe and responsible travel means strictly following all the health protocols laid down by the government and local authorities for a given destination. The protocols include wearing masks at all times, maintaining personal hygiene and safe distance from others, and avoiding crowds.
Tourism post-pandemic
Safe and responsible travel will be the main focus of tourism post-pandemic, said Ni Wayan Giri Adnyani, secretary of the Indonesian Tourism Ministry, when she addressed reporters in Bali on the sidelines of the 13th Bali Democracy Forum (BDF), held in Bali last December.
The ministry, Adnyani stated, has launched health protocols for tourist agents, tourist operators, and visitors as she reiterated that coronavirus has changed how people spend their leisure time.
"The ministry has planned to certify all tourist operators and destinations, including hotels, restaurants, and attractions so they will comply with our CHSE health protocols," Adnyani remarked as she explained that CHSE stands for cleanliness, health, safety, and environment sustainability.
Health issues, the Tourism Ministry's secretary noted, will be the authority's priority when it later decides to widely open tourism for both local and international visitors.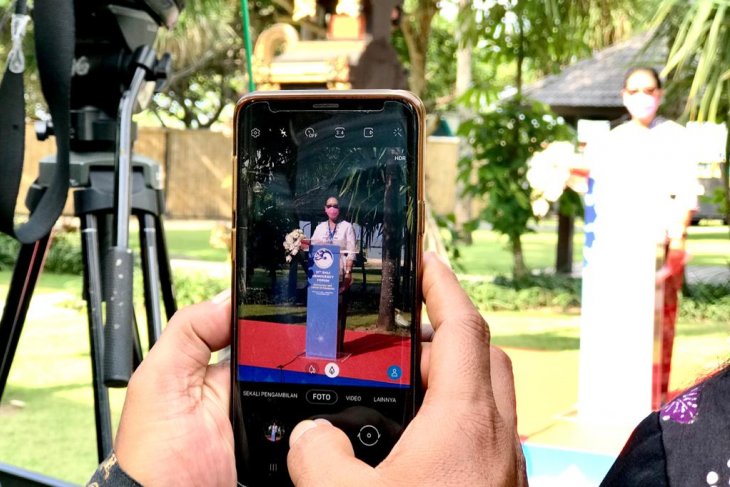 However, as of today, the Indonesian government is continuing to limit the entry of foreigners, except for emergency and essential work; business meetings; purchase of goods; probationary period for foreign workers; medical, food, and humanitarian aid workers; and crew members joining vessels in Indonesia.
CHSE, the secretary said, will be mandatory for the tourism business, creative industry, as well as meetings, incentives, conferences, and exhibitions (MICE) sector.
In 2020, the Tourism Ministry targeted to certify at least six thousand tourist operators, agents, and attractions. Of the total figure, about one sixth of the places were located in Bali, Indonesia's most popular tourist destination, Adnyani stated.
Besides launching CHSE health protocols, the Tourism Ministry also has invited the UN's World Tourism Organization (UNWTO) to inspect in person the preparedness of some tourist destinations in Bali, said Adnyani as she introduced the UNWTO's deputy director for Asia and the Pacific, Harry Hwang, on the sidelines of the democracy forum last December.
When asked about Bali's readiness to welcome international tourists after the pandemic, Hwang said the island will be "ready to open for tourism soon or next year (in 2021)".
"The standardization of safety protocols (here) ... I found it excellent if (it's) not the best one. Having said that... we're feeling safe in Bali, and Bali can offer (tourism) much sooner than we all expected," Hwang said at the press conference.
On the same occasion, Hwang also said that almost all locals he met in Bali were complying with the health protocols. "I was so surprised ... I see not a single person here without a mask ... this is a pleasant example we observe here," he remarked.
The coronavirus pandemic may not simply end although more than a million people in the country have now been administered the Sinovac COVID-19 vaccine this month. Controls and strict health procedures will remain in place at all places and on all occasions as the authorities and people embrace the so-called new normal. (INE)